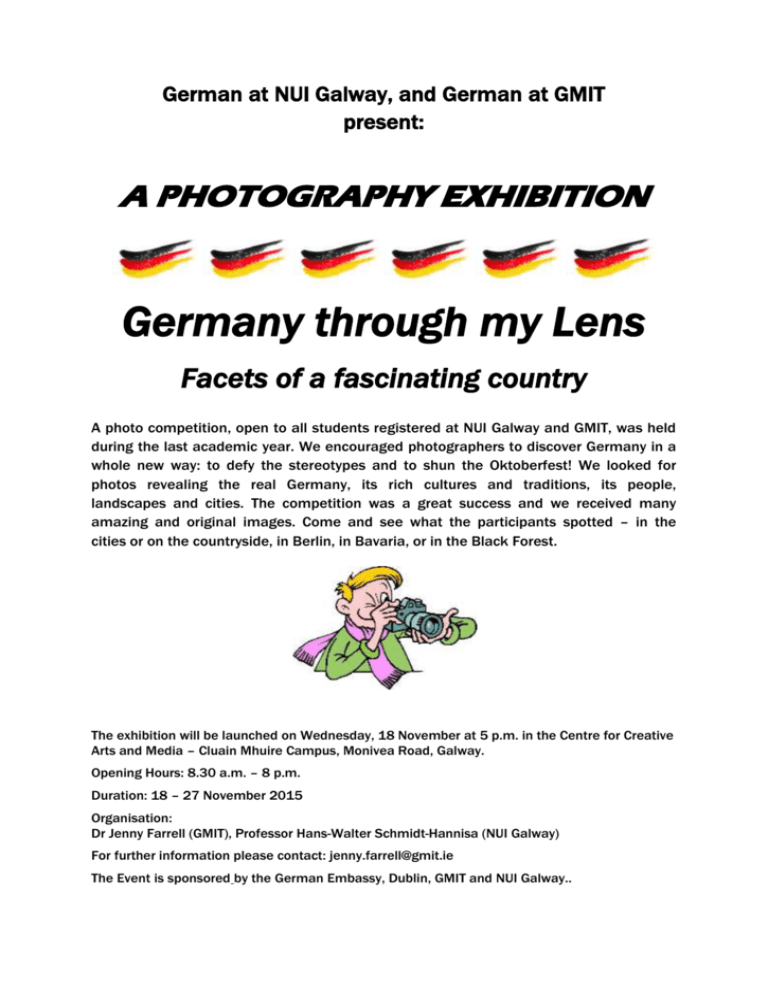 German at NUI Galway, and German at GMIT
present:
A PHOTOGRAPHY EXHIBITION
Germany through my Lens
Facets of a fascinating country
A photo competition, open to all students registered at NUI Galway and GMIT, was held
during the last academic year. We encouraged photographers to discover Germany in a
whole new way: to defy the stereotypes and to shun the Oktoberfest! We looked for
photos revealing the real Germany, its rich cultures and traditions, its people,
landscapes and cities. The competition was a great success and we received many
amazing and original images. Come and see what the participants spotted – in the
cities or on the countryside, in Berlin, in Bavaria, or in the Black Forest.
The exhibition will be launched on Wednesday, 18 November at 5 p.m. in the Centre for Creative
Arts and Media – Cluain Mhuire Campus, Monivea Road, Galway.
Opening Hours: 8.30 a.m. – 8 p.m.
Duration: 18 – 27 November 2015
Organisation:
Dr Jenny Farrell (GMIT), Professor Hans-Walter Schmidt-Hannisa (NUI Galway)
For further information please contact: jenny.farrell@gmit.ie
The Event is sponsored by the German Embassy, Dublin, GMIT and NUI Galway..