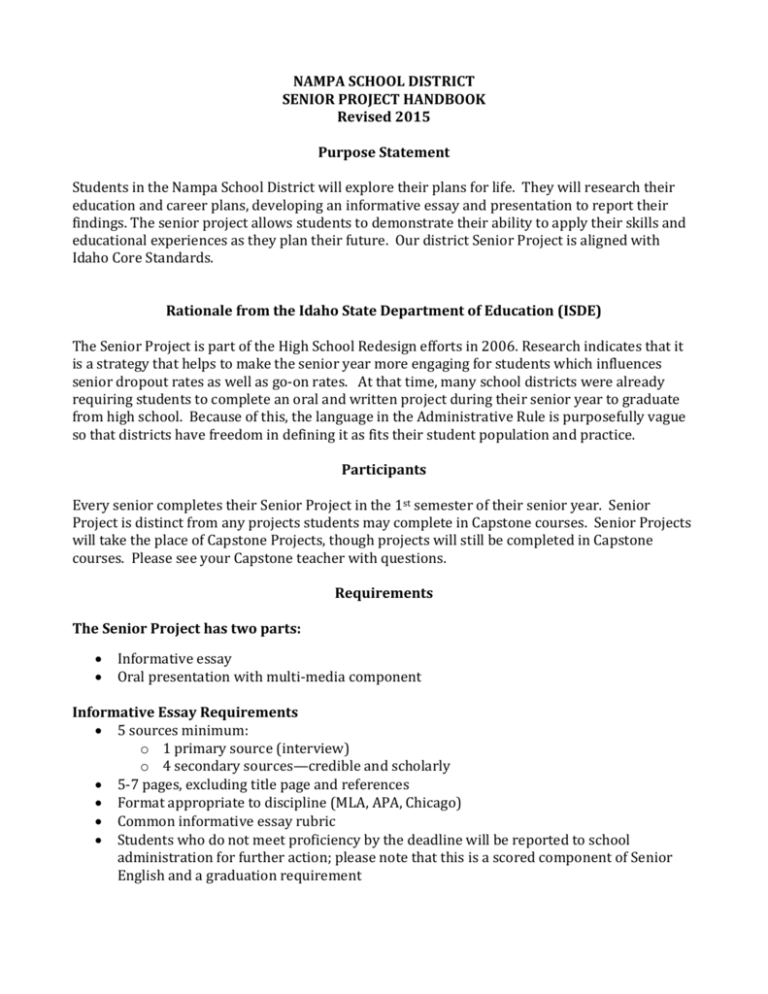 NAMPA SCHOOL DISTRICT
SENIOR PROJECT HANDBOOK
Revised 2015
Purpose Statement
Students in the Nampa School District will explore their plans for life. They will research their
education and career plans, developing an informative essay and presentation to report their
findings. The senior project allows students to demonstrate their ability to apply their skills and
educational experiences as they plan their future. Our district Senior Project is aligned with
Idaho Core Standards.
Rationale from the Idaho State Department of Education (ISDE)
The Senior Project is part of the High School Redesign efforts in 2006. Research indicates that it
is a strategy that helps to make the senior year more engaging for students which influences
senior dropout rates as well as go-on rates. At that time, many school districts were already
requiring students to complete an oral and written project during their senior year to graduate
from high school. Because of this, the language in the Administrative Rule is purposefully vague
so that districts have freedom in defining it as fits their student population and practice.
Participants
Every senior completes their Senior Project in the 1st semester of their senior year. Senior
Project is distinct from any projects students may complete in Capstone courses. Senior Projects
will take the place of Capstone Projects, though projects will still be completed in Capstone
courses. Please see your Capstone teacher with questions.
Requirements
The Senior Project has two parts:


Informative essay
Oral presentation with multi-media component
Informative Essay Requirements
 5 sources minimum:
o 1 primary source (interview)
o 4 secondary sources—credible and scholarly
 5-7 pages, excluding title page and references
 Format appropriate to discipline (MLA, APA, Chicago)
 Common informative essay rubric
 Students who do not meet proficiency by the deadline will be reported to school
administration for further action; please note that this is a scored component of Senior
English and a graduation requirement
Oral Presentation Requirements
 All students will present in December
 Multi-media component is required (PowerPoint, Prezi, Keynote, etc.)
 7-10 minutes in length, excluding judges' questions
 Common presentation rubric
 Presentations must meet proficiency on all elements of the rubric to pass
 Students who do not meet proficiency will re-present on the make-up day in April
Rubrics can be found at …
Rubrics
Frequently Asked Questions (FAQs)
1. Why did Senior Project change?
To align with Idaho Core Standards and eliminate confusion, Nampa School District has
streamlined and standardized the process.
2. What do I do if I already started my 15 volunteer hours for my Senior Project?
These hours are no longer required but are a great learning experience and may help you
write your informative essay.
3. What if I am in a Capstone class?
Senior Project will be the graduation requirement for all seniors instead of a Capstone
Project.
4. Can I change my topic now, even though I wrote my Proposal last year?
Yes, your Senior English teacher will explain the details at the beginning of the school
year.
5. Do I still need an Advisor?
No.
6. Do I still need a community mentor?
No; however, you will be required to interview a community member with expertise in
your area of research.
7. Do I have to do a Portfolio?
No; however, you may choose to take pictures or gather artifacts to enhance your
presentation.
8. Do I have to track/log any project hours?
No.