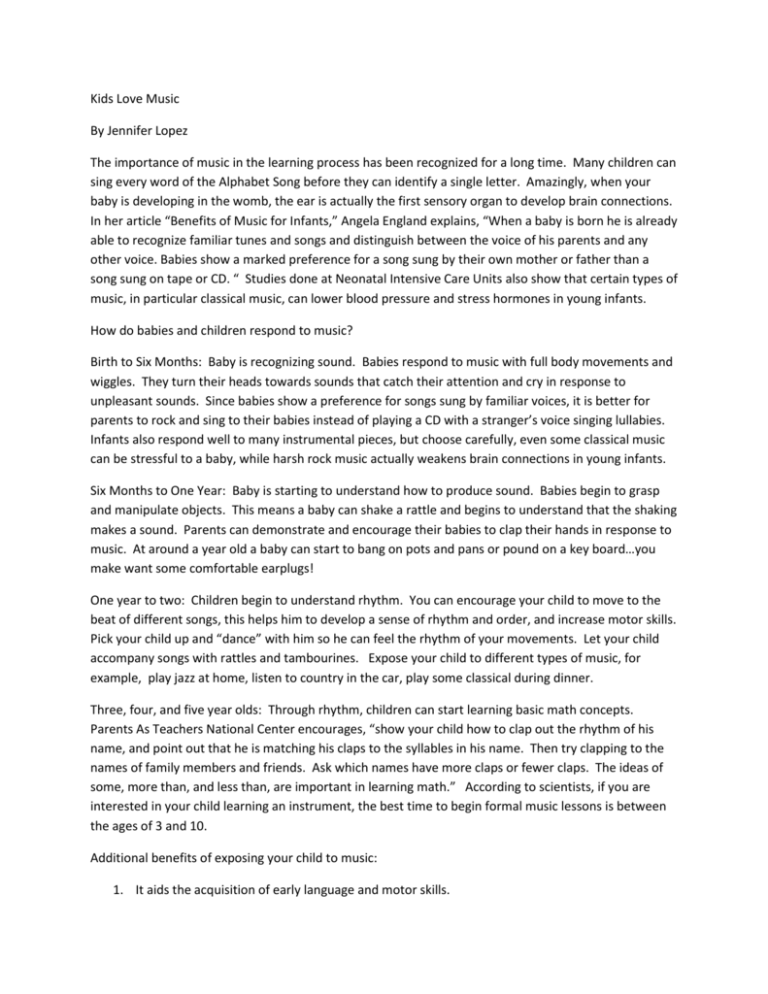 Kids Love Music
By Jennifer Lopez
The importance of music in the learning process has been recognized for a long time. Many children can
sing every word of the Alphabet Song before they can identify a single letter. Amazingly, when your
baby is developing in the womb, the ear is actually the first sensory organ to develop brain connections.
In her article "Benefits of Music for Infants," Angela England explains, "When a baby is born he is already
able to recognize familiar tunes and songs and distinguish between the voice of his parents and any
other voice. Babies show a marked preference for a song sung by their own mother or father than a
song sung on tape or CD. " Studies done at Neonatal Intensive Care Units also show that certain types of
music, in particular classical music, can lower blood pressure and stress hormones in young infants.
How do babies and children respond to music?
Birth to Six Months: Baby is recognizing sound. Babies respond to music with full body movements and
wiggles. They turn their heads towards sounds that catch their attention and cry in response to
unpleasant sounds. Since babies show a preference for songs sung by familiar voices, it is better for
parents to rock and sing to their babies instead of playing a CD with a stranger's voice singing lullabies.
Infants also respond well to many instrumental pieces, but choose carefully, even some classical music
can be stressful to a baby, while harsh rock music actually weakens brain connections in young infants.
Six Months to One Year: Baby is starting to understand how to produce sound. Babies begin to grasp
and manipulate objects. This means a baby can shake a rattle and begins to understand that the shaking
makes a sound. Parents can demonstrate and encourage their babies to clap their hands in response to
music. At around a year old a baby can start to bang on pots and pans or pound on a key board…you
make want some comfortable earplugs!
One year to two: Children begin to understand rhythm. You can encourage your child to move to the
beat of different songs, this helps him to develop a sense of rhythm and order, and increase motor skills.
Pick your child up and "dance" with him so he can feel the rhythm of your movements. Let your child
accompany songs with rattles and tambourines. Expose your child to different types of music, for
example, play jazz at home, listen to country in the car, play some classical during dinner.
Three, four, and five year olds: Through rhythm, children can start learning basic math concepts.
Parents As Teachers National Center encourages, "show your child how to clap out the rhythm of his
name, and point out that he is matching his claps to the syllables in his name. Then try clapping to the
names of family members and friends. Ask which names have more claps or fewer claps. The ideas of
some, more than, and less than, are important in learning math." According to scientists, if you are
interested in your child learning an instrument, the best time to begin formal music lessons is between
the ages of 3 and 10.
Additional benefits of exposing your child to music:
1. It aids the acquisition of early language and motor skills.
2.
3.
4.
5.
6.
7.
It strengthens the emotional bond between the two of you.
It can increase listening skills, memory and concentration.
It can accelerate learning in math and reading.
It develops imagination, invention, creative thinking, and communication skills.
It teaches such values as self-discipline, perseverance and responsibility.
Music also creates a positive atmosphere, try turning off the TV and putting on some music.
Many times children don't really care about watching TV, they just want to hear sound in the
background while they play.
Music suggestions for babies:






Vivaldi Flute Concerto-The Four Seasons
Bach-Jesu, Joy of Man's Desiring
Beethoven-Piano Concerto 5 (The Emperor Concerto), 2nd Movement
Brahms-Symphony No. 3, 2nd Movement
Haydn-Cello Concerto, 2nd Movement
Tchaikovsky-Symphony No. 6, 2nd Movement
For children:







Boston Pops, Arthur Fiedler-Classics for Children
Camille Saint-Saens-Carnival of the Animals
Prokofiev-Peter and the Wolf
Tchaikovsky-The Nutcracker
Royal Philharmonic Orchestra with Full Chorus-Nursery Rhymes
Classical Kids Series-Mozart's Magnificent Voyage
Introduction to the Classics series
If you would be interested in more information or a visit from Parents As Teachers, please call at 3564245.
Information taken from "Benefits of Music for Infants: How Music Helps Newborn Babies Brain and Emotional
Development," by Angela England, "The sound of music-it's not just entertainment," from Parents as Teachers
National Center, Inc., and "Ready for Music?" by Jennifer L. Nelson, Parent & Child Magazine.