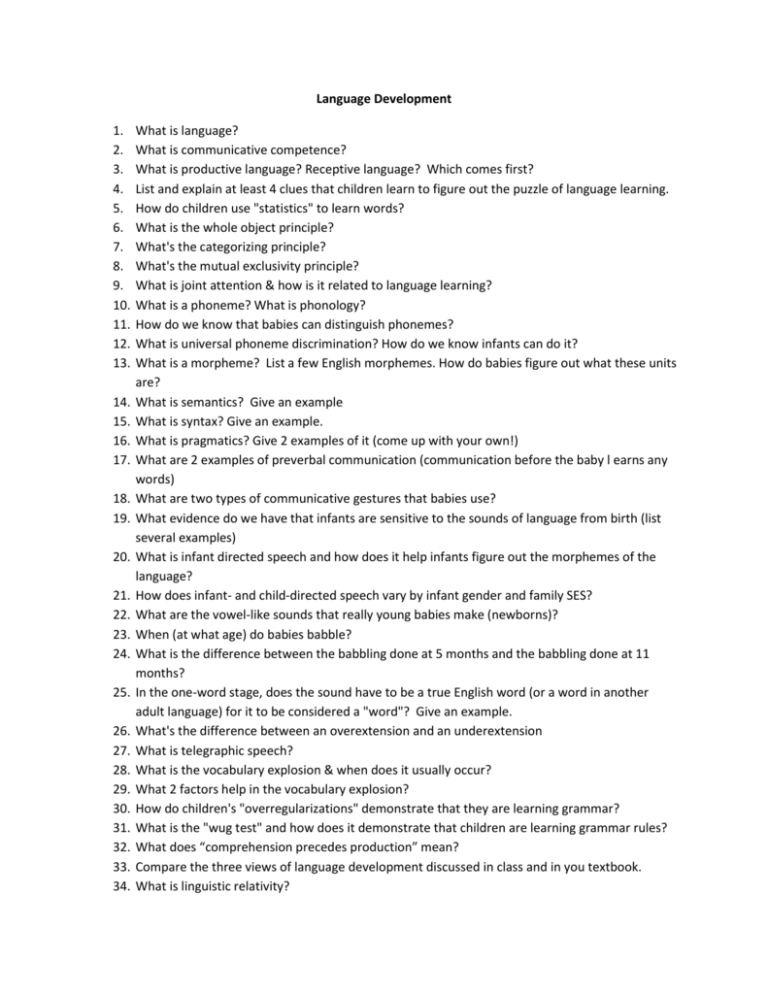 Language Development
1.
2.
3.
4.
5.
6.
7.
8.
9.
10.
11.
12.
13.
14.
15.
16.
17.
18.
19.
20.
21.
22.
23.
24.
25.
26.
27.
28.
29.
30.
31.
32.
33.
34.
What is language?
What is communicative competence?
What is productive language? Receptive language? Which comes first?
List and explain at least 4 clues that children learn to figure out the puzzle of language learning.
How do children use "statistics" to learn words?
What is the whole object principle?
What's the categorizing principle?
What's the mutual exclusivity principle?
What is joint attention & how is it related to language learning?
What is a phoneme? What is phonology?
How do we know that babies can distinguish phonemes?
What is universal phoneme discrimination? How do we know infants can do it?
What is a morpheme? List a few English morphemes. How do babies figure out what these units
are?
What is semantics? Give an example
What is syntax? Give an example.
What is pragmatics? Give 2 examples of it (come up with your own!)
What are 2 examples of preverbal communication (communication before the baby l earns any
words)
What are two types of communicative gestures that babies use?
What evidence do we have that infants are sensitive to the sounds of language from birth (list
several examples)
What is infant directed speech and how does it help infants figure out the morphemes of the
language?
How does infant- and child-directed speech vary by infant gender and family SES?
What are the vowel-like sounds that really young babies make (newborns)?
When (at what age) do babies babble?
What is the difference between the babbling done at 5 months and the babbling done at 11
months?
In the one-word stage, does the sound have to be a true English word (or a word in another
adult language) for it to be considered a "word"? Give an example.
What's the difference between an overextension and an underextension
What is telegraphic speech?
What is the vocabulary explosion & when does it usually occur?
What 2 factors help in the vocabulary explosion?
How do children's "overregularizations" demonstrate that they are learning grammar?
What is the "wug test" and how does it demonstrate that children are learning grammar rules?
What does "comprehension precedes production" mean?
Compare the three views of language development discussed in class and in you textbook.
What is linguistic relativity?
35. Bilingual children show some initial delays in language learning. What are they?
36. What advantages do bilingual children have over monolingual children?