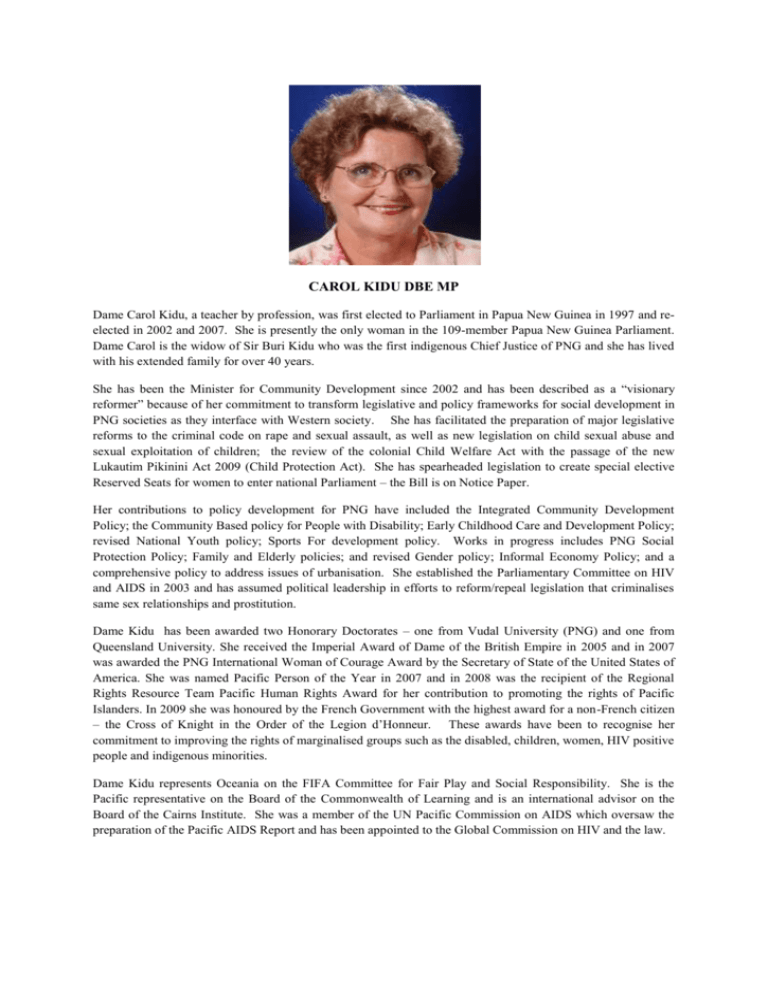 CAROL KIDU DBE MP
Dame Carol Kidu, a teacher by profession, was first elected to Parliament in Papua New Guinea in 1997 and reelected in 2002 and 2007. She is presently the only woman in the 109-member Papua New Guinea Parliament.
Dame Carol is the widow of Sir Buri Kidu who was the first indigenous Chief Justice of PNG and she has lived
with his extended family for over 40 years.
She has been the Minister for Community Development since 2002 and has been described as a "visionary
reformer" because of her commitment to transform legislative and policy frameworks for social development in
PNG societies as they interface with Western society. She has facilitated the preparation of major legislative
reforms to the criminal code on rape and sexual assault, as well as new legislation on child sexual abuse and
sexual exploitation of children; the review of the colonial Child Welfare Act with the passage of the new
Lukautim Pikinini Act 2009 (Child Protection Act). She has spearheaded legislation to create special elective
Reserved Seats for women to enter national Parliament – the Bill is on Notice Paper.
Her contributions to policy development for PNG have included the Integrated Community Development
Policy; the Community Based policy for People with Disability; Early Childhood Care and Development Policy;
revised National Youth policy; Sports For development policy. Works in progress includes PNG Social
Protection Policy; Family and Elderly policies; and revised Gender policy; Informal Economy Policy; and a
comprehensive policy to address issues of urbanisation. She established the Parliamentary Committee on HIV
and AIDS in 2003 and has assumed political leadership in efforts to reform/repeal legislation that criminalises
same sex relationships and prostitution.
Dame Kidu has been awarded two Honorary Doctorates – one from Vudal University (PNG) and one from
Queensland University. She received the Imperial Award of Dame of the British Empire in 2005 and in 2007
was awarded the PNG International Woman of Courage Award by the Secretary of State of the United States of
America. She was named Pacific Person of the Year in 2007 and in 2008 was the recipient of the Regional
Rights Resource Team Pacific Human Rights Award for her contribution to promoting the rights of Pacific
Islanders. In 2009 she was honoured by the French Government with the highest award for a non-French citizen
– the Cross of Knight in the Order of the Legion d'Honneur. These awards have been to recognise her
commitment to improving the rights of marginalised groups such as the disabled, children, women, HIV positive
people and indigenous minorities.
Dame Kidu represents Oceania on the FIFA Committee for Fair Play and Social Responsibility. She is the
Pacific representative on the Board of the Commonwealth of Learning and is an international advisor on the
Board of the Cairns Institute. She was a member of the UN Pacific Commission on AIDS which oversaw the
preparation of the Pacific AIDS Report and has been appointed to the Global Commission on HIV and the law.