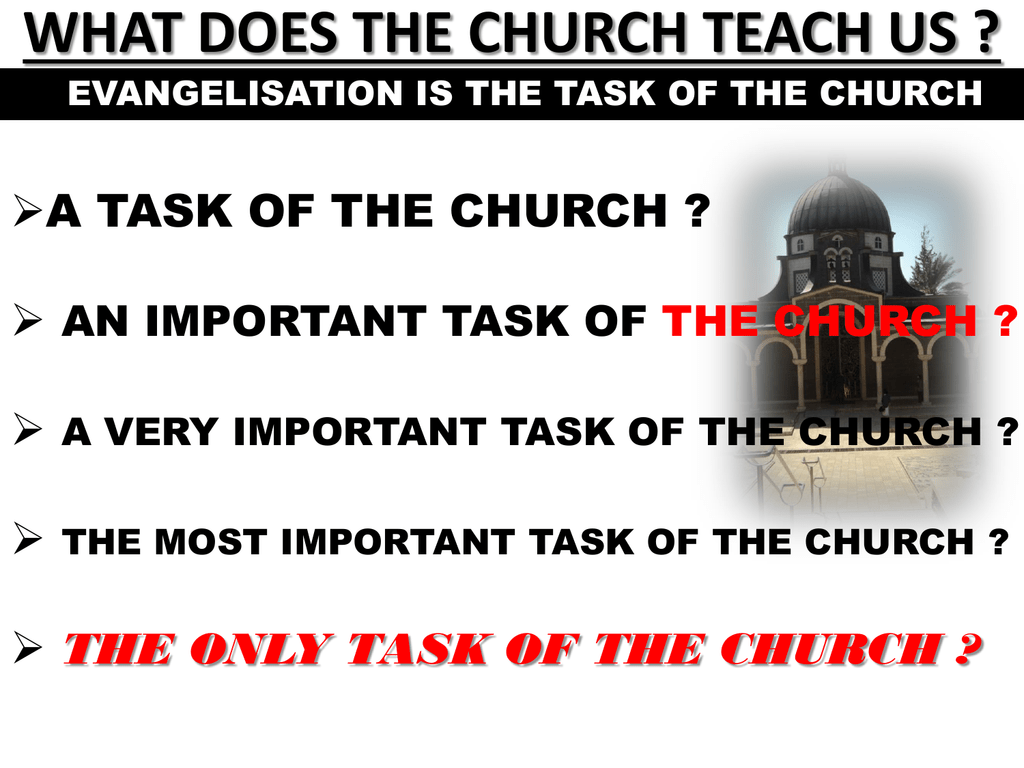 WHAT DOES THE CHURCH TEACH US ?
EVANGELISATION IS THE TASK OF THE CHURCH
A TASK OF THE CHURCH ?
 AN IMPORTANT TASK OF THE CHURCH ?
 A VERY IMPORTANT TASK OF THE CHURCH ?

THE MOST IMPORTANT TASK OF THE CHURCH ?
 THE ONLY TASK OF THE CHURCH ?
•
•
•
•
WORLD POPULATION ----62 TO 65 MILLIONS.
CATHOLICS…BETWEEN 12 TO 15 MILLIONS.
20,000 DIFF.DINOMINA. ONE BILLIONS
1.Pt.2/9."you are a Chosen Race,Royal Priest
hood, Holy Nation, Prophetic, Darkness to
light.
• From Abraham…Israel…. The Church. J XT.
Eucharist --Pentacost..Peter….Popes….
• Early Christian Community. 300 years
Persecution,under 10 Roman Emperors.
• CHURCH …IS ONE, 1.FAITH. BAPTISM,KOINON
• CHURCH…IS HOLY, 7 SACRAMENTS.
• CHURCH… UNIVERSAL AND 4. APPOSTOLIC
• TRADITION IS THERE. BIBLE IS WRITTEN FOR A
COMUNITY OF FAITH.# SOLA SCRIPTURA
• PROTEST…..DISOBEDIENT..WOUNDED.DIVIDED
Ga1/6-9 Diff.Gospel.confusing,perverting.accure
2Tim.3/5-9.captivate silly women. No Truth in.
Titus 1/10-14.Rebellious,Idle talkers,upsetting
families, Sordid gain No right to teach.
1Jn.2/18-25. they went Out Us.Anti Xt.
2Jn/7-11. They Deceivers,Do not receive them
into your House Not Welcome. Evil deed.
2Pt.1/20-21.No self interpretation
.Mt24/4-5. 10-11.Anti-Xt. 2Cor:2:7
•
•
•
•
•
1.LUTHERAN-Martin Luther. In 1517.png.19%
2.Anglicans 1517.King.Henry V111.png.3.2%
3.Baptist.by.Mr.John Smith.1606.png.0.5%
4.7th day Adventist.Miller. 1843. .png.10%
5.Pentacostal alliance (70,000 or.More in
world. 1900 started in USA.