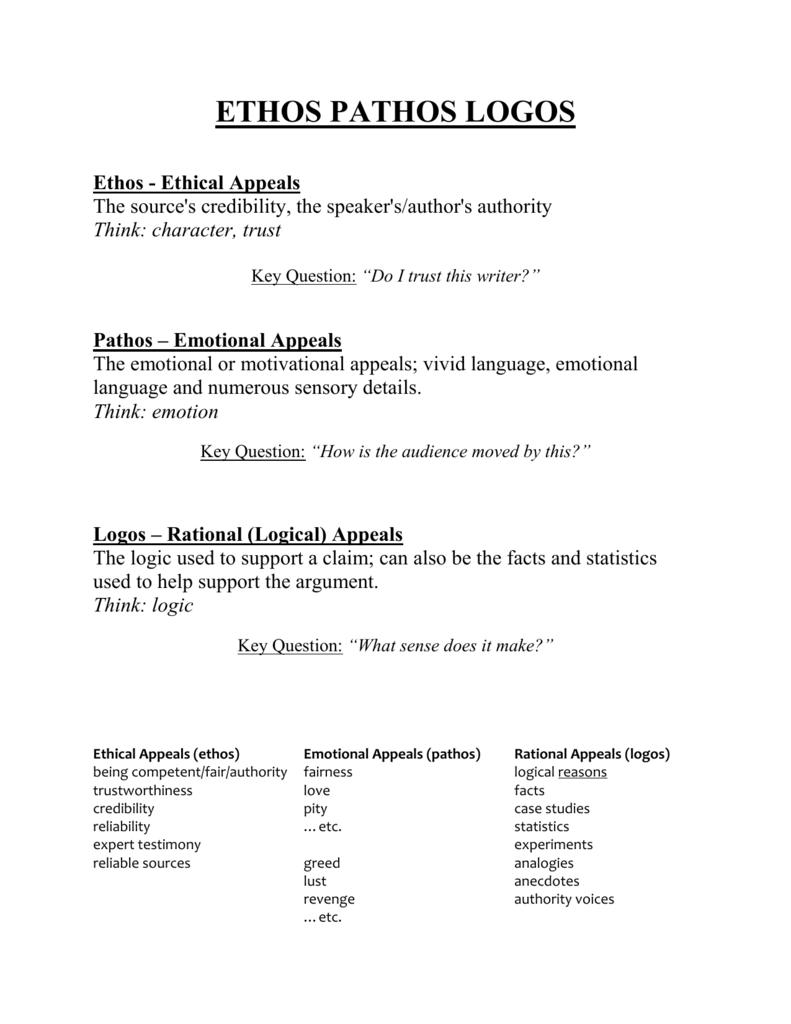 ETHOS PATHOS LOGOS
Ethos - Ethical Appeals
The source's credibility, the speaker's/author's authority
Think: character, trust
Key Question: "Do I trust this writer?"
Pathos – Emotional Appeals
The emotional or motivational appeals; vivid language, emotional
language and numerous sensory details.
Think: emotion
Key Question: "How is the audience moved by this?"
Logos – Rational (Logical) Appeals
The logic used to support a claim; can also be the facts and statistics
used to help support the argument.
Think: logic
Key Question: "What sense does it make?"
Ethical Appeals (ethos)
being competent/fair/authority
trustworthiness
credibility
reliability
expert testimony
reliable sources
Emotional Appeals (pathos)
fairness
love
pity
…etc.
greed
lust
revenge
…etc.
Rational Appeals (logos)
logical reasons
facts
case studies
statistics
experiments
analogies
anecdotes
authority voices
Reading Rhetorically: Questions to Ask About the
Writer, Emotions and Logic
ETHOS









What can you infer about the author from the text?
Does this author have the appropriate background to speak with authority on this
subject?
What comparisons does the writer make to other people, places, or events within
the text to establish authority?
Is the author knowledgeable?
What does the author's style and language tell the reader about him or her?
Does the author seem trustworthy? Why or why not?
Does the author seem deceptive? Why or why not?
Does the author appear to be serious?
PATHOS




Does this piece affect you emotionally?/ Does the writer appeal to your
emotions—feelings of sadness, pride, fear, being young, anger, patriotism, love,
justice? Which parts?
Do you think the author is trying to manipulate the readers' emotions? In what
ways? At what point(s)?
How does the writer/text try to establish a relationship or common ground with
the reader?
What circumstances can we as an audience relate to?
Do your emotions conflict with your logical interpretation of the arguments?
Does the author use humor or irony? How does that affect your acceptance of his
or her ideas?
LOGOS





What are the major claims and assertions made in this reading? Do you agree
with the author's claim that….?
What evidence has the author supplied to support the claims? How relevant and
valid do you think the evidence is? How sound is the reasoning? Is there any
claim that appears to be weak or unsupported? Which one, and why do you think
so?
What counterarguments has the author addressed? Do you think the author has
left something out on purpose? Why?
How have the author's ideas developed over the course of the text?
Does the writer jump to conclusions or have logical fallacies?