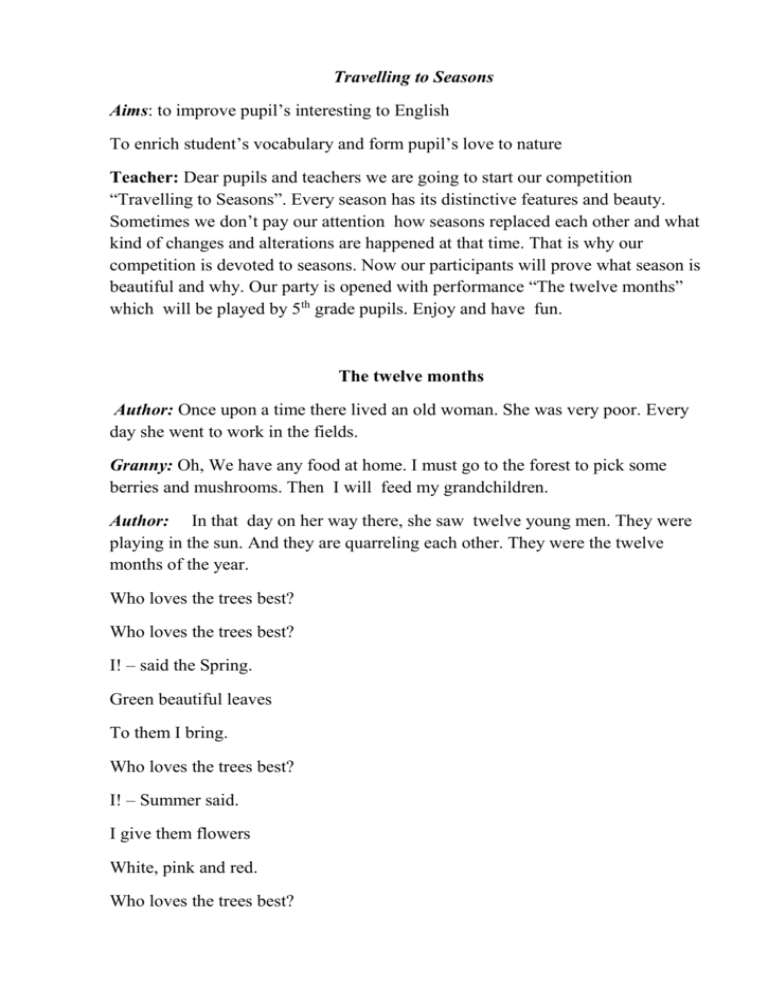 Travelling to Seasons
Aims: to improve pupil's interesting to English
To enrich student's vocabulary and form pupil's love to nature
Teacher: Dear pupils and teachers we are going to start our competition
"Travelling to Seasons". Every season has its distinctive features and beauty.
Sometimes we don't pay our attention how seasons replaced each other and what
kind of changes and alterations are happened at that time. That is why our
competition is devoted to seasons. Now our participants will prove what season is
beautiful and why. Our party is opened with performance "The twelve months"
which will be played by 5th grade pupils. Enjoy and have fun.
The twelve months
Author: Once upon a time there lived an old woman. She was very poor. Every
day she went to work in the fields.
Granny: Oh, We have any food at home. I must go to the forest to pick some
berries and mushrooms. Then I will feed my grandchildren.
Author: In that day on her way there, she saw twelve young men. They were
playing in the sun. And they are quarreling each other. They were the twelve
months of the year.
Who loves the trees best?
Who loves the trees best?
I! – said the Spring.
Green beautiful leaves
To them I bring.
Who loves the trees best?
I! – Summer said.
I give them flowers
White, pink and red.
Who loves the trees best?
I! – Autumn said.
I give them ripe fruits
Sweet and red.
Who loves the trees best?
I love them best.
White Winter answered.
I give them rest.
Author: The twelve months came up to the old woman and asked:
Twelve months: "Granny, please, tell us which is the most beautiful month of the
year?"
Granny: "They are all beautiful" In January and February there is snow, In April
and May flowers and trees bloom. Every month has its advantages.
Twelve months: Granny, you praised all of us and we want to give you a present. I
have here in my kerchief.
Granny: Thank you very much.
Author: At home she said to her children
Granny: See what present I have here in my kerchief.
Children: How many gold coins are there! Where did you take granny?
Granny: Now we shall have much food at last
Author: All went well for some time. One day a rich neighbor came to see the old
woman and learned about the money.
Rich neighbor: "Where did you get it all?" she asked the old woman
Granny: The twelve months gave it to me
Rich neighbor: And where did you find the twelve months
Granny: In the fields
Author: When the rich neighbor heard this, she went there to see the twelve
months
Twelve months: "Granny, please, tell us which is the most beautiful month of the
year?"
Rich neighbor: Which is the most beautiful ? "None of you is beautiful. In
January and in February there is snow…"
Twelve months: Very well, then. Give us your kerchief and we shall give you a
present for your words
The neighbor gave them her kerchief and they filled it full
Rich neighbor Thank you very much
Author: said the woman and went home as quickly as she could There she said to
her children:
Rich neighbor We are going to be still richer. See what I have here in my kerchief!
Author: When the children looked, they saw nothing in it but stones
The neighbor was very angry. She ran to the old woman and cried
Look what these twelve months gave me nothing but stones
And what did you tell the months when they asked you which month was the most
beautiful?
Rich neighbor I said that none of them was the most beautiful
Granny: Then they give you the right sort of present
Author: Do you think she is right? Yes she is, because there is something nice in
each season
Teacher: It was fantastic scene. Thanks a lot
Let's start our competition and it consists of four rounds
1st round Introducing team, emblem, motto and costume
2nd round presentation of season
3rd round Riddles
4th round Fashion show
And our competent juries are
__________________________________________________________________
__________________________________________________________________
__________________________________________________________________
__________________________________________________________________
Let's start our competition. The first round: Introducing team.
The second round is : Presentation. Every team should describe season, its beauty
and priviliges. Which month is the most beautiful? Let's listen carefully our
participants.
Winter
When December is approaching there is a breath of winter in the autumn air. It is
getting colder day by day. The cold makes the hands cold and stiff. People put on
warm clothes.
And then suddenly soft, white snowflakes are falling thick and fast covering the
ground and roofs. When the branches of the fir trees and pines are covered with
snow they look beautifully. The snow lies thick upon the ground and birds hop
about looking for food.
A lot of icicles all glittering in the sun hang from roofs of houses. Everything
seems to be covered into a white blanket. Rivers and lakes are covered with a thick
ice and you can skate on them.
Winter is a jolly time for children. They make snowmen and play snowballs. When
the weather is fine children and grown-ups go skiing, skating or sliding down the
snow covered hills.
It is also a season of loud celebrations, as there are many holidays during winter
days. We celebrate Christmas and New Year and these are my favourite holidays
of the year. As you see there are many reasons for me to like this season.
Winter
Winter is snowy, ( Қыс қарлы)
This is the season (Бұл жыл мезгілі)
Winter is frosty. (Қыс аязды)
When children can ski, (Балалар
шаңғы тебетін)
The ground is white (Жер аққа
оранды)
All day and all night. (Күндіз де
және түнде де)
Play snowballs (Ақшақарда
ойнайтын)
айналып.)
And dance round the New Year Tree.
(Жаңа жыл шыршасын билей
***
January brings the snow, (Қаңтар қар алып келеді)
Makes our feet and fingers glow. (Қолымыз бен аяғымыз аяздан қызады)
February snows again (Ақпанда қайта қар жауады)
And sometimes it brings us rain. (Кей кездері жаңбыр жауады)
My Favourite Season - Spring
I love spring. It is a wonderful season. Spring comes and nature awakens from its
winter sleep. The days become longer and the nights become shorter.
The ground is covered with fresh green grass and the first spring flowers. How
lovely the white snowdrops are! There are new leaves and blossoms on the trees.
The birds begin to sing and build their nests. The air is fresh and the sun shines
brightly. The days are warm and everything is full of life and joy. Everybody feels
younger and stronger.
Many people like spring more than other seasons. It is very pleasant to watch how
the nature awakens from the winter sleep.
In spring we can go to the country and have a walk in the woods or by the river,
play ball-games, lie in the sun and even have a swim if the water is warm enough.
That is why I like spring more than any other season of the year.
March brings sunny days and winds (Наурыз күні шуақты және желді )
So we know that spring begins. (содан көктем нышаны байқалады.)
April brings the primrose sweet, (Сәуір тәтті гүлдер алып келеді)
We see daisies at our feet. (Аяғымыздан маргаритка гүлін көреміз)
May brings flowers, joy and grass (Мамыр айы гүлдер мен қуаныш
сыйлайды)
And the holidays for us. (Мейрамдарды қуана тойлайды.)
June brings tulips, lilies, roses. (Шілде айы қызғалдақ, раушангүл мен, лилии,
Fills the children`s hands with posies. (Балалардың құшақтары гүлге толады.)
Spring
Spring is coming,
Spring, spring, spring!
Spring is coming,
The trees are green,
Flowers are coming too.
Blue skies are seen.
Snowdrops, lilies, daffodils
Grey winter has gone away!
Now are coming too.
The world looks new and gay.
My Favourite Season - Summer
The bright sunshine warms the Earth. When the heat is oppressive, it is a treat to
get out of town and have a walk in the woods.
The fields are green. In summer nature surrounds us with all kinds of flowers:
merry dandelions, beautiful roses, shy daisies.
Sometimes the weather becomes too hot in summer and the air gets stuffy. Then a
thunderstorm usually brings relief. The sky is suddenly covered with dark clouds
and distant rolls of thunder are heard. Later bright flashes of lightning are followed
by claps of thunder and it begins to rain. After the thunderstorm the air is
remarkably fresh, and very often we can see a beautiful bridge across the sky
which is called a rainbow.
Children love summer very much because in summer they have long holidays.
They don't have to go to school and that's why they have much free time. They
can play with their friends in the yard, read or watch TV. So, summer is the best
time of the year.
Summer Poems
Hot July brings apples and cherries
This is the season when nights are short.
And a lot of other berries.
And children have plenty of fun and sport.
August brings us golden corn,
Boating and swimming all day long
Then the harvest home is borne.
Will make us healthy and strong.
My Favourite Season - Autumn
I like autumn very much. The autumn months are: September, October, November.
In September summer yields to autumn. The days become shorter and the nights
become longer. The sun rays are not so bright and warm. The fruit trees that not
long ago bloomed with flowers are heavy with juicy apples and pears. Harvest time
is a rush season for farmers. They gather sunflowers and maize, potatoes and
cabbage, turnip and cucumbers, carrots and tomatoes. Early autumn is the period of
flaming colours, when the landscape is gold and brown. In the daytime the silver
gossamer is flying in the air. It's a sign of the beautiful "Indian Summer". But
unfortunately this period of fine weather is very short and deep autumn follows it.
October is the best month for planting trees. People also prepare for winter. It is a
season when the trees are fantastic — yellow, red, green and brown. The trees are
loosing their leaves. Now the ground is like a carpet of many colours. It gets dark
earlier and often heavy clouds cover the sky bringing rain. Birds don't sing their
songs. They begin to leave for warm countries.
November is the month of fog, rain and snow. Animals put on their winter coats.
The landscape becomes rather dull.Nature slowly falls asleep for winter.
They say that autumn is a season of poets and philosophers, that's why I really
like it.
Poems
Warm September brings us school,
Red November brings us joy,
Days are shorter, nights are cool.
Fun for every girl and boy.
Fresh October brings much fruit
Cold December brings us skating,
Then to gather them is good.
For the New Year we are waiting
Autumn
Summer is over.
The summer is over
September comes.
The trees are bare.
October and November
There is mist in the garden
Are autumn months.
And frost in the air
Autumn
Autumn is rainy and deciduous,
Winter is cold and white,
Spring is sunny and luminous,
Summer is hot and bright.
Autumn leaves come down
Filling over my village and town.
Their flight is so short,
Their landing is so soft.
Snowflakes are so nice,
Snowflakes are falling ice.
They falling day by day
Making children scream «hooray».
When winter ends,
Lift up your hands.
Look up to see surprise in sky
It"s Spring looks down in your eyes!
Then summer will bloom
And bees will zoom
The Sun shines bright above my school
Teacher: The third round is riddles. Every team reads prepared riddles to other
teams. The others try to guess what is it. Every right answer is 1 score. Let's start.
GOOD LUCK.
Teacher: THE last round is Fashion show. There are four seasons in the year.
Each of them brings different weather and different dresses. When it is hot people
wear T-shirts and shorts, light blouses and skirts, sport shoes, socks and sandals. In
cold weather people usually put on warm clothes: jeans and trousers, sweaters and
jackets, overcoats and caps. In winter they wear fur coats and fur caps, high boots
and mittens or gloves. The proverb says: there is no bad weather, there are bad
clothes. Another proverb says: everything is good in its season. Now every team
show their fashions according to their seasons. The last round is showing fashion.
Thank for your active participants. All of you were friendly, clever and quickwitted.