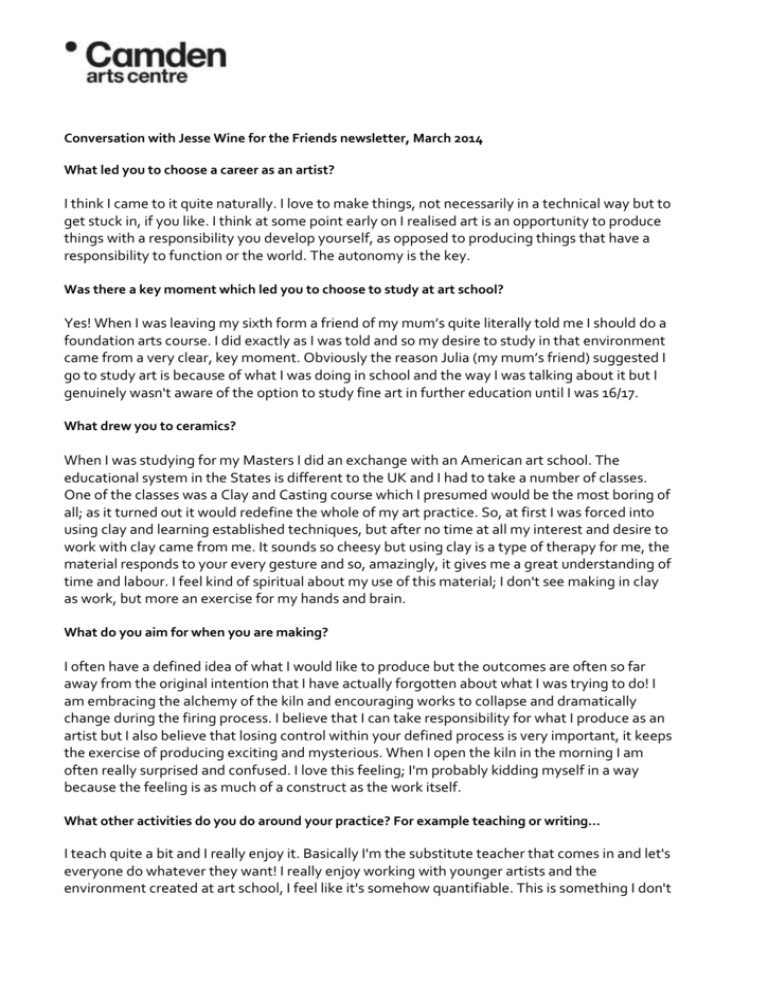 Conversation with Jesse Wine for the Friends newsletter, March 2014
What led you to choose a career as an artist?
I think I came to it quite naturally. I love to make things, not necessarily in a technical way but to
get stuck in, if you like. I think at some point early on I realised art is an opportunity to produce
things with a responsibility you develop yourself, as opposed to producing things that have a
responsibility to function or the world. The autonomy is the key.
Was there a key moment which led you to choose to study at art school?
Yes! When I was leaving my sixth form a friend of my mum's quite literally told me I should do a
foundation arts course. I did exactly as I was told and so my desire to study in that environment
came from a very clear, key moment. Obviously the reason Julia (my mum's friend) suggested I
go to study art is because of what I was doing in school and the way I was talking about it but I
genuinely wasn't aware of the option to study fine art in further education until I was 16/17.
What drew you to ceramics?
When I was studying for my Masters I did an exchange with an American art school. The
educational system in the States is different to the UK and I had to take a number of classes.
One of the classes was a Clay and Casting course which I presumed would be the most boring of
all; as it turned out it would redefine the whole of my art practice. So, at first I was forced into
using clay and learning established techniques, but after no time at all my interest and desire to
work with clay came from me. It sounds so cheesy but using clay is a type of therapy for me, the
material responds to your every gesture and so, amazingly, it gives me a great understanding of
time and labour. I feel kind of spiritual about my use of this material; I don't see making in clay
as work, but more an exercise for my hands and brain.
What do you aim for when you are making?
I often have a defined idea of what I would like to produce but the outcomes are often so far
away from the original intention that I have actually forgotten about what I was trying to do! I
am embracing the alchemy of the kiln and encouraging works to collapse and dramatically
change during the firing process. I believe that I can take responsibility for what I produce as an
artist but I also believe that losing control within your defined process is very important, it keeps
the exercise of producing exciting and mysterious. When I open the kiln in the morning I am
often really surprised and confused. I love this feeling; I'm probably kidding myself in a way
because the feeling is as much of a construct as the work itself.
What other activities do you do around your practice? For example teaching or writing…
I teach quite a bit and I really enjoy it. Basically I'm the substitute teacher that comes in and let's
everyone do whatever they want! I really enjoy working with younger artists and the
environment created at art school, I feel like it's somehow quantifiable. This is something I don't
feel so much in the art world; things are liquid and change rapidly- sometimes for the better and
sometimes for the worse. I try to play football as much as possible, this is about an affinity with
my childhood and when I lived in Chester, where I grew up. I can't remember doing much else
apart from playing football and listening to dodgy rap music in Chester - eleven years on and I
seem to have returned to these exact same things. And in turn my work has become scarily
autobiographical of late; I have been producing a number of self portraits and various other
works that are direct results of my lifestyle and personality.
What made you apply for the Ceramics Fellowship and how has it helped you so far?
I applied [to the Ceramics Fellowship at Camden Arts Centre] because the opportunity to work
with an institution is something I really desired. After art school you're out on your own and
although that is liberating it can also be dizzying. Camden has offered a great deal of support
and structure for me so far. It's partly emotional, knowing that you have someone to turn to and
ask questions to, is amazing and really important for me on a personal level.
What do opportunities like this mean for you as an artist/individual?
An awful lot! To get a nod from such an inspiring institution is something I really wasn't
expecting. So much of being able to produce art is to do with confidence in what you are doing.
This relationship with Camden Arts Centre has definitely helped me to believe in what I am
doing as an artist and the way I am communicating. It's helping me to move forwards.