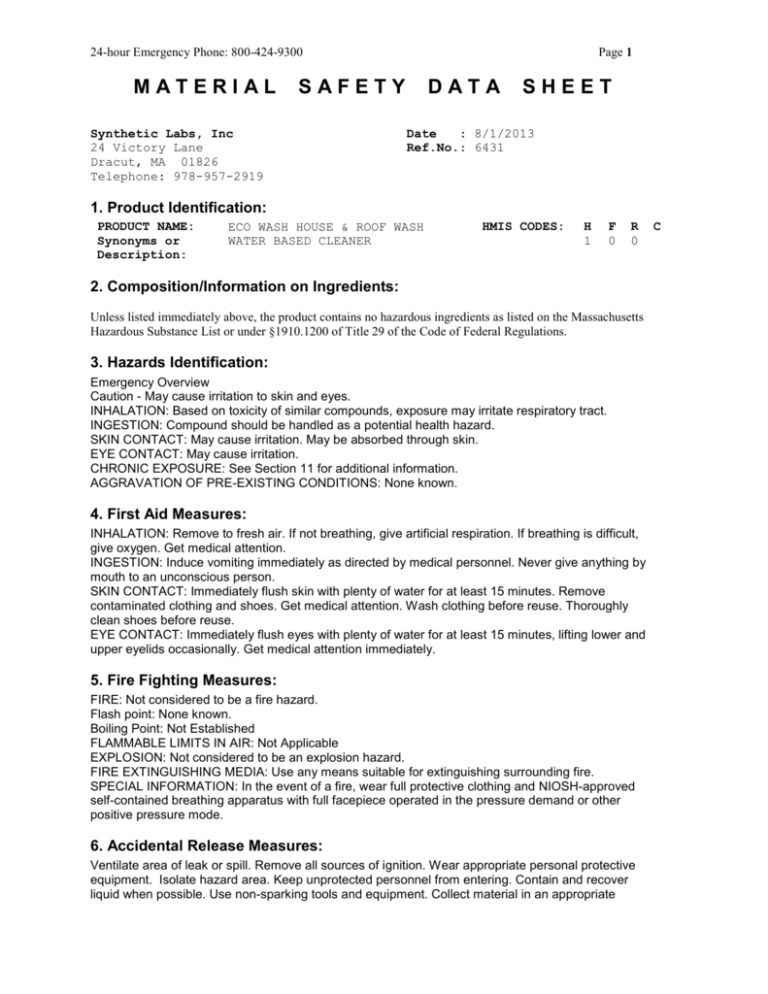 24-hour Emergency Phone: 800-424-9300
MATERIAL
Page 1
SAFETY
Synthetic Labs, Inc
24 Victory Lane
Dracut, MA 01826
Telephone: 978-957-2919
DATA
SHEET
Date
: 8/1/2013
Ref.No.: 6431
1. Product Identification:
PRODUCT NAME:
Synonyms or
Description:
ECO WASH HOUSE & ROOF WASH
WATER BASED CLEANER
HMIS CODES:
H
1
F
0
R
0
2. Composition/Information on Ingredients:
Unless listed immediately above, the product contains no hazardous ingredients as listed on the Massachusetts
Hazardous Substance List or under §1910.1200 of Title 29 of the Code of Federal Regulations.
3. Hazards Identification:
Emergency Overview
Caution - May cause irritation to skin and eyes.
INHALATION: Based on toxicity of similar compounds, exposure may irritate respiratory tract.
INGESTION: Compound should be handled as a potential health hazard.
SKIN CONTACT: May cause irritation. May be absorbed through skin.
EYE CONTACT: May cause irritation.
CHRONIC EXPOSURE: See Section 11 for additional information.
AGGRAVATION OF PRE-EXISTING CONDITIONS: None known.
4. First Aid Measures:
INHALATION: Remove to fresh air. If not breathing, give artificial respiration. If breathing is difficult,
give oxygen. Get medical attention.
INGESTION: Induce vomiting immediately as directed by medical personnel. Never give anything by
mouth to an unconscious person.
SKIN CONTACT: Immediately flush skin with plenty of water for at least 15 minutes. Remove
contaminated clothing and shoes. Get medical attention. Wash clothing before reuse. Thoroughly
clean shoes before reuse.
EYE CONTACT: Immediately flush eyes with plenty of water for at least 15 minutes, lifting lower and
upper eyelids occasionally. Get medical attention immediately.
5. Fire Fighting Measures:
FIRE: Not considered to be a fire hazard.
Flash point: None known.
Boiling Point: Not Established
FLAMMABLE LIMITS IN AIR: Not Applicable
EXPLOSION: Not considered to be an explosion hazard.
FIRE EXTINGUISHING MEDIA: Use any means suitable for extinguishing surrounding fire.
SPECIAL INFORMATION: In the event of a fire, wear full protective clothing and NIOSH-approved
self-contained breathing apparatus with full facepiece operated in the pressure demand or other
positive pressure mode.
6. Accidental Release Measures:
Ventilate area of leak or spill. Remove all sources of ignition. Wear appropriate personal protective
equipment. Isolate hazard area. Keep unprotected personnel from entering. Contain and recover
liquid when possible. Use non-sparking tools and equipment. Collect material in an appropriate
C
24-hour Emergency Phone: 800-424-9300
MATERIAL
SAFETY
Page 2
DATA
SHEET
container. Liquids may be absorbed with an inert material (e.g. vermiculite, dry sand, earth), and
place in a chemical waster container. Do not use combustible materials such as saw dust. Do not
flush to sewer! If a leak or spill has not ignited, use water spray to disperse any vapors, to protect
personnel attempting to stop leak and to flush spills away from exposures.
7. Handling and Storage:
Keep in a tightly closed original container, stored in a cool, dry, ventilated area. Protect against
physical damage. Isolate from incompatible substances. Product may be slippery if spilled.
Containers of this material may be hazardous when empty since they retain product residues (dust,
solids, liquids). Observe all warnings and precautions listed for the product.
8. Exposure Controls/Personal Protection:
VENTILATION SYSTEM: A system of local and/or general exhaust is recommended to keep
employee exposures low when product is misted, vaporized or aerosoled.
PERSONAL RESPIRATORS: For conditions of use where exposure to dust or mist is apparent and
engineering controls are not feasible, a respirator may be worn.
SKIN PROTECTION: Wear protective gloves and clean body-covering clothing.
EYE PROTECTION: Safety glasses. Maintain eye wash fountain and quick-drench facilities in work
area.
9. Physical and Chemical Properties:
Appearance: Yellow clear liquid.
Odor: Lemon Scented.
Solubility in Water: Completely soluble in water.
Specific Gravity: 1.03
pH: 11-11.5
Volatile (% V.O.C. by volume): 0.00
Melting Point: Not Known
Vapor Density (Air=1): Not Known
Vapor Pressure (mm Hg): Not Known
Evaporation Rate (BuAc=1): As water.
10. Stability and Reactivity:
STABILITY: Stable under ordinary conditions of use and storage.
HAZARDOUS DECOMPOSITION PRODUCTS: Not known.
HAZARDOUS POLYMERIZATION: Will not occur.
INCOMPATIBILITIES: Avoid mixing with other chemicals unless reactivity is known.
CONDITIONS TO AVOID: No information found.
11. Toxicological Information:
No toxicological information is known for this product
12. Ecological Information:
Environmental Fate: Not established
Environmental Toxicity: Not available
13. Disposal Considerations:
Whatever cannot be saved for recovery or recycling should be managed in an appropriate and
approved waste facility. Large amounts should be given to a licensed disposal agency. State and
local disposal regulations may differ from federal disposal regulations. Dispose of container and
unused contents in accordance with federal, state and local regulations.
24-hour Emergency Phone: 800-424-9300
MATERIAL
SAFETY
Page 3
DATA
SHEET
14. Transport Information:
D. O. T. Classification (Domestic, Land):
Class 55, Cleaning Compound, Non Hazardous
15. Regulatory Information:
Not Known
16. Other Information:
DISCLAIMER:
See the product label for use directions.
The information of this Material Safety Data Sheet reflects the latest information and data that we
have on hazards, properties and handling of this product under the recommended conditions of use.
Any use of this product or method of application which is not described on the Label or in the Product
Data Sheet is the responsibility of the user.
This Material Safety Data Sheet was prepared to comply with the OSHA Hazard Communications
Regulation and Massachusetts Right to Know Law.