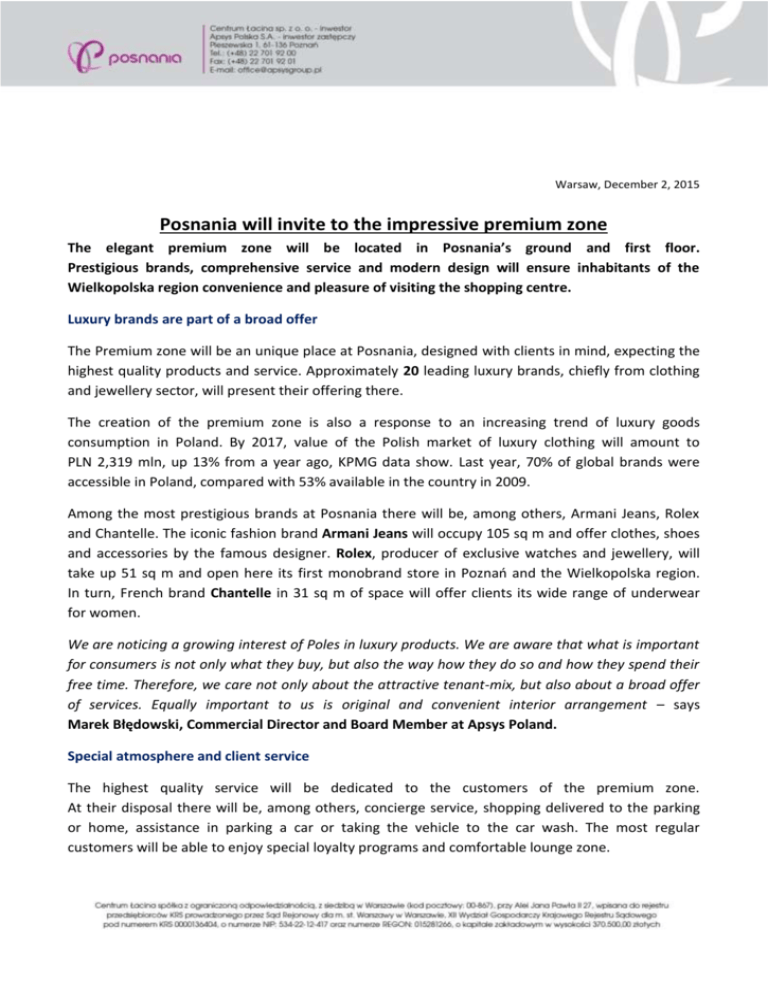 Warsaw, December 2, 2015
Posnania will invite to the impressive premium zone
The elegant premium zone will be located in Posnania's ground and first floor.
Prestigious brands, comprehensive service and modern design will ensure inhabitants of the
Wielkopolska region convenience and pleasure of visiting the shopping centre.
Luxury brands are part of a broad offer
The Premium zone will be an unique place at Posnania, designed with clients in mind, expecting the
highest quality products and service. Approximately 20 leading luxury brands, chiefly from clothing
and jewellery sector, will present their offering there.
The creation of the premium zone is also a response to an increasing trend of luxury goods
consumption in Poland. By 2017, value of the Polish market of luxury clothing will amount to
PLN 2,319 mln, up 13% from a year ago, KPMG data show. Last year, 70% of global brands were
accessible in Poland, compared with 53% available in the country in 2009.
Among the most prestigious brands at Posnania there will be, among others, Armani Jeans, Rolex
and Chantelle. The iconic fashion brand Armani Jeans will occupy 105 sq m and offer clothes, shoes
and accessories by the famous designer. Rolex, producer of exclusive watches and jewellery, will
take up 51 sq m and open here its first monobrand store in Poznań and the Wielkopolska region.
In turn, French brand Chantelle in 31 sq m of space will offer clients its wide range of underwear
for women.
We are noticing a growing interest of Poles in luxury products. We are aware that what is important
for consumers is not only what they buy, but also the way how they do so and how they spend their
free time. Therefore, we care not only about the attractive tenant-mix, but also about a broad offer
of services. Equally important to us is original and convenient interior arrangement – says
Marek Błędowski, Commercial Director and Board Member at Apsys Poland.
Special atmosphere and client service
The highest quality service will be dedicated to the customers of the premium zone.
At their disposal there will be, among others, concierge service, shopping delivered to the parking
or home, assistance in parking a car or taking the vehicle to the car wash. The most regular
customers will be able to enjoy special loyalty programs and comfortable lounge zone.
Special atmosphere of the premium zone will be also created by a rest area, designed in line with
the latest trends of contemporary design. Attractive interior appearance will be ensured by glass
balustrades and stairs leading to the first floor, as well as light coloured flooring made of Italian
marble. What's more, 6 meter high shopfronts will grasp clients' attention and allow for interesting
exposure of goods.
Posnania's retail space has been commercialized in 86% by far, and the grand opening is scheduled
for autumn 2016.
Media Contact:
Robert Mrozowski
Posnania Press Office
email: [email protected]
mobile: +48 518 985 466
About Posnania
Posnania is the shopping and lifestyle centre and the biggest ongoing retail investment in Poland and Central Europe
worth EUR 300 million. In the autumn of 2016, 300 local, countrywide and international brands will ensure
comprehensive offering on 100,000 m2 of modern retail space. This includes 40 large and medium format stores, 220
boutiques, along with 40 restaurants and cafes.
Posnania will also stand out by providing superior customer service and a number of services predicated on new
technologies. Posnania is the world's first mall presented in virtual reality technology.
Posnania also has BREEAM Interim certificate with "very good" result, which is the best evidence of energy efficiency
and caring for the environment. The construction of the scheme is associated with modernization of the surrounding
streets. The value of investment in developing road infrastructure and armament the so far undeveloped area of 60 ha
will reach over PLN 80 million.
In September, Posnania has been recognized as one of the best retail developments in Europe and received the
acclaimed recommendation from the organizers of "The European Property Awards" taking place in London.