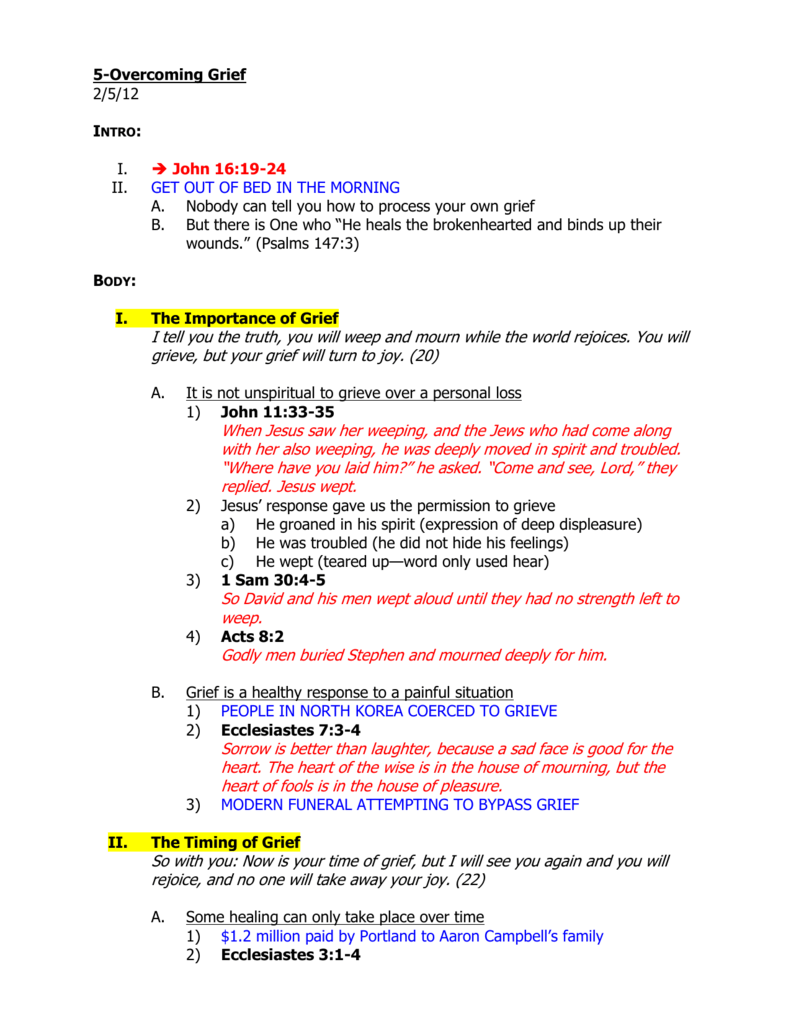 5-Overcoming Grief
2/5/12
INTRO:
I.
II.
 John 16:19-24
GET OUT OF BED IN THE MORNING
A. Nobody can tell you how to process your own grief
B. But there is One who "He heals the brokenhearted and binds up their
wounds." (Psalms 147:3)
BODY:
I.
The Importance of Grief
I tell you the truth, you will weep and mourn while the world rejoices. You will
grieve, but your grief will turn to joy. (20)
A.
It is not unspiritual to grieve over a personal loss
1) John 11:33-35
2)
B.
3)
Jesus' response gave us the permission to grieve
a) He groaned in his spirit (expression of deep displeasure)
b) He was troubled (he did not hide his feelings)
c) He wept (teared up—word only used hear)
1 Sam 30:4-5
4)
Acts 8:2
So David and his men wept aloud until they had no strength left to
weep.
Godly men buried Stephen and mourned deeply for him.
Grief is a healthy response to a painful situation
1) PEOPLE IN NORTH KOREA COERCED TO GRIEVE
2) Ecclesiastes 7:3-4
3)
II.
When Jesus saw her weeping, and the Jews who had come along
with her also weeping, he was deeply moved in spirit and troubled.
"Where have you laid him?" he asked. "Come and see, Lord," they
replied. Jesus wept.
Sorrow is better than laughter, because a sad face is good for the
heart. The heart of the wise is in the house of mourning, but the
heart of fools is in the house of pleasure.
MODERN FUNERAL ATTEMPTING TO BYPASS GRIEF
The Timing of Grief
So with you: Now is your time of grief, but I will see you again and you will
rejoice, and no one will take away your joy. (22)
A.
Some healing can only take place over time
1) $1.2 million paid by Portland to Aaron Campbell's family
2) Ecclesiastes 3:1-4
3)
B.
MY COUSINS MOURNING OVER THE LOSS OF FAYE
Everyone grieves differently, and it different timing
1) Most of our good advice really doesn't help:
1) Trying to explain God's will in the matter
2) Pressing them to just have more faith about it
3) Telling them to deal with it the way you would
2) Romans 12:15-16
3)
III.
There is a time for everything, and a season for every activity under
heaven: a time to be born and a time to die, a time to plant and a
time to uproot . . . a time to weep and a time to laugh, a time to
mourn and a time to dance.
Rejoice with those who rejoice; mourn with those who mourn. Live in
harmony with one another.
JESUS FLYING OVER WHEN DAD DIED
The Comforting of Grief
In that day you will no longer ask me anything. I tell you the truth, my Father
will give you whatever you ask in my name. Until now you have not asked for
anything in my name. Ask and you will receive, and your joy will be complete.
A.
The final stage of grief is accepting your loss as part of your story
1) WRITING A LIFE STORY IN PREPARATION FOR A FUNERAL
2) Psalms 34:18-19
3)
B.
The Lord is close to the brokenhearted and saves those who are
crushed in spirit. A righteous man may have many troubles, but the
Lord delivers him from them all.
SAVING THE CUP FROM THE LAWSUIT WE LOST
Every loss is an opportunity to discover the comfort of God's love
1) HOLDING THE KIDS AND LETTING THEM CRY
2) 2 Corinthians 1:3-4
The Father of compassion and the God of all comfort, who comforts
us in all our troubles, so that we can comfort those in any trouble
with the comfort we ourselves have received from God.
OTHER SCRIPTURES:
2 Samuel 12:23
But now that he is dead, why should I fast? Can I bring him back again? I will go to
him, but he will not return to me."
Psalms 30:5
For his anger lasts only a moment, but his favor lasts a lifetime; weeping may remain
for a night, but rejoicing comes in the morning.
Isaiah 61:3
And provide for those who grieve in Zion—to bestow on them a crown of beauty
instead of ashes, the oil of gladness instead of mourning, and a garment of praise
instead of a spirit of despair.
Jeremiah 31:13
For I will turn their mourning into joy. And will comfort them and give them joy for their
sorrow. NASU
Matthew 5:4
Blessed are those who mourn, for they will be comforted.
John 16:33
"I have told you these things, so that in me you may have peace. In this world you will
have trouble. But take heart! I have overcome the world."
1 Thessalonians 4:13
Brothers, we do not want you to be ignorant about those who fall asleep, or to grieve
like the rest of men, who have no hope.
Revelation 21:4
He will wipe every tear from their eyes. There will be no more death or mourning or
crying or pain, for the old order of things has passed away.