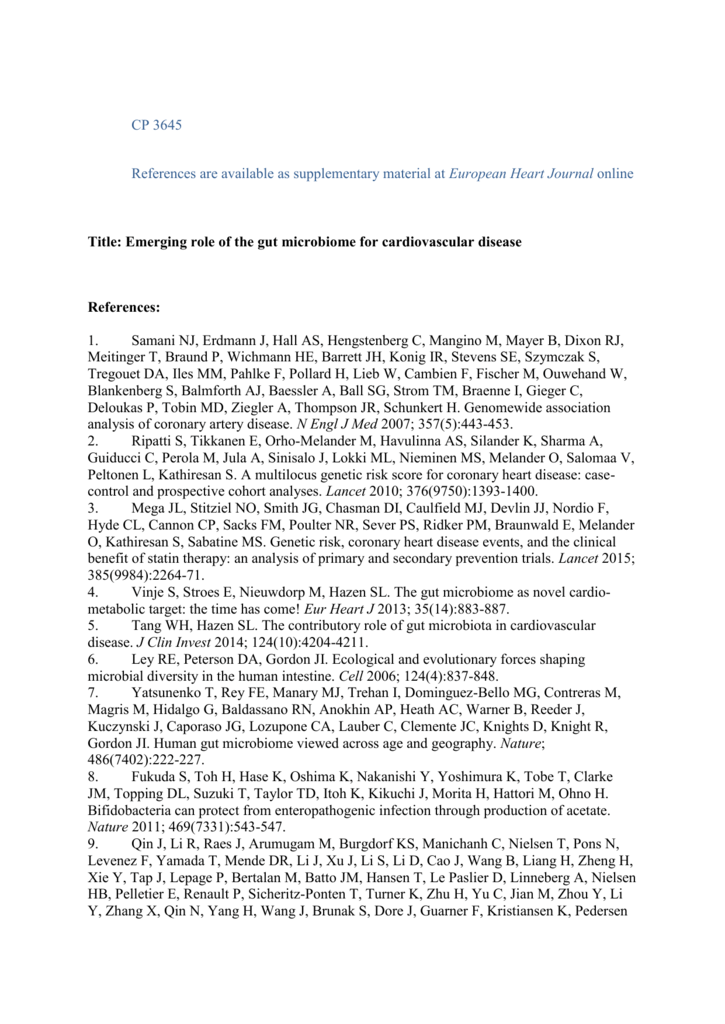 CP 3645
References are available as supplementary material at European Heart Journal online
Title: Emerging role of the gut microbiome for cardiovascular disease
References:
1.
Samani NJ, Erdmann J, Hall AS, Hengstenberg C, Mangino M, Mayer B, Dixon RJ,
Meitinger T, Braund P, Wichmann HE, Barrett JH, Konig IR, Stevens SE, Szymczak S,
Tregouet DA, Iles MM, Pahlke F, Pollard H, Lieb W, Cambien F, Fischer M, Ouwehand W,
Blankenberg S, Balmforth AJ, Baessler A, Ball SG, Strom TM, Braenne I, Gieger C,
Deloukas P, Tobin MD, Ziegler A, Thompson JR, Schunkert H. Genomewide association
analysis of coronary artery disease. N Engl J Med 2007; 357(5):443-453.
2.
Ripatti S, Tikkanen E, Orho-Melander M, Havulinna AS, Silander K, Sharma A,
Guiducci C, Perola M, Jula A, Sinisalo J, Lokki ML, Nieminen MS, Melander O, Salomaa V,
Peltonen L, Kathiresan S. A multilocus genetic risk score for coronary heart disease: casecontrol and prospective cohort analyses. Lancet 2010; 376(9750):1393-1400.
3.
Mega JL, Stitziel NO, Smith JG, Chasman DI, Caulfield MJ, Devlin JJ, Nordio F,
Hyde CL, Cannon CP, Sacks FM, Poulter NR, Sever PS, Ridker PM, Braunwald E, Melander
O, Kathiresan S, Sabatine MS. Genetic risk, coronary heart disease events, and the clinical
benefit of statin therapy: an analysis of primary and secondary prevention trials. Lancet 2015;
385(9984):2264-71.
4.
Vinje S, Stroes E, Nieuwdorp M, Hazen SL. The gut microbiome as novel cardiometabolic target: the time has come! Eur Heart J 2013; 35(14):883-887.
5.
Tang WH, Hazen SL. The contributory role of gut microbiota in cardiovascular
disease. J Clin Invest 2014; 124(10):4204-4211.
6.
Ley RE, Peterson DA, Gordon JI. Ecological and evolutionary forces shaping
microbial diversity in the human intestine. Cell 2006; 124(4):837-848.
7.
Yatsunenko T, Rey FE, Manary MJ, Trehan I, Dominguez-Bello MG, Contreras M,
Magris M, Hidalgo G, Baldassano RN, Anokhin AP, Heath AC, Warner B, Reeder J,
Kuczynski J, Caporaso JG, Lozupone CA, Lauber C, Clemente JC, Knights D, Knight R,
Gordon JI. Human gut microbiome viewed across age and geography. Nature;
486(7402):222-227.
8.
Fukuda S, Toh H, Hase K, Oshima K, Nakanishi Y, Yoshimura K, Tobe T, Clarke
JM, Topping DL, Suzuki T, Taylor TD, Itoh K, Kikuchi J, Morita H, Hattori M, Ohno H.
Bifidobacteria can protect from enteropathogenic infection through production of acetate.
Nature 2011; 469(7331):543-547.
9.
Qin J, Li R, Raes J, Arumugam M, Burgdorf KS, Manichanh C, Nielsen T, Pons N,
Levenez F, Yamada T, Mende DR, Li J, Xu J, Li S, Li D, Cao J, Wang B, Liang H, Zheng H,
Xie Y, Tap J, Lepage P, Bertalan M, Batto JM, Hansen T, Le Paslier D, Linneberg A, Nielsen
HB, Pelletier E, Renault P, Sicheritz-Ponten T, Turner K, Zhu H, Yu C, Jian M, Zhou Y, Li
Y, Zhang X, Qin N, Yang H, Wang J, Brunak S, Dore J, Guarner F, Kristiansen K, Pedersen
O, Parkhill J, Weissenbach J, Bork P, Ehrlich SD. A human gut microbial gene catalogue
established by metagenomic sequencing. Nature 2010; 464(7285):59-65.
10.
Structure, function and diversity of the healthy human microbiome. Nature 2012;
486(7402):207-214.
11.
Lozupone CA, Stombaugh JI, Gordon JI, Jansson JK, Knight R. Diversity, stability
and resilience of the human gut microbiota. Nature 2012; 489(7415):220-230.
12.
Zhang AQ, Mitchell SC, Smith RL. Dietary precursors of trimethylamine in man: a
pilot study. Food Chem Toxicol 1999; 37(5):515-520.
13.
Tang WH, Wang Z, Levison BS, Koeth RA, Britt EB, Fu X, Wu Y, Hazen SL.
Intestinal microbial metabolism of phosphatidylcholine and cardiovascular risk. N Engl J
Med 2013; 368(17):1575-1584.
14.
Koeth RA, Wang Z, Levison BS, Buffa JA, Org E, Sheehy BT, Britt EB, Fu X, Wu Y,
Li L, Smith JD, DiDonato JA, Chen J, Li H, Wu GD, Lewis JD, Warrier M, Brown JM,
Krauss RM, Tang WH, Bushman FD, Lusis AJ, Hazen SL. Intestinal microbiota metabolism
of L-carnitine, a nutrient in red meat, promotes atherosclerosis. Nat Med 2013; 19(5):576585.
15.
Tang WH, Wang Z, Fan Y, Levison B, Hazen JE, Donahue LM, Wu Y, Hazen SL
Prognostic value of elevated levels of intestinal microbe-generated metabolite
trimethylamine-N-oxide in patients with heart failure: refining the gut hypothesis. J Am Coll
Cardiol 2014; 64(18):1908-1914.
16.
Tremaroli V, Backhed F. Functional interactions between the gut microbiota and host
metabolism. Nature 2012; 489(7415):242-249.
17.
Roberfroid M, Gibson GR, Hoyles L, McCartney AL, Rastall R, Rowland I, Wolvers
D, Watzl B, Szajewska H, Stahl B, Guarner F, Respondek F, Whelan K, Coxam V, Davicco
MJ, Leotoing L, Wittrant Y, Delzenne NM, Cani PD, Neyrinck AM, Meheust A. Prebiotic
effects: metabolic and health benefits. Br J Nutr 2010; 104 Suppl 2:S1-63.
18.
Vrieze A, Van Nood E, Holleman F, Salojarvi J, Kootte RS, Bartelsman JF, DallingaThie GM, Ackermans MT, Serlie MJ, Oozeer R, Derrien M, Druesne A, Van Hylckama
Vlieg JE, Bloks VW, Groen AK, Heilig HG, Zoetendal EG, Stroes ES, de Vos WM, Hoekstra
JB, Nieuwdorp M. Transfer of intestinal microbiota from lean donors increases insulin
sensitivity in individuals with metabolic syndrome. Gastroenterology 2012; 143(4):913-916
e917.