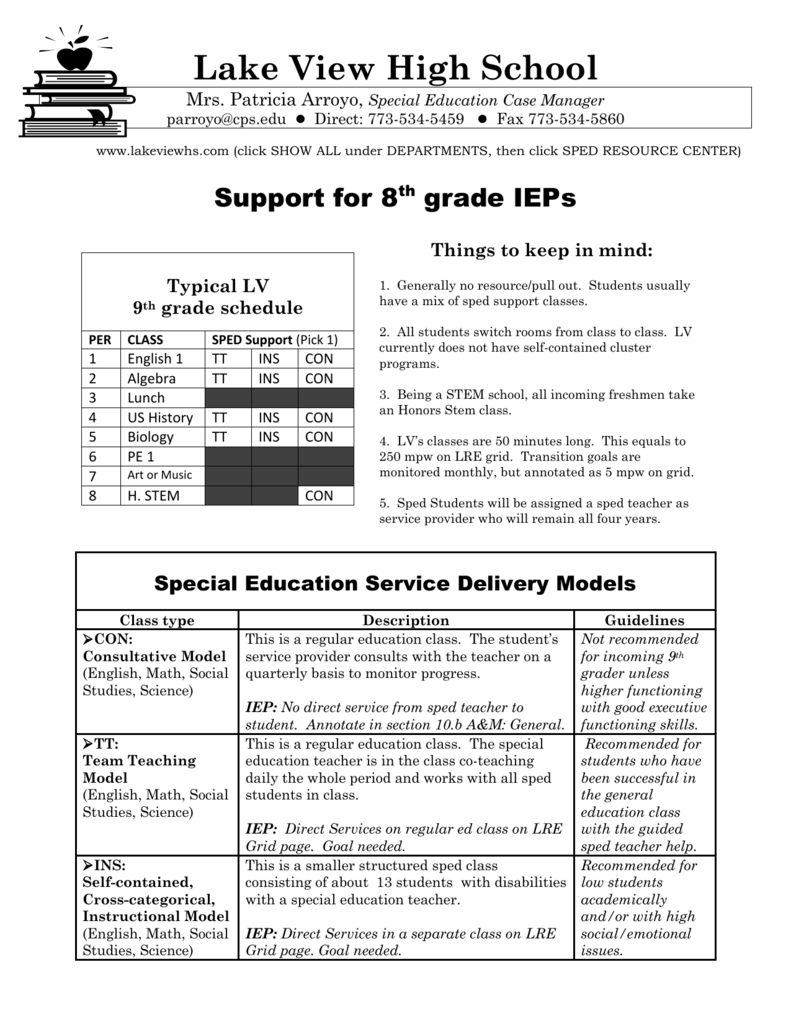 Lake View High School
Mrs. Patricia Arroyo, Special Education Case Manager
[email protected]  Direct: 773-534-5459  Fax 773-534-5860
www.lakeviewhs.com (click SHOW ALL under DEPARTMENTS, then click SPED RESOURCE CENTER)
Support for 8th grade IEPs
Things to keep in mind:
9th
Typical LV
grade schedule
1. Generally no resource/pull out. Students usually
have a mix of sped support classes.
PER
CLASS
SPED Support (Pick 1)
1
2
3
4
5
6
7
8
English 1
Algebra
Lunch
US History
Biology
PE 1
TT
TT
INS
INS
CON
CON
TT
TT
INS
INS
CON
CON
Art or Music
H. STEM
CON
2. All students switch rooms from class to class. LV
currently does not have self-contained cluster
programs.
3. Being a STEM school, all incoming freshmen take
an Honors Stem class.
4. LV's classes are 50 minutes long. This equals to
250 mpw on LRE grid. Transition goals are
monitored monthly, but annotated as 5 mpw on grid.
5. Sped Students will be assigned a sped teacher as
service provider who will remain all four years.
Special Education Service Delivery Models
Class type
CON:
Consultative Model
(English, Math, Social
Studies, Science)
TT:
Team Teaching
Model
(English, Math, Social
Studies, Science)
INS:
Self-contained,
Cross-categorical,
Instructional Model
(English, Math, Social
Studies, Science)
Description
This is a regular education class. The student's
service provider consults with the teacher on a
quarterly basis to monitor progress.
IEP: No direct service from sped teacher to
student. Annotate in section 10.b A&M: General.
This is a regular education class. The special
education teacher is in the class co-teaching
daily the whole period and works with all sped
students in class.
IEP: Direct Services on regular ed class on LRE
Grid page. Goal needed.
This is a smaller structured sped class
consisting of about 13 students with disabilities
with a special education teacher.
IEP: Direct Services in a separate class on LRE
Grid page. Goal needed.
Guidelines
Not recommended
for incoming 9th
grader unless
higher functioning
with good executive
functioning skills.
Recommended for
students who have
been successful in
the general
education class
with the guided
sped teacher help.
Recommended for
low students
academically
and/or with high
social/emotional
issues.
IEP LRE GRID PAGE EXAMPLE:
12. Justification of Placement in the Least Restrictive Environment
(LRE Grid HIGH SCHOOL (2013-2014))
The Individuals with Disabilities Education Act (IDEA) presumes that students with disabilities will be educated in the general education classroom
with their non-disabled peers with the appropriate supplementary aids and services UNLESS there is educational justification for services in a
separate setting. The bell-to-bell elementary school week is 2100 minutes and the high school week is 2175 bell-to-bell minutes; 4-hour
kindergarten is 1200 bell-to-bell minutes; Half-day kindergarten/Half-day pre-kindergarten program is 775 bell-to-bell minutes. Preschool students
in a half-day program have 775 bell-to-bell minutes.
Specialized Instruction Area
and/or Related Services
Modification or
Accommodation
Frequency and location of Special Education/Related Services
Frequency should be noted in number of minutes per week
Direct Services in Regular Class
(TT)
Direct Services in Separate Class
(INS)
Language Arts/English/Reading
Yes
250 MPW
Mathematics
Yes
250 MPW
Biology & Physical Sciences
Yes
250 MPW
Social Sciences
Yes
250 MPW
TRANSITION: Education
No
5 MPW
TRANSITION: Employment
No
5 MPW
TOTAL # of minutes per week (MPW)
250 MPW
Community-Based Instruction
260 MPW
0 MPW
8th/9th Grade Transition Goals
Although academic goals can serve as transition goals, best practice it to have
separate goals to address. Consider these as suggestions for functional, practical goals.
EDUCATION
EMPLOYMENT
1. Advocating of one's learning: understanding
1. Awareness of resources: know who assigned
the IEP and process as it relates to student
service provider is, case manager, guidance
(accommodations and modifications), asking for counselor, dean of students, paraprofessional.
help when needed.
2. Executive functioning skills: using an
agenda, understanding a schedule, time
management
2. Awareness of building: know where to access
information through the library, main office,
Counseling office, Discipline office, and
Attendance office.
Remember !
This is a generic recommendation. The IEP is individualized and will be supported as
written for the specific needs of the student. This is just to guide the planning process
from 8th grade to 9th grade at Lake View High School.
Any questions, email me.