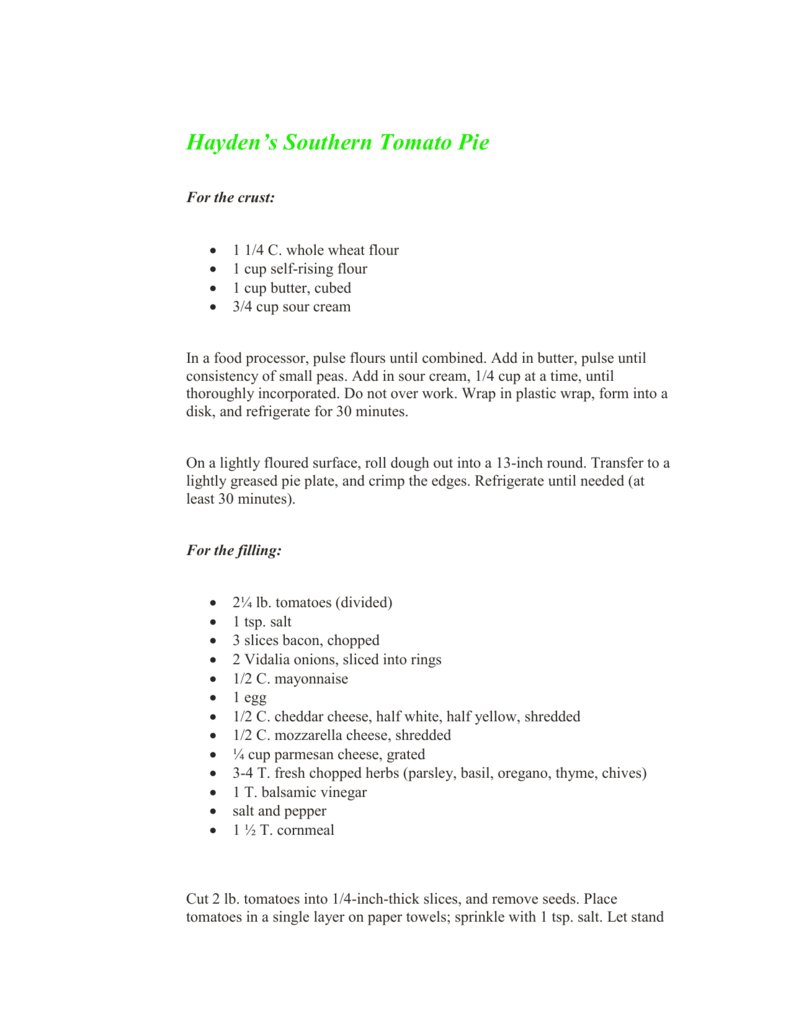 Hayden's Southern Tomato Pie
For the crust:




1 1/4 C. whole wheat flour
1 cup self-rising flour
1 cup butter, cubed
3/4 cup sour cream
In a food processor, pulse flours until combined. Add in butter, pulse until
consistency of small peas. Add in sour cream, 1/4 cup at a time, until
thoroughly incorporated. Do not over work. Wrap in plastic wrap, form into a
disk, and refrigerate for 30 minutes.
On a lightly floured surface, roll dough out into a 13-inch round. Transfer to a
lightly greased pie plate, and crimp the edges. Refrigerate until needed (at
least 30 minutes).
For the filling:













2¼ lb. tomatoes (divided)
1 tsp. salt
3 slices bacon, chopped
2 Vidalia onions, sliced into rings
1/2 C. mayonnaise
1 egg
1/2 C. cheddar cheese, half white, half yellow, shredded
1/2 C. mozzarella cheese, shredded
¼ cup parmesan cheese, grated
3-4 T. fresh chopped herbs (parsley, basil, oregano, thyme, chives)
1 T. balsamic vinegar
salt and pepper
1 ½ T. cornmeal
Cut 2 lb. tomatoes into 1/4-inch-thick slices, and remove seeds. Place
tomatoes in a single layer on paper towels; sprinkle with 1 tsp. salt. Let stand
30 minutes.
Brown bacon in a skillet. Remove and set aside. Pour off most of bacon fat,
and sauté onions until soft and lightly caramelized (about 10 minutes).
In a small bowl, combine mayo, egg, cheeses, herbs, salt and pepper.
To assemble:
Remove formed pie dough from fridge. Sprinkle dough with cornmeal. Layer
in half of the tomatoes, slightly overlapping. Spoon in half of the onions and
half of the bacon. Spread half of the cheese mixture evenly over tomatoes.
Repeat layers. Top with remaining 1/4 pound of tomatoes (that have not been
salted). Season with fresh cracked pepper.
Bake at 425ºF for 40-45 minutes. Cover edges with foil, if needed, to protect
crust. Allow pie to cool for 1-2 hours before serving.