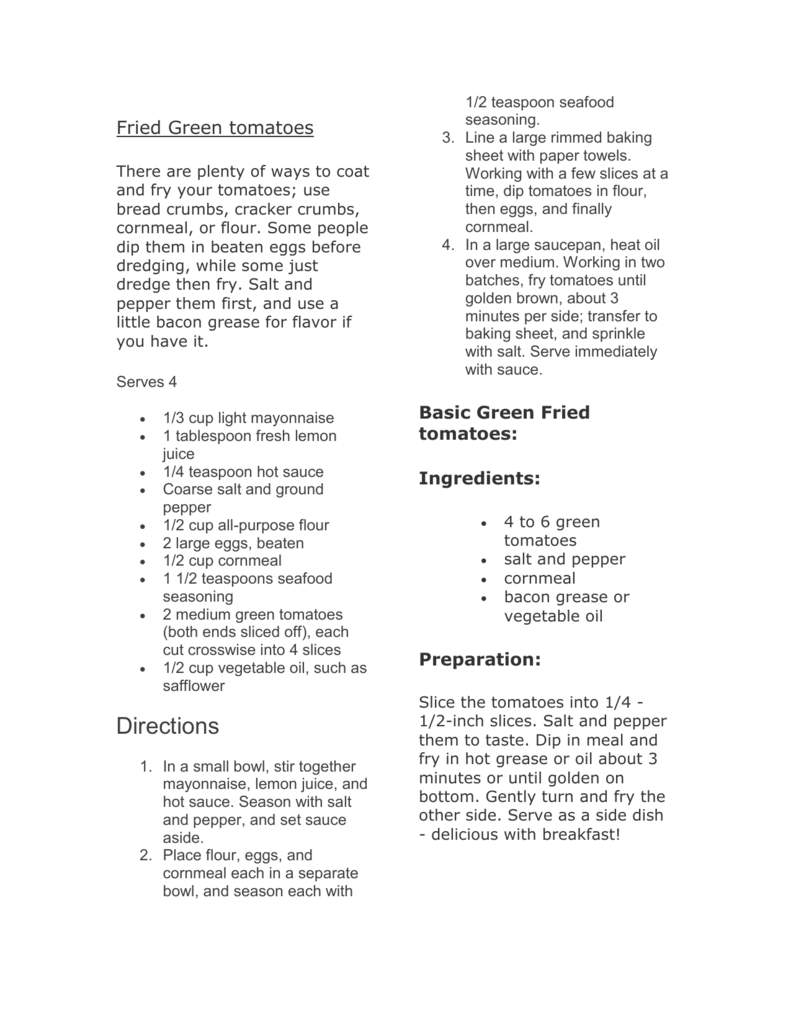 Fried Green tomatoes
There are plenty of ways to coat
and fry your tomatoes; use
bread crumbs, cracker crumbs,
cornmeal, or flour. Some people
dip them in beaten eggs before
dredging, while some just
dredge then fry. Salt and
pepper them first, and use a
little bacon grease for flavor if
you have it.
Serves 4










1/3 cup light mayonnaise
1 tablespoon fresh lemon
juice
1/4 teaspoon hot sauce
Coarse salt and ground
pepper
1/2 cup all-purpose flour
2 large eggs, beaten
1/2 cup cornmeal
1 1/2 teaspoons seafood
seasoning
2 medium green tomatoes
(both ends sliced off), each
cut crosswise into 4 slices
1/2 cup vegetable oil, such as
safflower
Directions
1. In a small bowl, stir together
mayonnaise, lemon juice, and
hot sauce. Season with salt
and pepper, and set sauce
aside.
2. Place flour, eggs, and
cornmeal each in a separate
bowl, and season each with
1/2 teaspoon seafood
seasoning.
3. Line a large rimmed baking
sheet with paper towels.
Working with a few slices at a
time, dip tomatoes in flour,
then eggs, and finally
cornmeal.
4. In a large saucepan, heat oil
over medium. Working in two
batches, fry tomatoes until
golden brown, about 3
minutes per side; transfer to
baking sheet, and sprinkle
with salt. Serve immediately
with sauce.
Basic Green Fried
tomatoes:
Ingredients:




4 to 6 green
tomatoes
salt and pepper
cornmeal
bacon grease or
vegetable oil
Preparation:
Slice the tomatoes into 1/4 1/2-inch slices. Salt and pepper
them to taste. Dip in meal and
fry in hot grease or oil about 3
minutes or until golden on
bottom. Gently turn and fry the
other side. Serve as a side dish
- delicious with breakfast!