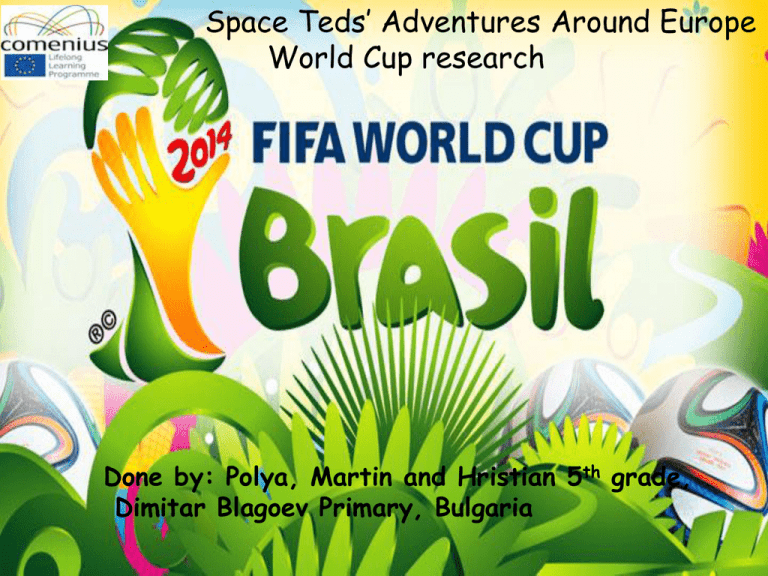 Space Teds' Adventures Around Europe
World Cup research
Done by: Polya, Martin and Hristian 5th grade,
Dimitar Blagoev Primary, Bulgaria
The FIFA World Cup, or the World Cup,
is an international association football competition
contested by the senior men's national teams.
The championship has been awarded
every four years since 1930, except in 1942 and 1946.
Symbols
1. The Ball.
2. The Stadiums
3. The Cup
Host 2014 - Brazil
It is the largest country
in both South America
and the Latin American region.
It is the world's fifth
largest country, both
by geographical area
and by population.
Qualified teams
There are 8 groups -A B C D E F G H
Group A - Brazil, Croatia, Mexico, Cameroon
Group B - Spain, Netherlands, Chile, Australia
Group C - Colombia, Greece, Cote D'ivoire, Japan
Group D - Uruguay, Costa Rica, England, Italy
Group E - Switzerland, Ecuador, France, Honduras
Group F - Argentina, Bosnia and Herzegovina, Iran, Nigeria
Group G - Germany, Portugal, Ghana, USA
Group H - Belgium, Algeria, Russia, Korea Republic
The next two World Cups
will be hosted by Russia in 2018
and Qatar in 2022.