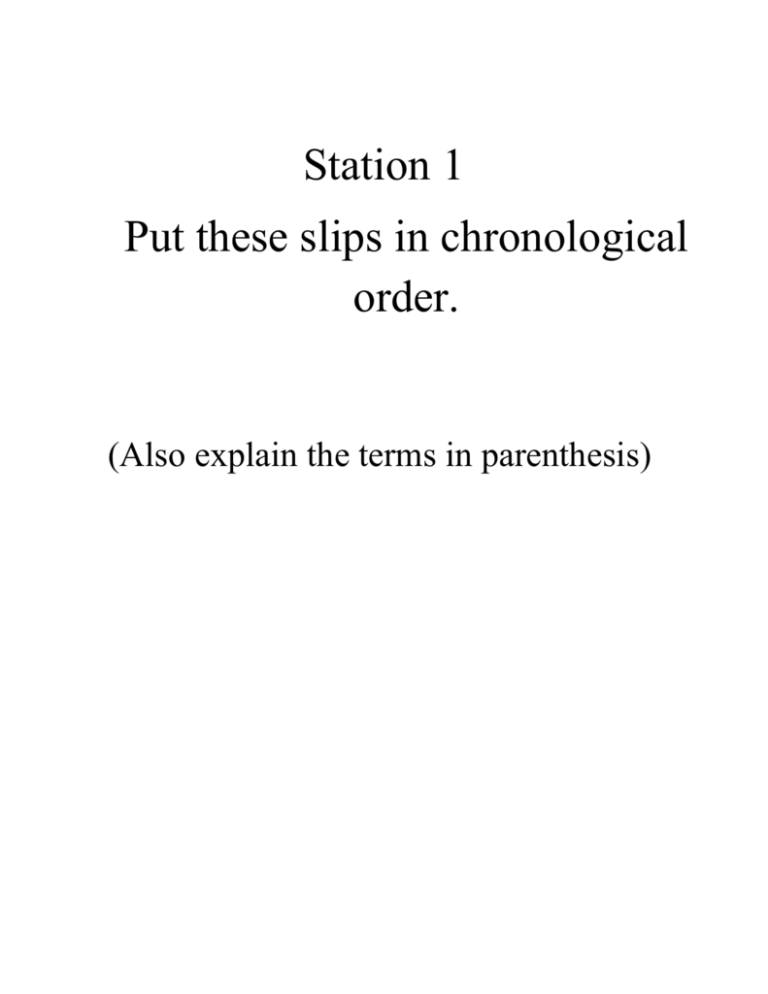 Station 1
Put these slips in chronological
order.
(Also explain the terms in parenthesis)
Conditions "right" on early
earth.
(atmosphere, energy)
Polymerization
Simple Organic Molecules
(Vaporization)
( Give Examples)
RNA World
Eukaryotic Cells
Prokaryotic Cells
( self-replication / ribozymes )
( membrane folding and
Endosymbiosis)
( 2 Domains/ Differences)
1st Membranes
(Why would lipids form
spheres?)
Station 2
a. The allele for a hair pattern called a "widows
peak" is dominant over the allele for no
widows peak. In a population of 1,000
individuals, 510 show the dominant
phenotype, how many individuals would you
expect for each genotype if the population was
in H.W. equilibrium?
b. List the conditions necessary for
maintaining H-W Equilibrium.
c. Do you think H-W Equilibrium could be
maintained for this trait? Explain.
Station 3
Match each definition to the correct term and
explain an example of each.
Temporal
Behavioral
Mechanical
Gametic
Isolation
Isolation
Isolation
Isolation
Habitat
Hybrid
Hybrid
Hybrid
Isolation
Inviability
Sterility
(Infertility)
Breakdown
Timing of
reproduction is not
compatible.
Offspring do not
produce functional
gamates.
Mating, social,
hunting, etc., ways
of acting do not
match.
Offspring are
weak- or offspring
of offspring are
weak/ infertile.
Egg and Sperm do
not recognize each
other.
Zygotes do not
mature.
Organisms do not
have access to
where each other
live.
Reproductive
anatomy does not
match.
Station 4
Match each example to the correct term.
Mutation
Gene Flow
Natural Selection
Non- Random Mating
Genetic Drift
ABO blood groups give evidence to
human migration patterns.
Historically horses were smaller, but as
the environment changes and conditions
grew dryer (food more scarce) horses
with longer legs are found in the fossil
record. (Note! How did the horses get
longer legs?)
A high degree of albinism exists
among Hopi Indians compared with
other tribes in the area.
A change in a gene results in a new An earthquake wipes out the salamanders
variety of color in wildflowers. This on one side of a mt. pond. The resulting
population has a change in gene
variation may/or may not become an
frequency of size of salamanders. (Used
adaption.
to be 50% small and 50% large. Now
more small ones remain)
Station 5
What do the following have to do with
evolution?
a) Wallace
b) Biogeography
c) Stabilizing Natural Selection
d) Fossils
e) Sexual dimorphism
Station 6
Make and fill in the following chart.
Type of
Evolution
Divergent
Adaptive
Radiation
Convergent
Explanation
Example
Conditions necessary in
environment.
Station 7
Once upon a time there was a bunch of bats in a cave in Missouri. These bats were
either black or gray in color. These bats would mate with each other and produce
offspring that could produce their own offspring.
1. Are the black and gray bats different species?
2. What events would have to happen in order for these bats to become two
distinct species?
In this population of black and grey bats would mate with each other and a
scientist discovered that the black allele was recessive. It was also found that being
black was more advantageous because the bats predators could not see the black
ones as easily?
3. Do you think these bats will be in Hardy-Weinberg Equilibrium?
4. What condition is not being met in this scenario?
In this population of black and gray bats, the black allele is recessive. As the
scientist continued, they counted the number of black bats and found it to be 45%
of the population.
5. What percentage of dominant alleles are present in the population?
Station 8
The scientists continued on their study of the black and grey bats by going to
another cave. This new cave had some different bats that had a variety of sizes and
had a larger variety of colors. The scientists took specimens of the bats from the
original cave and from the newly discovered cave and found that these bats shared
the protein named prestin. This protein helps the bats with their sonar capabilities.
Interestingly enough, dolphins also share this protein and use it for the same
purpose. It was found that the amino acid sequence was different in each of the
species. The following chart shows the differences:
Organism
White Bat
Newly Discovered Bats
Dolphins
# of differences in amino acid sequences
between Black / Grey bats and the organism
3
7
30
1. Draw the phylogenetic Tree above and place the organism's on the
phylogenic tree according to the differences in the amino acid sequences.
2. Are the white or the newly discovered bats more closely related to the
black/gray bats?
3. What does the fact that dolphins share the protein prestin with the bats tell
us?
4. What is one homologous structure that humans and bats share?