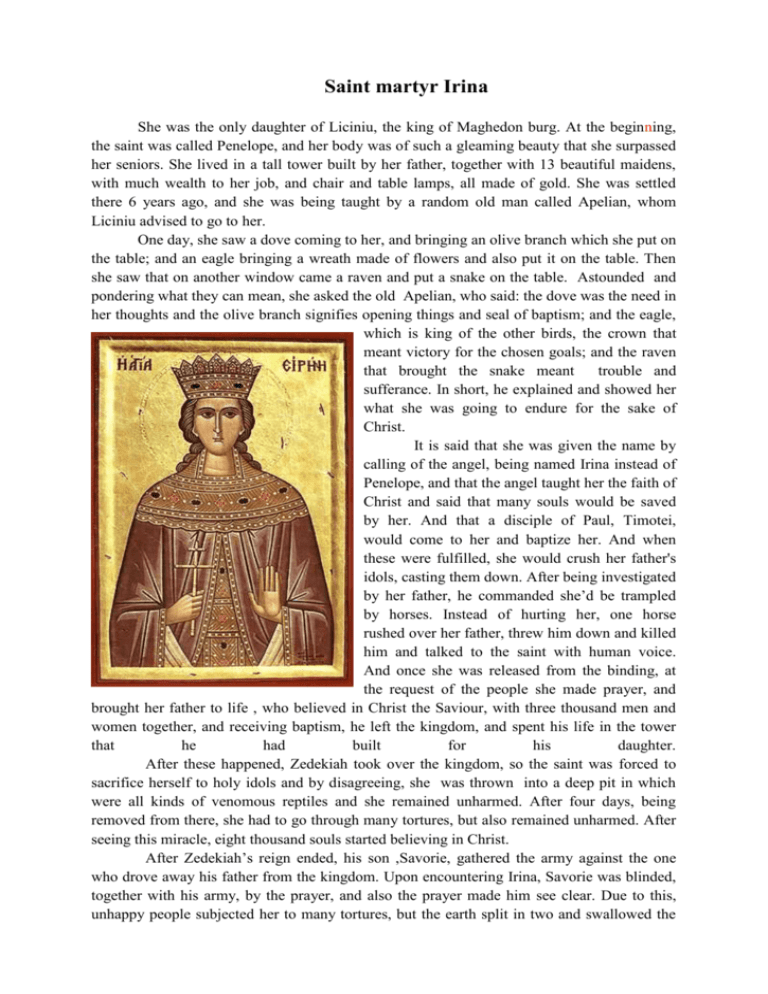 Saint martyr Irina
She was the only daughter of Liciniu, the king of Maghedon burg. At the beginning,
the saint was called Penelope, and her body was of such a gleaming beauty that she surpassed
her seniors. She lived in a tall tower built by her father, together with 13 beautiful maidens,
with much wealth to her job, and chair and table lamps, all made of gold. She was settled
there 6 years ago, and she was being taught by a random old man called Apelian, whom
Liciniu advised to go to her.
One day, she saw a dove coming to her, and bringing an olive branch which she put on
the table; and an eagle bringing a wreath made of flowers and also put it on the table. Then
she saw that on another window came a raven and put a snake on the table. Astounded and
pondering what they can mean, she asked the old Apelian, who said: the dove was the need in
her thoughts and the olive branch signifies opening things and seal of baptism; and the eagle,
which is king of the other birds, the crown that
meant victory for the chosen goals; and the raven
that brought the snake meant
trouble and
sufferance. In short, he explained and showed her
what she was going to endure for the sake of
Christ.
It is said that she was given the name by
calling of the angel, being named Irina instead of
Penelope, and that the angel taught her the faith of
Christ and said that many souls would be saved
by her. And that a disciple of Paul, Timotei,
would come to her and baptize her. And when
these were fulfilled, she would crush her father's
idols, casting them down. After being investigated
by her father, he commanded she'd be trampled
by horses. Instead of hurting her, one horse
rushed over her father, threw him down and killed
him and talked to the saint with human voice.
And once she was released from the binding, at
the request of the people she made prayer, and
brought her father to life , who believed in Christ the Saviour, with three thousand men and
women together, and receiving baptism, he left the kingdom, and spent his life in the tower
that
he
had
built
for
his
daughter.
After these happened, Zedekiah took over the kingdom, so the saint was forced to
sacrifice herself to holy idols and by disagreeing, she was thrown into a deep pit in which
were all kinds of venomous reptiles and she remained unharmed. After four days, being
removed from there, she had to go through many tortures, but also remained unharmed. After
seeing this miracle, eight thousand souls started believing in Christ.
After Zedekiah's reign ended, his son ,Savorie, gathered the army against the one
who drove away his father from the kingdom. Upon encountering Irina, Savorie was blinded,
together with his army, by the prayer, and also the prayer made him see clear. Due to this,
unhappy people subjected her to many tortures, but the earth split in two and swallowed the
tyrant's servants, which led to faith in Christ. And yet all in unbelief the tyrant remained, and
came the angel of the Lord and killed him by striking him.
Saint Irina was walking through the city, performing all sorts of great miracles. Then she
proceeded to visit other cities where she preached Christ, but was again subjected to countless
tortures, ordered by King Numen in the city of Calinicon, and by Savorie the Persian king.
She remained unharmed. These miracles may seem unbelievable for mortals, but with God all
things that people think are impossible,are actually possible. So she was brought to the holy
trial, firstly by her father, Licinius, and the second time by Sedechie, Savorie and Numerian,
son of Sevastian , and by Vavdon the diocese. The cities in which she confessed were:
Maghedon her homeland, Calinicon, Constantina and Mesimvira. Commemoration of her
martyrdom was written by her teacher Apelian.