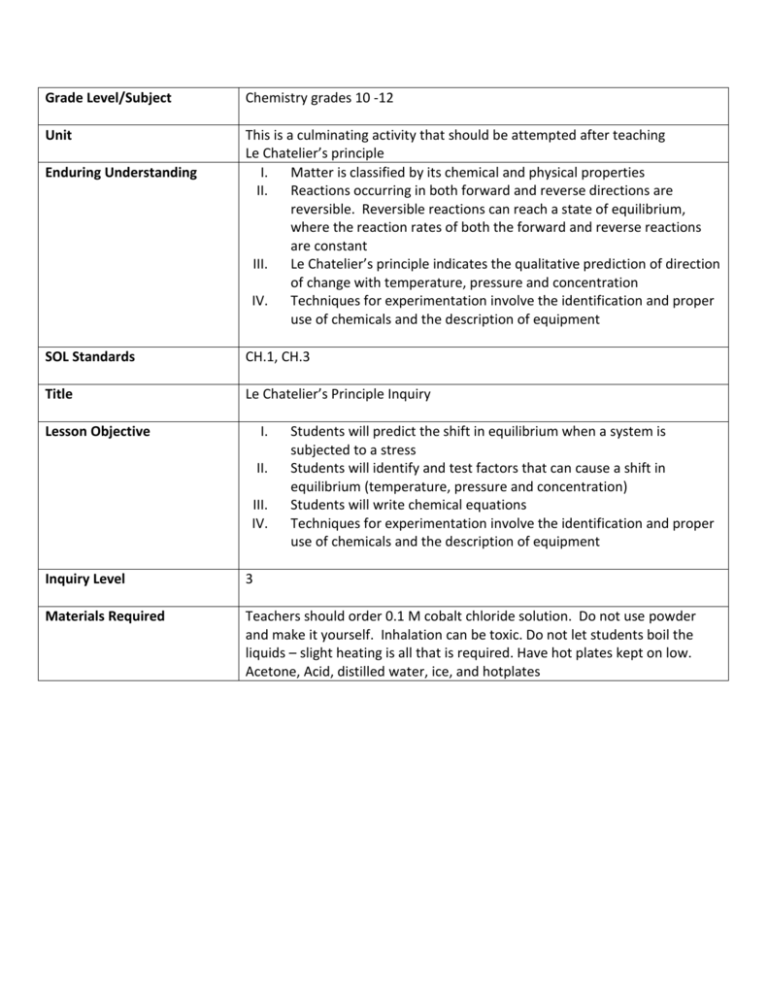 Grade Level/Subject
Chemistry grades 10 -12
Unit
This is a culminating activity that should be attempted after teaching
Le Chatelier's principle
I. Matter is classified by its chemical and physical properties
II.
Reactions occurring in both forward and reverse directions are
reversible. Reversible reactions can reach a state of equilibrium,
where the reaction rates of both the forward and reverse reactions
are constant
III.
Le Chatelier's principle indicates the qualitative prediction of direction
of change with temperature, pressure and concentration
IV. Techniques for experimentation involve the identification and proper
use of chemicals and the description of equipment
Enduring Understanding
SOL Standards
CH.1, CH.3
Title
Le Chatelier's Principle Inquiry
Lesson Objective
I.
II.
III.
IV.
Students will predict the shift in equilibrium when a system is
subjected to a stress
Students will identify and test factors that can cause a shift in
equilibrium (temperature, pressure and concentration)
Students will write chemical equations
Techniques for experimentation involve the identification and proper
use of chemicals and the description of equipment
Inquiry Level
3
Materials Required
Teachers should order 0.1 M cobalt chloride solution. Do not use powder
and make it yourself. Inhalation can be toxic. Do not let students boil the
liquids – slight heating is all that is required. Have hot plates kept on low.
Acetone, Acid, distilled water, ice, and hotplates
Le Chatelier's Principle Inquiry Lab
Co(H20) + Cl + heat ↔ CoCl2 + H2O
Pink
Blue
After reviewing your notes on Le Chatelier's Principle, plan and demonstrate at least 4 different "stresses" on the above
reaction. Indicate the direction of change the reaction will undergo when each stress is applied to the system above.
Place a description of each stress and the equilibrium shift you predict "before and after" in your lab book (include color
photos or drawings).
Materials :
I.
II.
III.
IV.
Gather multiple (at least 4) test tubes and test tube racks, you will use the test tube to contain your shifts in
equilibrium
Labeling tape (remember to label the top of test tubes as to not block solutions)
Obtain group sample of Cobalt Chloride solution (~20 ml per group)
Pipettes - to transfer cobalt chloride solution to test tube for manipulation
Safety
Follow all safety instructions given! Cobalt Chloride solution can be harmful if ingested, Hot plates are HOT, Acids are
dangerous, Acetone is flammable, etc. Wear goggles, tie back hair, keep your work area clean, and pay attention to your
surroundings. Do not bring any solution to a boil. Hot plates must be kept on LOW!
You may or may not need the following:
Hydrochloric acid 3M
Ice
Acetone
Hot plate
Thermometer
Distilled water
Vacuum jar
Other
All used solutions are to be disposed according to your teacher's instructions!
Discussion:
I.
II.
Using complete thoughts and complete sentences, please explain your logic for each of the 4 shift in equilibrium
predictions you made.
Are the shifts in equilibriums chemical reactions? Explain why or why not.
Extensions:
Research the Haber process online. How is the Haber process applicable to this lab? Record the chemical equilibrium in
your lab book with the online web addresses used for this information.
The human body contains
enough carbon to provide 'lead' (which is
really graphite) for about 9,000 pencils.