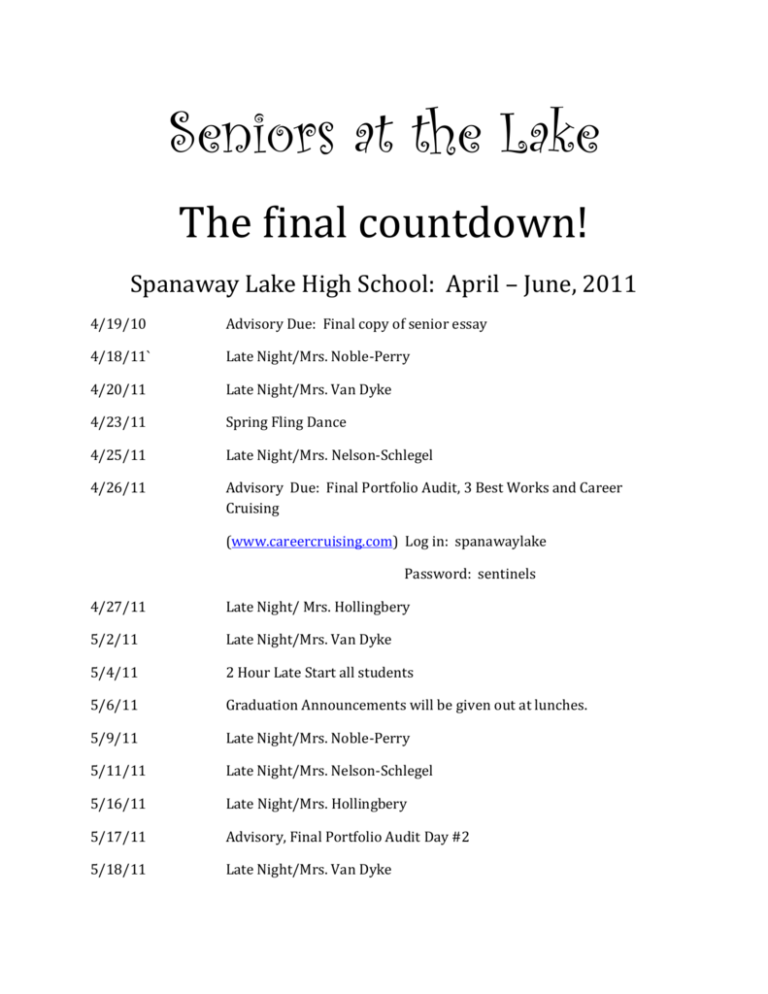 Seniors at the Lake
The final countdown!
Spanaway Lake High School: April – June, 2011
4/19/10
Advisory Due: Final copy of senior essay
4/18/11`
Late Night/Mrs. Noble-Perry
4/20/11
Late Night/Mrs. Van Dyke
4/23/11
Spring Fling Dance
4/25/11
Late Night/Mrs. Nelson-Schlegel
4/26/11
Advisory Due: Final Portfolio Audit, 3 Best Works and Career
Cruising
(www.careercruising.com) Log in: spanawaylake
Password: sentinels
4/27/11
Late Night/ Mrs. Hollingbery
5/2/11
Late Night/Mrs. Van Dyke
5/4/11
2 Hour Late Start all students
5/6/11
Graduation Announcements will be given out at lunches.
5/9/11
Late Night/Mrs. Noble-Perry
5/11/11
Late Night/Mrs. Nelson-Schlegel
5/16/11
Late Night/Mrs. Hollingbery
5/17/11
Advisory, Final Portfolio Audit Day #2
5/18/11
Late Night/Mrs. Van Dyke
5/24-26/11
Student Led Conferences (half day of school)
5/26/11
Caps and gowns will be handed out at lunches.
5/31/11
No School/ Holiday
6/1/11
Senior Awards @ 6:00pm in Commons
6/3/11
All BYU exams must be taken. No exceptions.
Final deadline for all Advisory papers/projects
6/4/11
Senior Ball @ the Tacoma Museum of Art
6/6/11
Late Night/Mrs. Noble-Perry
6/8-9/11
Senior Finals / Last day to submit work
June 8: Periods 1, 2 and 3
June 9: Periods 4, 5 and 6
6/8/11
2 Hour Late Start all students
6/13/11
Senior Breakfast and Graduation Rehearsal @ 8:30-10:30am
6/16/11
Graduation at the Tacoma Dome @ 6:00pm / Hooray!
DESTINATION/GRADUATION
Seniors: Graduation is just around the corner! Remember, you must have all 22.5 credits
completed to walk at graduation. If you have not finished a required class, or have not
passed all three advisories (10th, 11th, or 12th), you will not participate in the graduation
ceremony.
To make up Advisory from 10th or 11th grade, you need to pay a $30.00 fee to Mrs. McMakin
in the ASB office and bring the receipt to your counselor. Your counselor will give you
instructions on how to make up the Advisory credit.
If you have not ordered a gown, please see your counselor. We have gowns that we can
loan to you, or Mr. Thompson has gowns that you can borrow. We need to know now, so
we can get a gown reserved for you.
You will be able to attend Senior Ball on June 4, 2011 if all of your fines and fees are paid. If
you owe any fees or have not returned school equipment, uniforms or books, you will not
be allowed to buy tickets or attend the dance.
Graduation is Thursday, June 16, 2011 at the Tacoma Dome at 6:00pm.
You will receive 10 tickets for successfully passing all of your required classes and
completing your Senior Advisory. GKHS graduates before us at 3:30pm, and BHS graduates
after us at 8:30pm. Everyone you invite to attend needs to have a ticket, even babies and
small children. Extra tickets can be purchased from Mrs. Baublits for $5.00 each before the
school year ends. Extra tickets will not be sold at the door. It costs $9.00 to park at the
Tacoma Dome. Seniors will need to arrive by 5:30pm at the latest!
You will pick up your high school diploma at the end of the graduation ceremony.
See your counselor if you have any questions or concerns. Remember, there is a counselor
available until 6:00pm every Monday and Wednesday if you or your parents need
assistance.
If you are not graduating because of lack of credits, please see your counselor to discuss
your options. NOW!