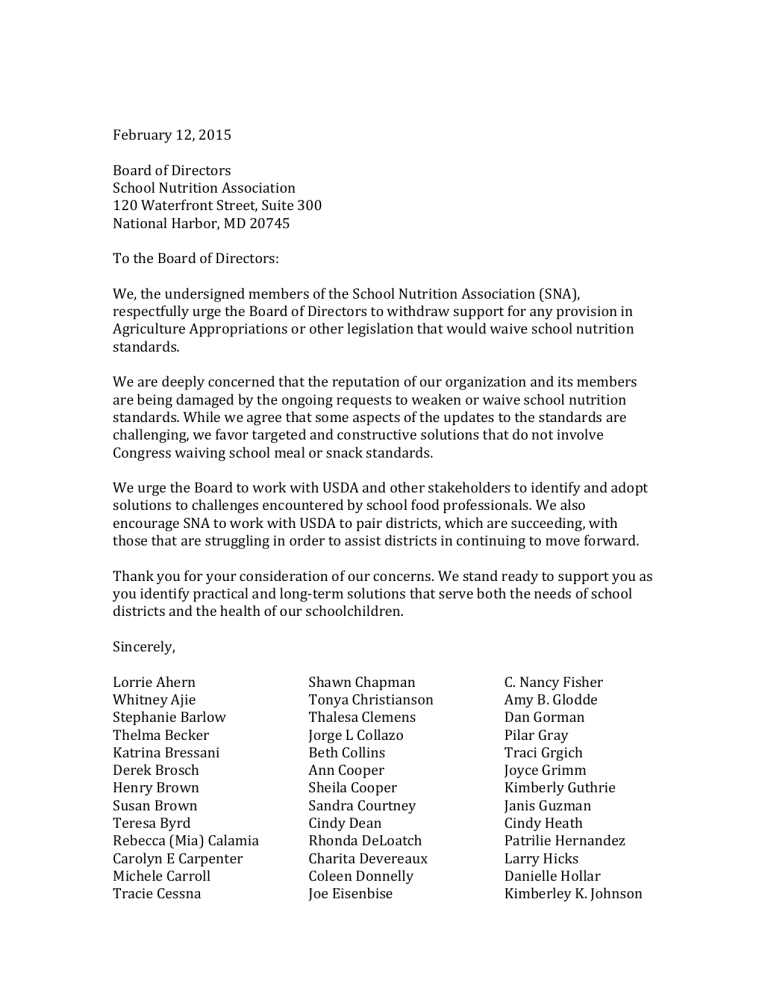 February 12, 2015
Board of Directors
School Nutrition Association
120 Waterfront Street, Suite 300
National Harbor, MD 20745
To the Board of Directors:
We, the undersigned members of the School Nutrition Association (SNA), respectfully urge the Board of Directors to withdraw support for any provision in
Agriculture Appropriations or other legislation that would waive school nutrition standards.
We are deeply concerned that the reputation of our organization and its members are being damaged by the ongoing requests to weaken or waive school nutrition standards. While we agree that some aspects of the updates to the standards are challenging, we favor targeted and constructive solutions that do not involve
Congress waiving school meal or snack standards.
We urge the Board to work with USDA and other stakeholders to identify and adopt solutions to challenges encountered by school food professionals. We also encourage SNA to work with USDA to pair districts, which are succeeding, with those that are struggling in order to assist districts in continuing to move forward.
Thank you for your consideration of our concerns. We stand ready to support you as you identify practical and long-term solutions that serve both the needs of school districts and the health of our schoolchildren.
Sincerely,
Lorrie Ahern
Whitney Ajie
Stephanie Barlow
Thelma Becker
Katrina Bressani
Derek Brosch
Henry Brown
Susan Brown
Teresa Byrd
Rebecca (Mia) Calamia
Carolyn E Carpenter
Michele Carroll
Tracie Cessna
Shawn Chapman
Tonya Christianson
Thalesa Clemens
Jorge L Collazo
Beth Collins
Ann Cooper
Sheila Cooper
Sandra Courtney
Cindy Dean
Rhonda DeLoatch
Charita Devereaux
Coleen Donnelly
Joe Eisenbise
C. Nancy Fisher
Amy B. Glodde
Dan Gorman
Pilar Gray
Traci Grgich
Joyce Grimm
Kimberly Guthrie
Janis Guzman
Cindy Heath
Patrilie Hernandez
Larry Hicks
Danielle Hollar
Kimberley K. Johnson
Gail Kier
Heidi Kessler
Lucinda Kinnan
Joanne La Barre
Becky Larson
Janet Longo
Kathrin C. Luton
C. Masek
M.C. Mathis
Danny McDonald
Violet McCunn
Elizabeth P.
McPherson
Barb Mechura
Kathleen A. Milbrath
Lori R. Minix
Darlene Moppert
Allyson Mrachek
Mary Nix
Debra Olson
Renee Page
Cara Peczkowski
Chau Peng Ng
Katie Preis
Rachel Reed
Glen Ritter
Dora Rivas, MS, RD
MaryPat Robertson
Violet J. Ruiz
Sandra Rulec
Yuri Sanow
John Shaffer
Donna Siler
Cinde Stone
Cheryl Stoner
Danita Taylor
Rodney Taylor
Virginia Tourse
Barbara Tribble
Deneen Vanek
Deborah Ventricelli
Miguel Villarreal
Jane Vise
Donna Weaver
Joyce Weight
Jane T. Wynn
Karen Ziegler
Robin Ziegler