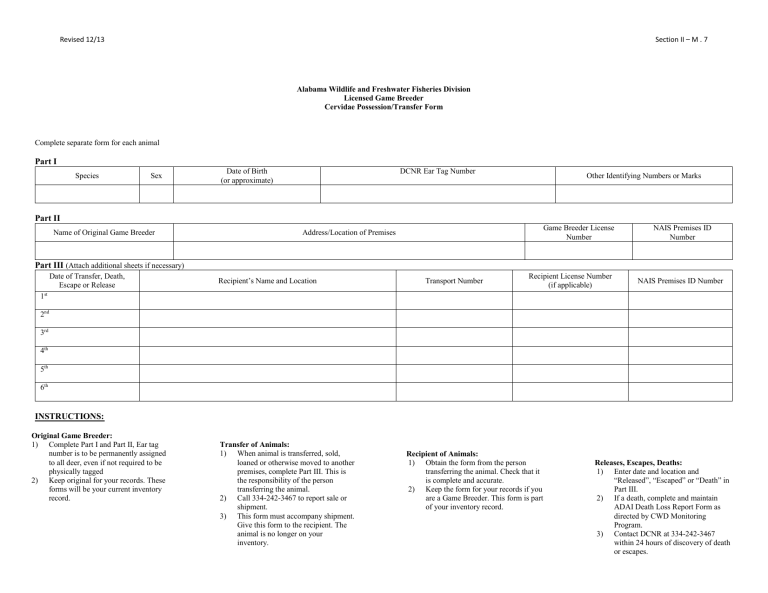 Revised 12/13
Section II – M . 7
Alabama Wildlife and Freshwater Fisheries Division
Licensed Game Breeder
Cervidae Possession/Transfer Form
Complete separate form for each animal
Part I
Species
Sex
Date of Birth
(or approximate)
DCNR Ear Tag Number
Other Identifying Numbers or Marks
Part II
Name of Original Game Breeder
Game Breeder License
Number
Address/Location of Premises
NAIS Premises ID
Number
Part III (Attach additional sheets if necessary)
Date of Transfer, Death,
Escape or Release
1
Recipient's Name and Location
Transport Number
Recipient License Number
(if applicable)
NAIS Premises ID Number
st
2nd
3rd
4th
5th
6th
INSTRUCTIONS:
Original Game Breeder:
1) Complete Part I and Part II, Ear tag
number is to be permanently assigned
to all deer, even if not required to be
physically tagged
2) Keep original for your records. These
forms will be your current inventory
record.
Transfer of Animals:
1) When animal is transferred, sold,
loaned or otherwise moved to another
premises, complete Part III. This is
the responsibility of the person
transferring the animal.
2) Call 334-242-3467 to report sale or
shipment.
3) This form must accompany shipment.
Give this form to the recipient. The
animal is no longer on your
inventory.
Recipient of Animals:
1) Obtain the form from the person
transferring the animal. Check that it
is complete and accurate.
2) Keep the form for your records if you
are a Game Breeder. This form is part
of your inventory record.
Releases, Escapes, Deaths:
1) Enter date and location and
"Released", "Escaped" or "Death" in
Part III.
2) If a death, complete and maintain
ADAI Death Loss Report Form as
directed by CWD Monitoring
Program.
3) Contact DCNR at 334-242-3467
within 24 hours of discovery of death
or escapes.