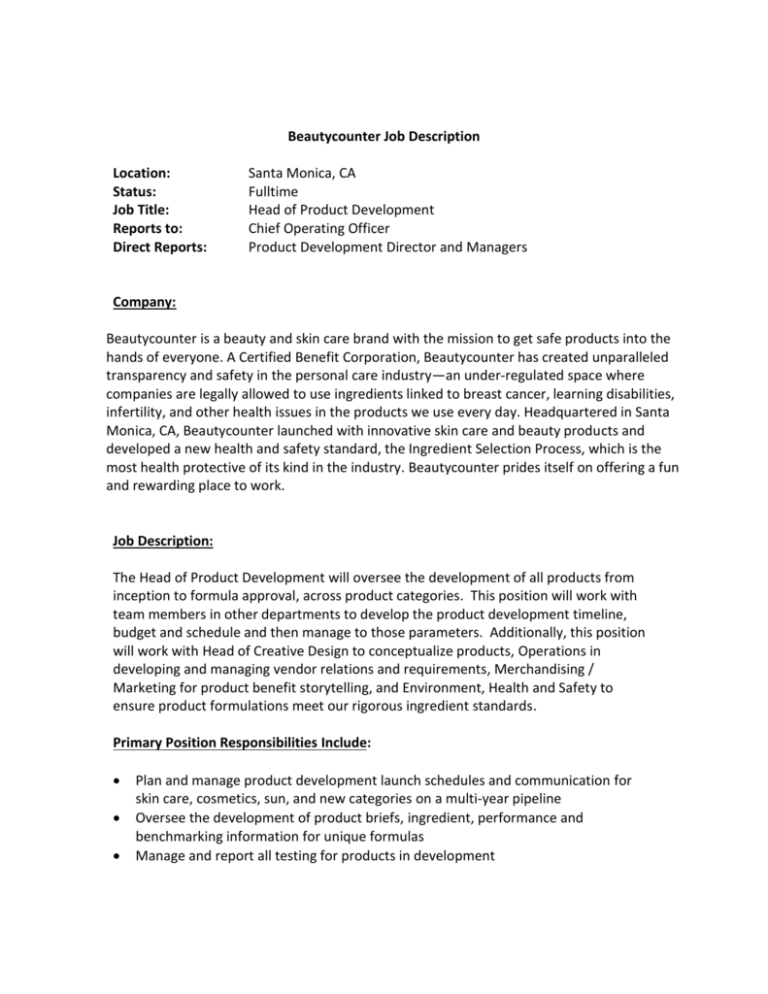 Beautycounter Job Description
Location:
Status:
Job Title:
Reports to:
Direct Reports:
Santa Monica, CA
Fulltime
Head of Product Development
Chief Operating Officer
Product Development Director and Managers
Company:
Beautycounter is a beauty and skin care brand with the mission to get safe products into the
hands of everyone. A Certified Benefit Corporation, Beautycounter has created unparalleled
transparency and safety in the personal care industry—an under-regulated space where
companies are legally allowed to use ingredients linked to breast cancer, learning disabilities,
infertility, and other health issues in the products we use every day. Headquartered in Santa
Monica, CA, Beautycounter launched with innovative skin care and beauty products and
developed a new health and safety standard, the Ingredient Selection Process, which is the
most health protective of its kind in the industry. Beautycounter prides itself on offering a fun
and rewarding place to work.
Job Description:
The Head of Product Development will oversee the development of all products from
inception to formula approval, across product categories. This position will work with
team members in other departments to develop the product development timeline,
budget and schedule and then manage to those parameters. Additionally, this position
will work with Head of Creative Design to conceptualize products, Operations in
developing and managing vendor relations and requirements, Merchandising /
Marketing for product benefit storytelling, and Environment, Health and Safety to
ensure product formulations meet our rigorous ingredient standards.
Primary Position Responsibilities Include:



Plan and manage product development launch schedules and communication for
skin care, cosmetics, sun, and new categories on a multi-year pipeline
Oversee the development of product briefs, ingredient, performance and
benchmarking information for unique formulas
Manage and report all testing for products in development





Facilitate cross-departmental coordination to ensure crucial aspects of product
development are communicated with Merchandizing, Marketing, Operations, Sales
and Environment, Health and Safety
With other department heads, balance development and launch of new products
with reformulations to existing products
Attend industry events, tradeshows and meetings with suppliers to stay abreast of
current trends, new technology
Work with team to ensure compliance with all regulations and to expand into other
global markets
Co-Lead development of projects for strategic partners
Knowledge/Skills/Abilities:
 Research and development experience and acumen
 Demonstrated strategy, vision and market success with cosmetics product
development
 Excellent communication, organizational, and project management skills
 Strong personnel management expertise
 Ability to work with multiple departments effectively
 Ability to forge and foster new partnership and relationships
 Passion for Beautycounter's mission and commitment to safety and
performance
Qualifications:
Education:
 Bachelor's degree required, advanced degree preferred.
Work Experience:
 10-15 years of consumer products formula development experience, with at
least 8 years in cosmetics / personal care industry.
Work Location and Hours:
 Employee will work in our corporate offices located in Santa Monica, CA.
 Work Hours: Work hours are generally from 9:00am – 6:00pm with some
variation based on current needs.
Travel:
Approximately 10% travel for this position.