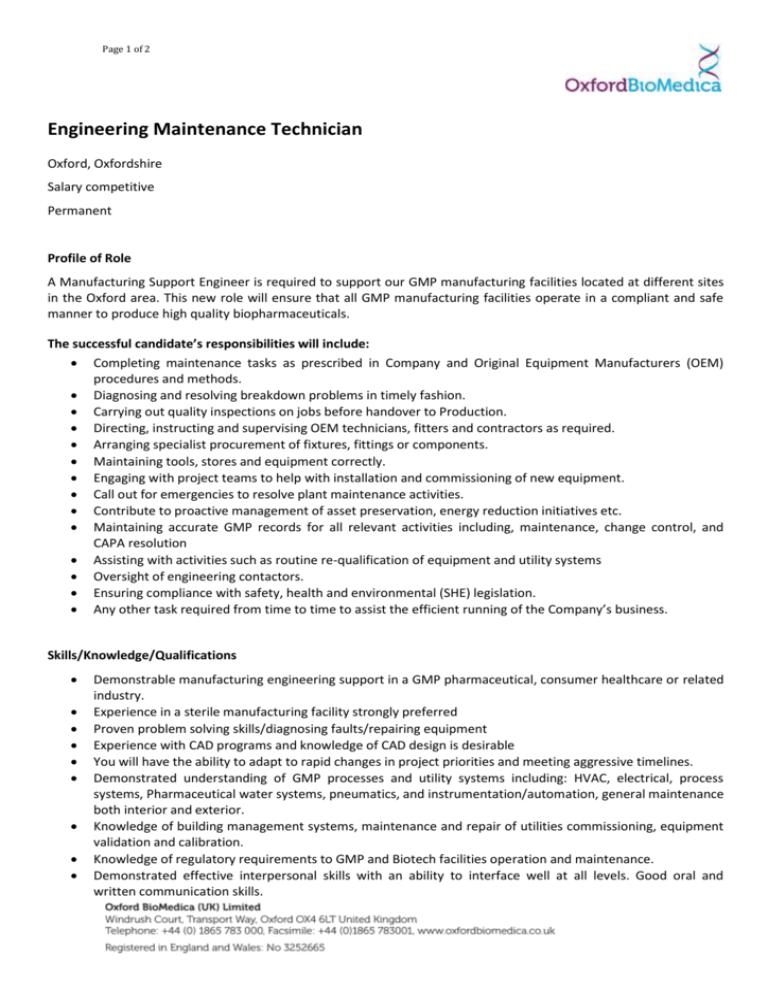 Page 1 of 2
Engineering Maintenance Technician
Oxford, Oxfordshire
Salary competitive
Permanent
Profile of Role
A Manufacturing Support Engineer is required to support our GMP manufacturing facilities located at different sites
in the Oxford area. This new role will ensure that all GMP manufacturing facilities operate in a compliant and safe
manner to produce high quality biopharmaceuticals.
The successful candidate's responsibilities will include:
 Completing maintenance tasks as prescribed in Company and Original Equipment Manufacturers (OEM)
procedures and methods.
 Diagnosing and resolving breakdown problems in timely fashion.
 Carrying out quality inspections on jobs before handover to Production.
 Directing, instructing and supervising OEM technicians, fitters and contractors as required.
 Arranging specialist procurement of fixtures, fittings or components.
 Maintaining tools, stores and equipment correctly.
 Engaging with project teams to help with installation and commissioning of new equipment.
 Call out for emergencies to resolve plant maintenance activities.
 Contribute to proactive management of asset preservation, energy reduction initiatives etc.
 Maintaining accurate GMP records for all relevant activities including, maintenance, change control, and
CAPA resolution
 Assisting with activities such as routine re-qualification of equipment and utility systems
 Oversight of engineering contactors.
 Ensuring compliance with safety, health and environmental (SHE) legislation.
 Any other task required from time to time to assist the efficient running of the Company's business.
Skills/Knowledge/Qualifications









Demonstrable manufacturing engineering support in a GMP pharmaceutical, consumer healthcare or related
industry.
Experience in a sterile manufacturing facility strongly preferred
Proven problem solving skills/diagnosing faults/repairing equipment
Experience with CAD programs and knowledge of CAD design is desirable
You will have the ability to adapt to rapid changes in project priorities and meeting aggressive timelines.
Demonstrated understanding of GMP processes and utility systems including: HVAC, electrical, process
systems, Pharmaceutical water systems, pneumatics, and instrumentation/automation, general maintenance
both interior and exterior.
Knowledge of building management systems, maintenance and repair of utilities commissioning, equipment
validation and calibration.
Knowledge of regulatory requirements to GMP and Biotech facilities operation and maintenance.
Demonstrated effective interpersonal skills with an ability to interface well at all levels. Good oral and
written communication skills.
Page 2 of 2



Valid driving license
Minimum education level of HNC/D in an Engineering discipline with demonstrable experience.
Knowledge of working within a Pharma quality system including, deviation reporting, CAPA resolution and
Change control and management
Competencies


Engineering experience in a GMP environment.
Recent hands-on engineering experience
Key Words: Engineering / Mechanical/ Electrical/ HVAC/ GMP/ Maintenance/ Pharmaceutical/Bio manufacturing/
commissioning / Validation
The successful candidate will report to the Engineering Manager.
Please use the cover letter to highlight how you meet the competencies for the role and to state your salary
requirements and current salary. Your cover letter will be used along with your CV to assess your application.
With your application could you please quote job reference OXB11.