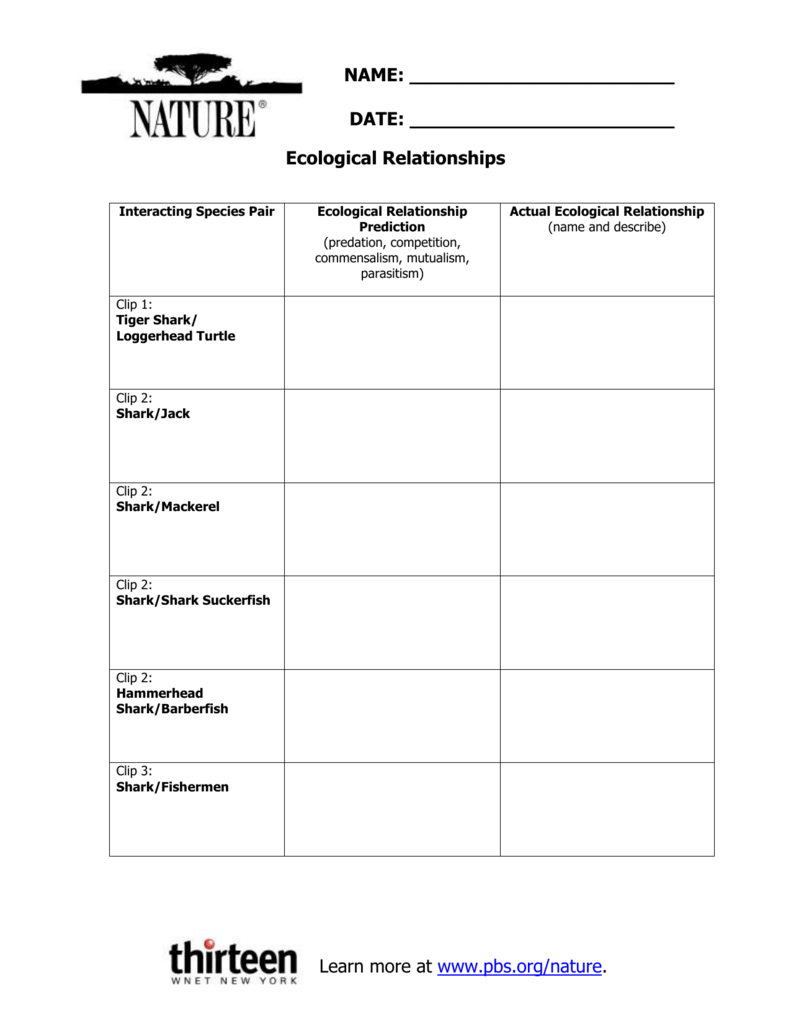 NAME: _______________________
DATE: _______________________
Ecological Relationships
Interacting Species Pair
Ecological Relationship
Prediction
(predation, competition,
commensalism, mutualism,
parasitism)
Actual Ecological Relationship
(name and describe)
Clip 1:
Tiger Shark/
Loggerhead Turtle
Clip 2:
Shark/Jack
Clip 2:
Shark/Mackerel
Clip 2:
Shark/Shark Suckerfish
Clip 2:
Hammerhead
Shark/Barberfish
Clip 3:
Shark/Fishermen
Learn more at www.pbs.org/nature.
NAME: _______________________
DATE: _______________________
Discussion Questions: Shark and Turtle

How does the turtle protect itself?

What relationship is held between the tiger shark and the loggerhead turtle?
Discussion Questions: Unlikely Travel Companions

List three ways in which being near a shark might be beneficial to a fish.

What is one way that a shark might benefit from a fish (other than as prey)?

Classify each shark-fish relationship shown in this video segment as
commensalism, mutualism or parasitism.
Discussion Questions: Sharks and Fishermen

How have sharks become trained to follow fishermen?

Describe how the following species pairs interact in the video segment:
fishermen/fish; sharks/fish; sharks/fishermen.
Discussion Questions: Collapse of Sharks

Why are shark populations in danger of collapse?

How has the relationship between sharks and humans changed over time?

What might happen if the shark fin trade continues unchecked?
Discussion Questions: Sharks in Our Future

Describe the type of tourism seen in this clip.

What benefit do these businesses provide to: sharks? To local populations? To
tourists?

How might these businesses help prevent the collapse of shark populations?
Learn more at www.pbs.org/nature.