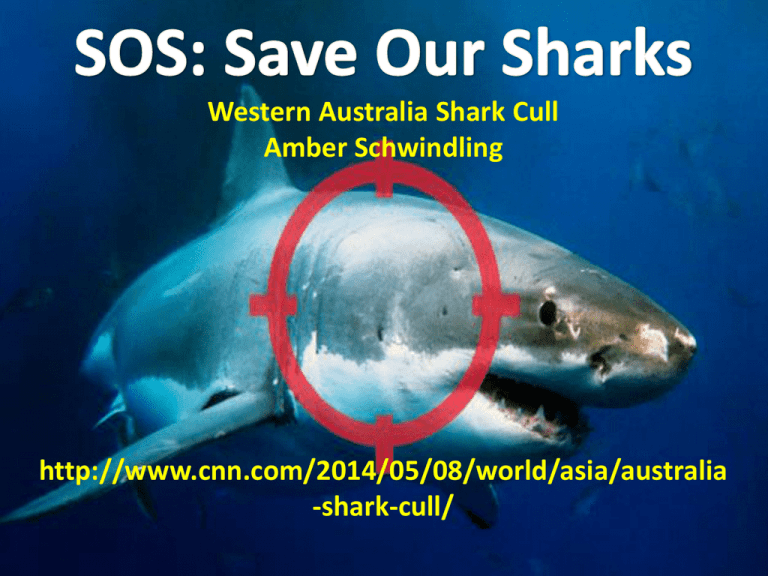 Western Australia Shark Cull
Amber Schwindling
http://www.cnn.com/2014/05/08/world/asia/australia
-shark-cull/
Outline
I. What is the W.A. shark cull?
II. W.A. shark attack records
III. Opposition
IV. Will it work?
V. Alternative Strategies
What is the W.A. shark cull?
• State government policy of capturing and killing large sharks
by using baited drum lines
• 3 month program
• 72 drum lines across 200 km
• Target: Great Whites, Bull sharks, and Tiger sharks
• Caught: 172
• Killed: 50
• Important to remember: shark attacks are random
events!
Opposition
• Activists removed bait from drum
lines
• Protestors gathered on the beach
on two occasions ranging in the
thousands
Will it work?
• Theory: fishing close to popular swimming beaches
deceases local populations, thus reducing human
interactions
• Evidence supports localized decline… but not in all species
• White sharks and tiger sharks are highly mobile
• No white sharks captured, mostly tiger sharks
• 70% of catch weren't large enough to be considered a
threat or were bycatch
Alternative strategies
• Satellite-linked shark tagging
• Personal shark protection
– Electronic shark deterrents
– Camouflage wetsuits
Questions?