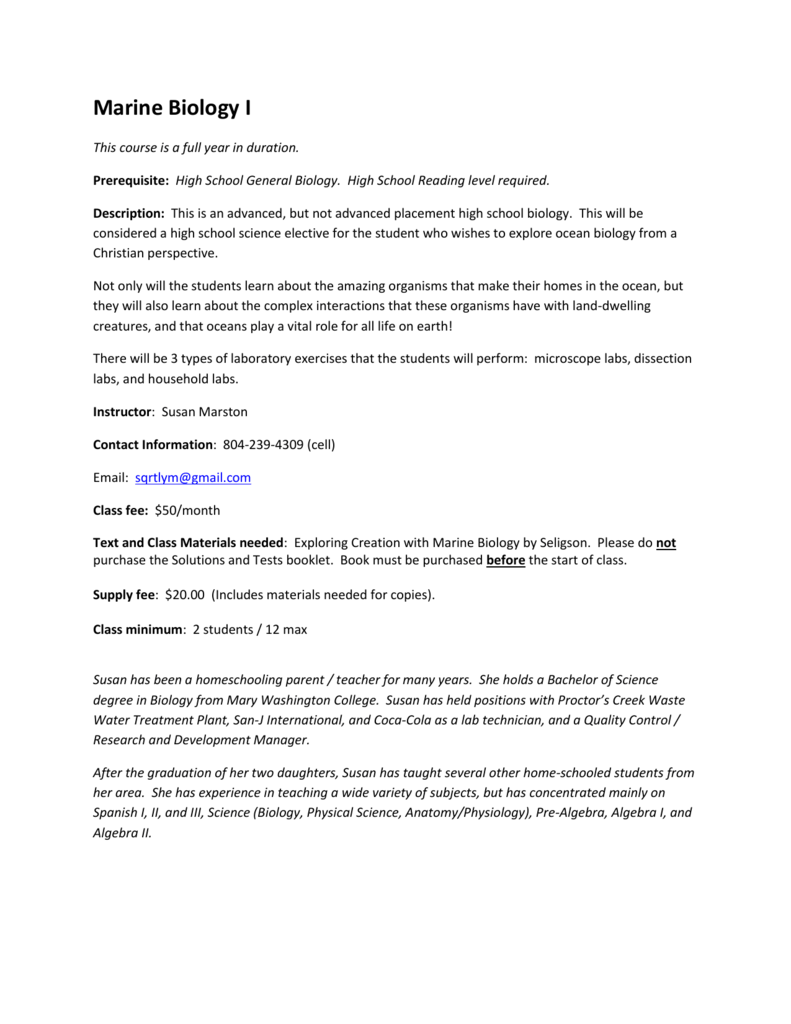 Marine Biology I
This course is a full year in duration.
Prerequisite: High School General Biology. High School Reading level required.
Description: This is an advanced, but not advanced placement high school biology. This will be
considered a high school science elective for the student who wishes to explore ocean biology from a
Christian perspective.
Not only will the students learn about the amazing organisms that make their homes in the ocean, but
they will also learn about the complex interactions that these organisms have with land-dwelling
creatures, and that oceans play a vital role for all life on earth!
There will be 3 types of laboratory exercises that the students will perform: microscope labs, dissection
labs, and household labs.
Instructor: Susan Marston
Contact Information: 804-239-4309 (cell)
Email: [email protected]
Class fee: $50/month
Text and Class Materials needed: Exploring Creation with Marine Biology by Seligson. Please do not
purchase the Solutions and Tests booklet. Book must be purchased before the start of class.
Supply fee: $20.00 (Includes materials needed for copies).
Class minimum: 2 students / 12 max
Susan has been a homeschooling parent / teacher for many years. She holds a Bachelor of Science
degree in Biology from Mary Washington College. Susan has held positions with Proctor's Creek Waste
Water Treatment Plant, San-J International, and Coca-Cola as a lab technician, and a Quality Control /
Research and Development Manager.
After the graduation of her two daughters, Susan has taught several other home-schooled students from
her area. She has experience in teaching a wide variety of subjects, but has concentrated mainly on
Spanish I, II, and III, Science (Biology, Physical Science, Anatomy/Physiology), Pre-Algebra, Algebra I, and
Algebra II.