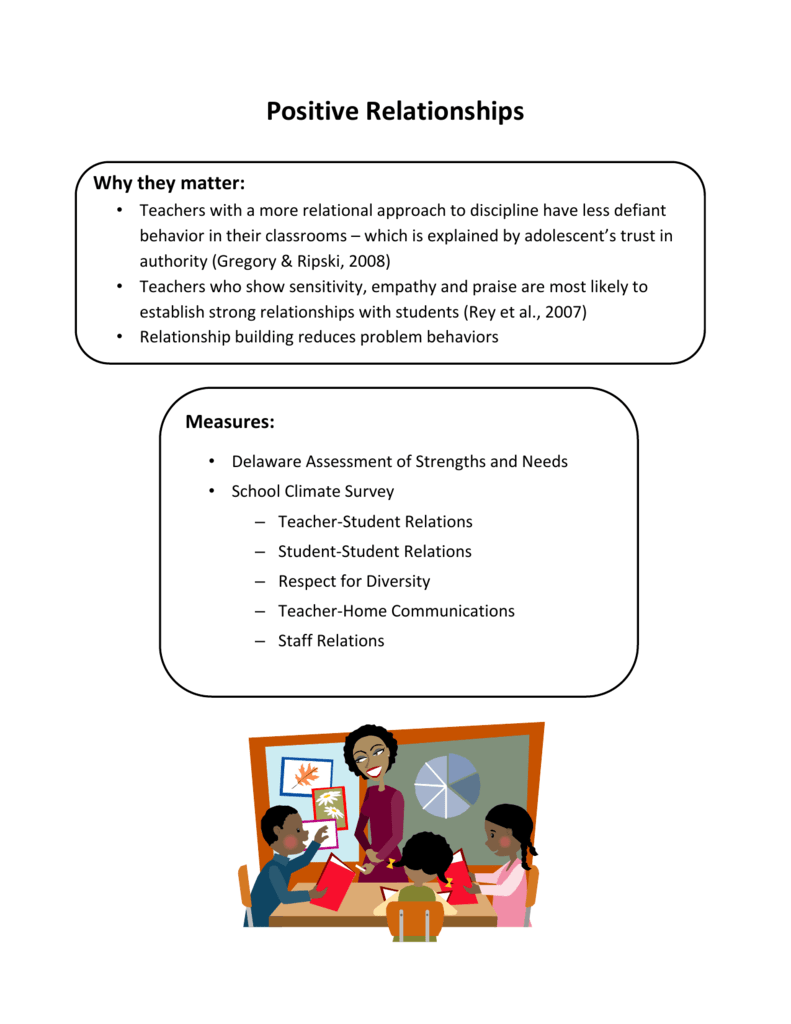 Positive Relationships
Why they matter:
• Teachers with a more relational approach to discipline have less defiant
behavior in their classrooms – which is explained by adolescent's trust in
authority (Gregory & Ripski, 2008)
• Teachers who show sensitivity, empathy and praise are most likely to
establish strong relationships with students (Rey et al., 2007)
• Relationship building reduces problem behaviors
Measures:
• Delaware Assessment of Strengths and Needs
• School Climate Survey
– Teacher-Student Relations
– Student-Student Relations
– Respect for Diversity
– Teacher-Home Communications
– Staff Relations
Teacher-Student Relationship Building Strategies
Classroom
School-wide
Nominate a teacher for a reward
Community and service learning
activities
Students earn the chance for staff
to do silly things
Staff and student team challenges,
including:
- Fundraisers
- Hallway decorating
- Sporting event attendance
Find/ask about student interests and
extracurricular activities
Have students provide 1-minute reports on areas
of their interest (i.e. sports, drama)
Attend extracurricular events
Highlight student talents (i.e. bulletin board with
newspaper articles)
Greet students as they enter the room
Shake hands at the end of the day
Show interest in their lives
Acknowledge birthdays, etc.
Learn more about students (e.g. via student
interviews, journals, autobiographies)
Advocate for students
Positive principal's visit
Suggestion box
Class meetings (e.g. Responsive Classroom)
Repeating compliments
Photos, news clippings
Humor: Practical jokes and fun activities
Personal notes, stickems, or letters
In general: Increase individual attention and time!
Student-Student Relationship Building Strategies
School-wide
Classroom
Across grade level peer mentoring
Getting to know each other activities
Students on the PBS Team/PBS Student
Team
In class challenges – common goal for
all
Bullying prevention techniques,
including:
- Hotline
- Lesson plans provided school-wide
- Pledges to prevent bullying
- "Sweet Tweet" board
- Cyber bullying lesson
Group-based projects
Service learning opportunities
Students nominate each other for
rewards
Special Olympics (athletes and peer
partners)
Friendly competitions amongst grade
levels
"Catch each other being good"
incentives
Classroom contingencies
Challenge Day opportunities
Cooperative games
Home-School Relationship Building Strategies
School-wide
Classroom
Positive messages home
Encourage classroom visits
Positive parent conferences
Welcome parents as volunteers
Positive behavioral referral
Inform about class activities: homework –
agenda book sharing
PBS newsletters highlighting positive
behaviors, improvements in
referrals
Inviting parents to be part of PBS
events
PBS information shared at open
house
Parents on SWPBS Team
Two-way communication with
parents
Having parents nominate teachers
for awards
Inform for each long-term project,
including scoring rubric
Inform parents about extracurricular
activities – spelling bees, award
assemblies, plays, etc.
Phone calls regarding positive student
behavior and progress
Inviting parents on field trips
Asking parents to share hobbies/interests
Provide a calendar
Newsletters
Websites: School, classroom
Progress reports
Thank you notes/letters
Email, class website
Letters about behavior on field trips, etc.