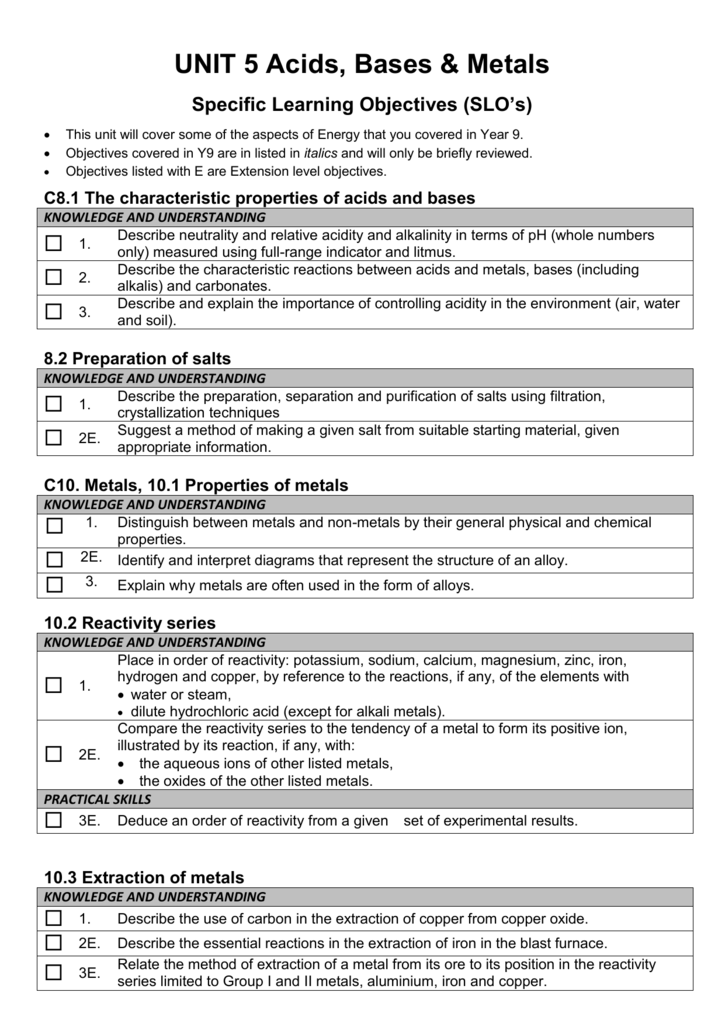 UNIT 5 Acids, Bases & Metals
Specific Learning Objectives (SLO's)



This unit will cover some of the aspects of Energy that you covered in Year 9.
Objectives covered in Y9 are in listed in italics and will only be briefly reviewed.
Objectives listed with E are Extension level objectives.
C8.1 The characteristic properties of acids and bases
KNOWLEDGE AND UNDERSTANDING
neutrality and relative acidity and alkalinity in terms of pH (whole numbers
 1. Describe
only) measured using full-range indicator and litmus.
the characteristic reactions between acids and metals, bases (including
 2. Describe
alkalis) and carbonates.
and explain the importance of controlling acidity in the environment (air, water
 3. Describe
and soil).
8.2 Preparation of salts
KNOWLEDGE AND UNDERSTANDING
the preparation, separation and purification of salts using filtration,
 1. Describe
crystallization techniques
a method of making a given salt from suitable starting material, given
 2E. Suggest
appropriate information.
C10. Metals, 10.1 Properties of metals
KNOWLEDGE AND UNDERSTANDING
between metals and non-metals by their general physical and chemical
 1. Distinguish
properties.
 2E. Identify and interpret diagrams that represent the structure of an alloy.
 3. Explain why metals are often used in the form of alloys.
10.2 Reactivity series
KNOWLEDGE AND UNDERSTANDING
Place in order of reactivity: potassium, sodium, calcium, magnesium, zinc, iron,
hydrogen and copper, by reference to the reactions, if any, of the elements with
 1.  water or steam,
 dilute hydrochloric acid (except for alkali metals).
Compare the reactivity series to the tendency of a metal to form its positive ion,
illustrated by its reaction, if any, with:
 2E.  the aqueous ions of other listed metals,
 the oxides of the other listed metals.
PRACTICAL SKILLS
 3E. Deduce an order of reactivity from a given set of experimental results.
10.3 Extraction of metals
KNOWLEDGE AND UNDERSTANDING
 1. Describe the use of carbon in the extraction of copper from copper oxide.


2E.
3E.
Describe the essential reactions in the extraction of iron in the blast furnace.
Relate the method of extraction of a metal from its ore to its position in the reactivity
series limited to Group I and II metals, aluminium, iron and copper.
C11 Air and Water:
KNOWLEDGE AND UNDERSTANDING
 1. Describe a chemical test for water.
Describe and explain, in outline, the purification of the water supply by filtration and
 2. chlorination.
Describe the composition of clean air as being a mixture of 78% nitrogen, 21% oxygen
 3. and small quantities of noble gases, water vapour and carbon dioxide.
Explain why the proportion of carbon dioxide in air is increasing, and why this is
 4E. important.
Describe the formation of carbon dioxide:
 as a product of complete combustion of carbon-containing substances,
 5.  as a product of respiration,
 as a product of the reaction between an acid and a carbonate.
Describe the rusting of iron in terms of a reaction involving air and water, and simple
 6. methods of rust prevention, including paint and other coatings to exclude oxygen.