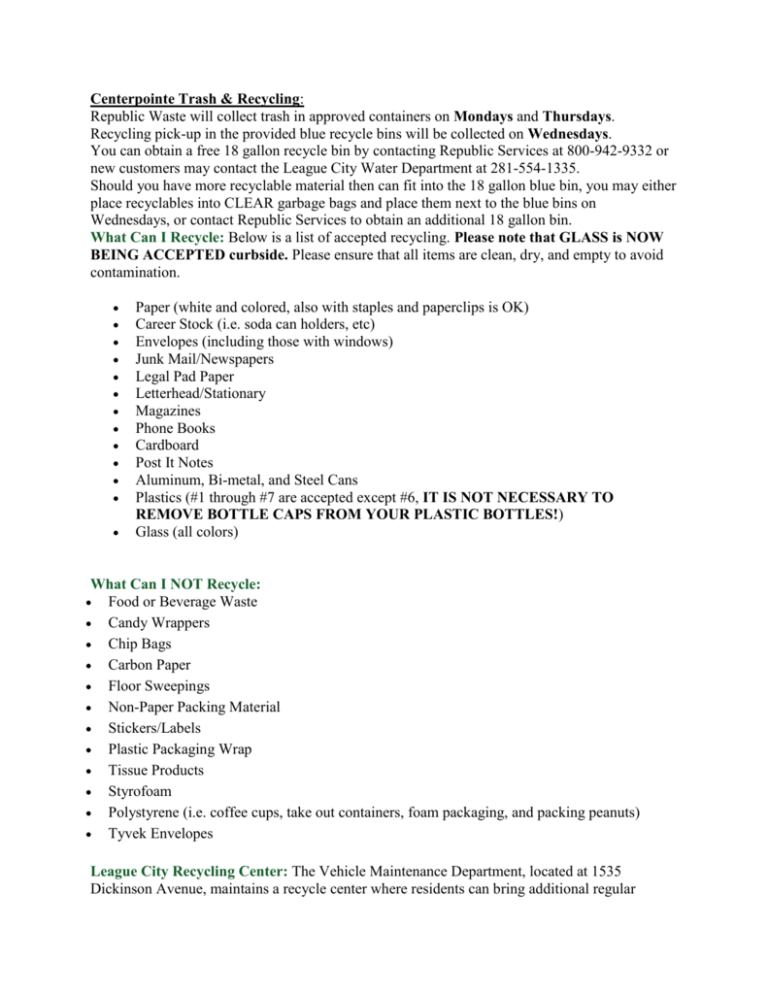 Centerpointe Trash & Recycling:
Republic Waste will collect trash in approved containers on Mondays and Thursdays.
Recycling pick-up in the provided blue recycle bins will be collected on Wednesdays.
You can obtain a free 18 gallon recycle bin by contacting Republic Services at 800-942-9332 or
new customers may contact the League City Water Department at 281-554-1335.
Should you have more recyclable material then can fit into the 18 gallon blue bin, you may either
place recyclables into CLEAR garbage bags and place them next to the blue bins on
Wednesdays, or contact Republic Services to obtain an additional 18 gallon bin.
What Can I Recycle: Below is a list of accepted recycling. Please note that GLASS is NOW
BEING ACCEPTED curbside. Please ensure that all items are clean, dry, and empty to avoid
contamination.













Paper (white and colored, also with staples and paperclips is OK)
Career Stock (i.e. soda can holders, etc)
Envelopes (including those with windows)
Junk Mail/Newspapers
Legal Pad Paper
Letterhead/Stationary
Magazines
Phone Books
Cardboard
Post It Notes
Aluminum, Bi-metal, and Steel Cans
Plastics (#1 through #7 are accepted except #6, IT IS NOT NECESSARY TO
REMOVE BOTTLE CAPS FROM YOUR PLASTIC BOTTLES!)
Glass (all colors)
What Can I NOT Recycle:
Food or Beverage Waste
 Candy Wrappers
 Chip Bags
 Carbon Paper
 Floor Sweepings
 Non-Paper Packing Material
 Stickers/Labels
 Plastic Packaging Wrap
 Tissue Products
 Styrofoam
 Polystyrene (i.e. coffee cups, take out containers, foam packaging, and packing peanuts)
 Tyvek Envelopes

League City Recycling Center: The Vehicle Maintenance Department, located at 1535
Dickinson Avenue, maintains a recycle center where residents can bring additional regular
recycling as well as used oil, oil filters, antifreeze, glass, and automotive batteries. The center is
open 24 hours a day 7 days a week!