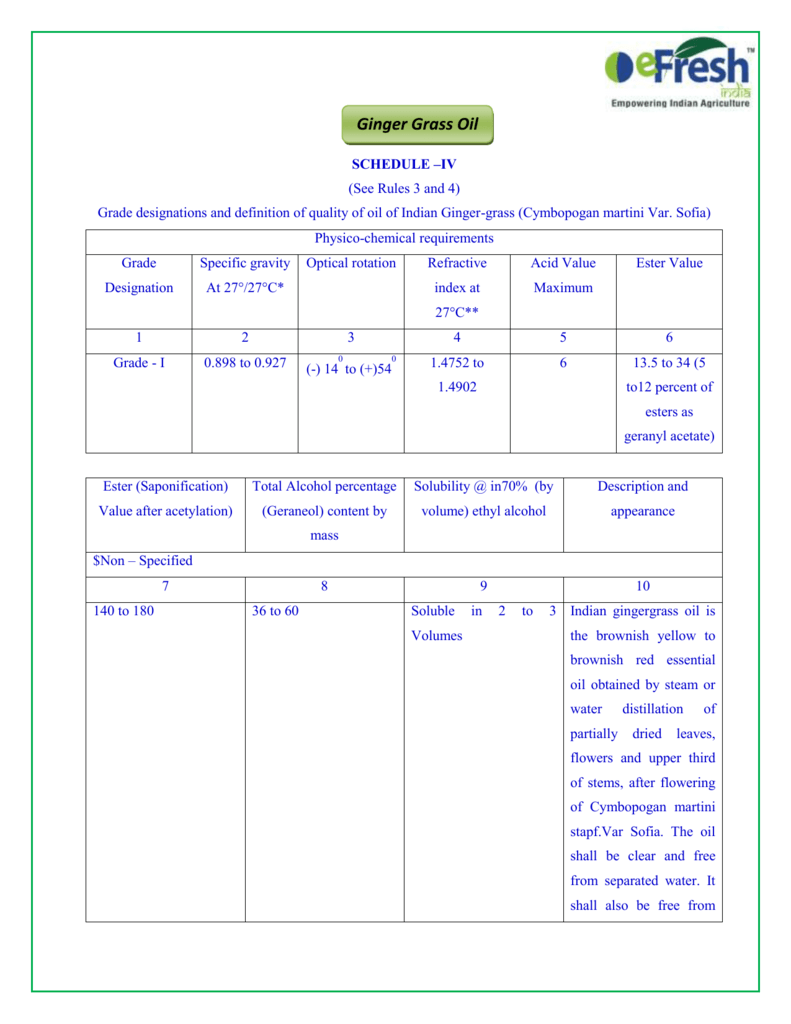 Ginger Grass Oil
SCHEDULE –IV
(See Rules 3 and 4)
Grade designations and definition of quality of oil of Indian Ginger-grass (Cymbopogan martini Var. Sofia)
Physico-chemical requirements
Grade
Specific gravity
Designation
At 27°/27°C*
Optical rotation
Refractive
Acid Value
index at
Maximum
Ester Value
27°C**
1
2
3
Grade - I
0.898 to 0.927
(-) 14 to (+)54
0
0
4
5
6
1.4752 to
6
13.5 to 34 (5
1.4902
to12 percent of
esters as
geranyl acetate)
Ester (Saponification)
Total Alcohol percentage
Solubility @ in70% (by
Description and
Value after acetylation)
(Geraneol) content by
volume) ethyl alcohol
appearance
9
10
mass
$Non – Specified
7
140 to 180
8
36 to 60
Soluble
Volumes
in
2
to
3 Indian gingergrass oil is
the brownish yellow to
brownish red essential
oil obtained by steam or
water
partially
distillation
dried
of
leaves,
flowers and upper third
of stems, after flowering
of Cymbopogan martini
stapf.Var Sofia. The oil
shall be clear and free
from separated water. It
shall also be free from
sediments,
suspended
matter and shall posses
the characteristic sharp
but pleasant odour.
*The correction factor for specific gravity for each degree Celsius rise in temperature is (-) 0.00073.
**The correction factor for refractive index for each degree Celsius rise in temperature is (-) 0.00040.
@ The solution of ginger grass oil in ethyl alcohol, 70% by volume occasionally turns opalescent to turbid
with further addition of alcohol
$ Non-specified grade is provided to meet such specific quality requirements of the buyer which are not
covered under the regular grade. It is allowed for export grading only against specific order from the buyer
indicating the quantity and quality required.