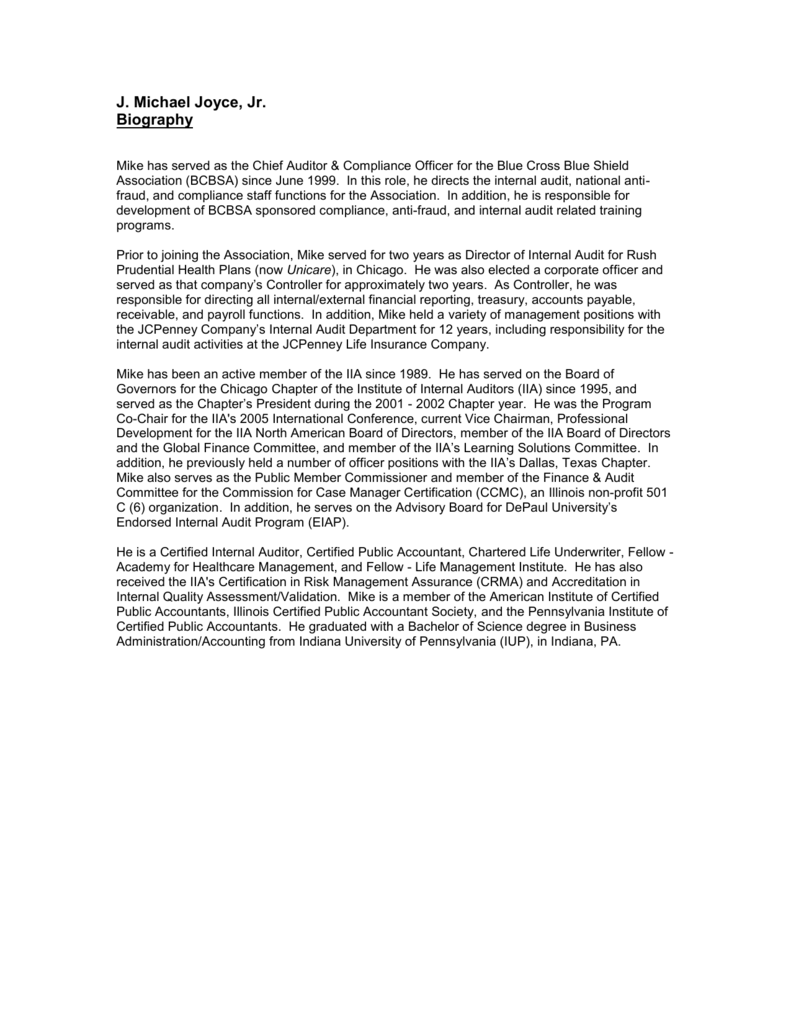 J. Michael Joyce, Jr.
Biography
Mike has served as the Chief Auditor & Compliance Officer for the Blue Cross Blue Shield
Association (BCBSA) since June 1999. In this role, he directs the internal audit, national antifraud, and compliance staff functions for the Association. In addition, he is responsible for
development of BCBSA sponsored compliance, anti-fraud, and internal audit related training
programs.
Prior to joining the Association, Mike served for two years as Director of Internal Audit for Rush
Prudential Health Plans (now Unicare), in Chicago. He was also elected a corporate officer and
served as that company's Controller for approximately two years. As Controller, he was
responsible for directing all internal/external financial reporting, treasury, accounts payable,
receivable, and payroll functions. In addition, Mike held a variety of management positions with
the JCPenney Company's Internal Audit Department for 12 years, including responsibility for the
internal audit activities at the JCPenney Life Insurance Company.
Mike has been an active member of the IIA since 1989. He has served on the Board of
Governors for the Chicago Chapter of the Institute of Internal Auditors (IIA) since 1995, and
served as the Chapter's President during the 2001 - 2002 Chapter year. He was the Program
Co-Chair for the IIA's 2005 International Conference, current Vice Chairman, Professional
Development for the IIA North American Board of Directors, member of the IIA Board of Directors
and the Global Finance Committee, and member of the IIA's Learning Solutions Committee. In
addition, he previously held a number of officer positions with the IIA's Dallas, Texas Chapter.
Mike also serves as the Public Member Commissioner and member of the Finance & Audit
Committee for the Commission for Case Manager Certification (CCMC), an Illinois non-profit 501
C (6) organization. In addition, he serves on the Advisory Board for DePaul University's
Endorsed Internal Audit Program (EIAP).
He is a Certified Internal Auditor, Certified Public Accountant, Chartered Life Underwriter, Fellow Academy for Healthcare Management, and Fellow - Life Management Institute. He has also
received the IIA's Certification in Risk Management Assurance (CRMA) and Accreditation in
Internal Quality Assessment/Validation. Mike is a member of the American Institute of Certified
Public Accountants, Illinois Certified Public Accountant Society, and the Pennsylvania Institute of
Certified Public Accountants. He graduated with a Bachelor of Science degree in Business
Administration/Accounting from Indiana University of Pennsylvania (IUP), in Indiana, PA.