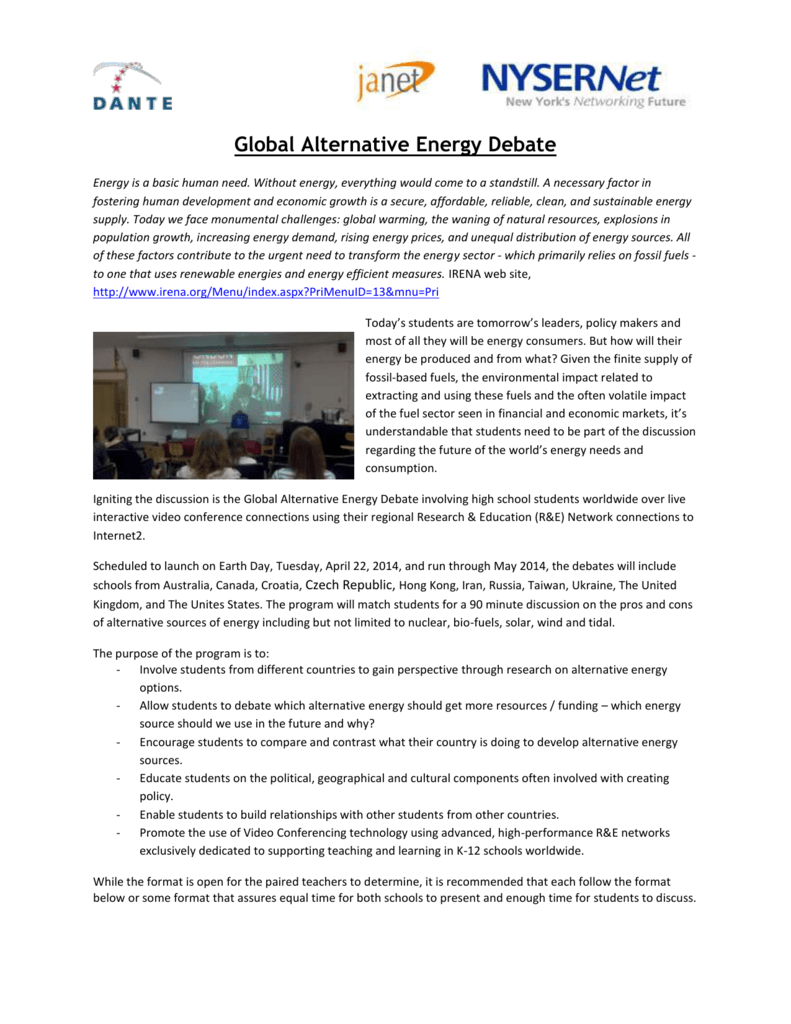 Global Alternative Energy Debate
Energy is a basic human need. Without energy, everything would come to a standstill. A necessary factor in
fostering human development and economic growth is a secure, affordable, reliable, clean, and sustainable energy
supply. Today we face monumental challenges: global warming, the waning of natural resources, explosions in
population growth, increasing energy demand, rising energy prices, and unequal distribution of energy sources. All
of these factors contribute to the urgent need to transform the energy sector - which primarily relies on fossil fuels to one that uses renewable energies and energy efficient measures. IRENA web site,
http://www.irena.org/Menu/index.aspx?PriMenuID=13&mnu=Pri
Today's students are tomorrow's leaders, policy makers and
most of all they will be energy consumers. But how will their
energy be produced and from what? Given the finite supply of
fossil-based fuels, the environmental impact related to
extracting and using these fuels and the often volatile impact
of the fuel sector seen in financial and economic markets, it's
understandable that students need to be part of the discussion
regarding the future of the world's energy needs and
consumption.
Igniting the discussion is the Global Alternative Energy Debate involving high school students worldwide over live
interactive video conference connections using their regional Research & Education (R&E) Network connections to
Internet2.
Scheduled to launch on Earth Day, Tuesday, April 22, 2014, and run through May 2014, the debates will include
schools from Australia, Canada, Croatia, Czech Republic, Hong Kong, Iran, Russia, Taiwan, Ukraine, The United
Kingdom, and The Unites States. The program will match students for a 90 minute discussion on the pros and cons
of alternative sources of energy including but not limited to nuclear, bio-fuels, solar, wind and tidal.
The purpose of the program is to:
Involve students from different countries to gain perspective through research on alternative energy
options.
Allow students to debate which alternative energy should get more resources / funding – which energy
source should we use in the future and why?
Encourage students to compare and contrast what their country is doing to develop alternative energy
sources.
Educate students on the political, geographical and cultural components often involved with creating
policy.
Enable students to build relationships with other students from other countries.
Promote the use of Video Conferencing technology using advanced, high-performance R&E networks
exclusively dedicated to supporting teaching and learning in K-12 schools worldwide.
While the format is open for the paired teachers to determine, it is recommended that each follow the format
below or some format that assures equal time for both schools to present and enough time for students to discuss.
Students are expected to take notes and be prepared to ask questions of and answer questions from their
partnered school.
Format:
The following format can be used to insure that there is enough time for each school to discuss each of the five
topics, nuclear, bio-fuels, solar, wind and tidal.
School A Talks for 5 minutes on pros and cons on the first of the five alternative energy sources
School B Talks for 5 minutes on pros and cons on the first of the five alternative energy sources
Schools then alternate on pros and cons of the remaining four alternative energy sources.
Each school then mutes its microphone for 5 minutes to determine their respective rank order of alternative
energy sources and why that order was chosen. After the microphones are reopened, each school will have 5 more
minutes to defend their choice of a primary alternative energy source and their final rank order of alternative
energy sources.
What happens next depends on each schools choice of their primary alternative energy source:
a) Both schools agree on primary alternative energy source - spend remaining 20 minutes discussing next
steps to achieve their desired outcome. If pro, what steps do they need to put in place to convince their
government to invest in that primary alternative energy source. If con, what steps do they need to put in
place to prevent their government from investing in/supporting nuclear energy.
b) Schools disagree on primary alternative energy source - each school has 2 minutes to prepare an
argument in an attempt to change the other school's opinion. Each school has 5 minutes to present its
argument. Last 8 minutes minute spent with each school delivering its final opinion and why it feels that
way.
Schools can continue to meet regularly by video conference to continue the discussion, or by any other means.
Schools are also welcome to broaden the discussion to other topics as well.
Registration:
1) answer all questions at: https://www.surveymonkey.com/s/LN9GRQF
2) email James Werle ([email protected]) to let him know you have registered
3) email your local contact for video conference support in your school.