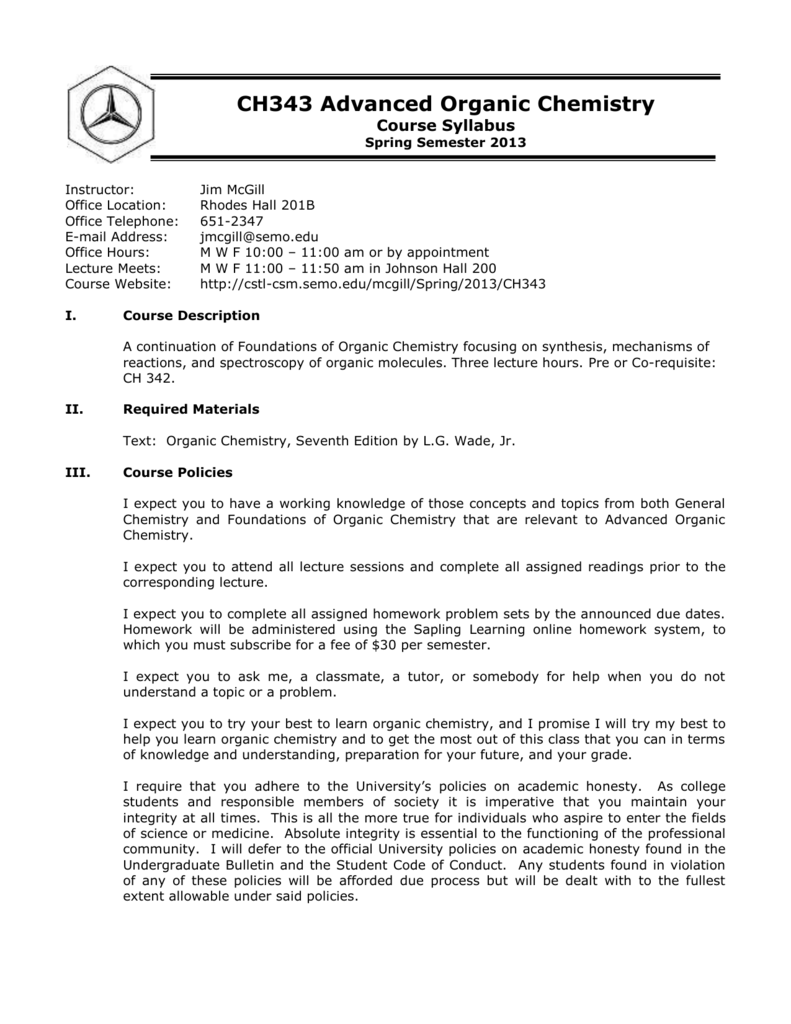 CH343 Advanced Organic Chemistry
Course Syllabus
Spring Semester 2013
Instructor:
Office Location:
Office Telephone:
E-mail Address:
Office Hours:
Lecture Meets:
Course Website:
I.
Jim McGill
Rhodes Hall 201B
651-2347
[email protected]
M W F 10:00 – 11:00 am or by appointment
M W F 11:00 – 11:50 am in Johnson Hall 200
http://cstl-csm.semo.edu/mcgill/Spring/2013/CH343
Course Description
A continuation of Foundations of Organic Chemistry focusing on synthesis, mechanisms of
reactions, and spectroscopy of organic molecules. Three lecture hours. Pre or Co-requisite:
CH 342.
II.
Required Materials
Text: Organic Chemistry, Seventh Edition by L.G. Wade, Jr.
III.
Course Policies
I expect you to have a working knowledge of those concepts and topics from both General
Chemistry and Foundations of Organic Chemistry that are relevant to Advanced Organic
Chemistry.
I expect you to attend all lecture sessions and complete all assigned readings prior to the
corresponding lecture.
I expect you to complete all assigned homework problem sets by the announced due dates.
Homework will be administered using the Sapling Learning online homework system, to
which you must subscribe for a fee of $30 per semester.
I expect you to ask me, a classmate, a tutor, or somebody for help when you do not
understand a topic or a problem.
I expect you to try your best to learn organic chemistry, and I promise I will try my best to
help you learn organic chemistry and to get the most out of this class that you can in terms
of knowledge and understanding, preparation for your future, and your grade.
I require that you adhere to the University's policies on academic honesty. As college
students and responsible members of society it is imperative that you maintain your
integrity at all times. This is all the more true for individuals who aspire to enter the fields
of science or medicine. Absolute integrity is essential to the functioning of the professional
community. I will defer to the official University policies on academic honesty found in the
Undergraduate Bulletin and the Student Code of Conduct. Any students found in violation
of any of these policies will be afforded due process but will be dealt with to the fullest
extent allowable under said policies.
IV.
Basis for Student Evaluation
Component
Homework
Other Assignments
One-Hour Exams
Final Exam
%
26%
7%
40%
27%
TOTAL
V.
– 100%
– 89%
– 79%
– 64%
– 54%
Grading Scale
A
B
C
D
F
100%
Lecture Schedule*
Start
Date
01/16
90
80
65
55
0
Chapters / sections
Chapter 17. Reactions of Aromatic Compounds (sections 11-15)
Chapter 4. The Study of Chemical Reactions
Chapter 8. Reactions of Alkenes (sections 3B, 11, 16, 17)
Exam 1
02/08
Chapter 15. Conjugated Systems, Orbital Symmetry (skip section 13)
Chapter
Chapter
Chapter
Chapter
8. Reactions of Alkenes (sections 5-7, 12-15)
11. Reactions of Alcohols (section 11)
9. Alkynes (sections 9F, 10)
14. Ethers, Epoxides (sections 3C, 6, 9, 11-16)
Exam 2
03/01
Chapter 18. Ketones and Aldehydes (sections 9-11, 13, 21C)
Chapter 22. Condensations, Alpha Substitutions of Carbonyl Compounds
Exam 3
04/13
Chapter
Chapter
Chapter
Chapter
Chapter
10.
14.
18.
19.
21.
Structure and Synthesis of Alcohols (section 12)
Ethers, Epoxides (section 10)
Ketones and Aldehydes (section 8)
Amines (section 14)
Carboxylic Acid Derivatives (section 15)
05/08
*Schedule subject to change at instructor's discretion
Final Exam: Wednesday @ 10:00 am
VI.
Student Learning Outcomes

Describe the chemistry of the common functional groups in terms of scope and
mechanism.
VII.

Apply their knowledge of reactions to multistep synthesis including retrosynthesis.

Apply their knowledge of spectroscopy to organic reactions.

Describe the synthesis and behavior of macromolecular species.

Use molecular orbital theory to predict the outcome of cycloaddition reactions.
Questions, comments or requests regarding this course or program should be taken to your
instructor. Unanswered questions or unresolved issues involving this class may be taken to
Professor Philip Crawford, Chairperson of the Department of Chemistry.