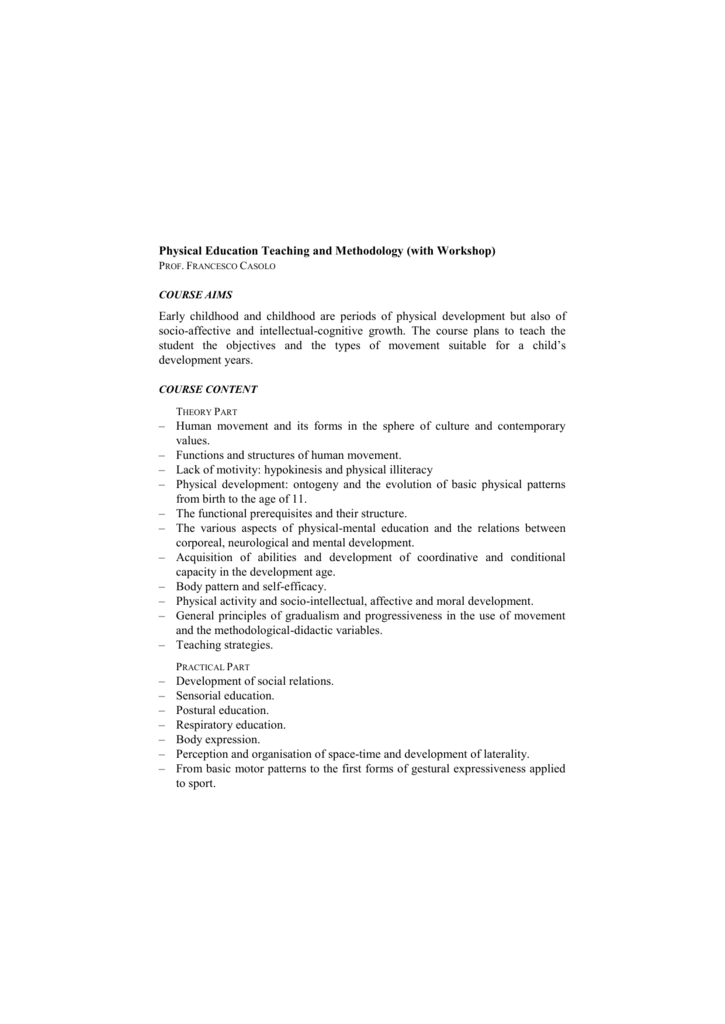 Physical Education Teaching and Methodology (with Workshop)
PROF. FRANCESCO CASOLO
COURSE AIMS
Early childhood and childhood are periods of physical development but also of
socio-affective and intellectual-cognitive growth. The course plans to teach the
student the objectives and the types of movement suitable for a child's
development years.
COURSE CONTENT
THEORY PART
– Human movement and its forms in the sphere of culture and contemporary
values.
– Functions and structures of human movement.
– Lack of motivity: hypokinesis and physical illiteracy
– Physical development: ontogeny and the evolution of basic physical patterns
from birth to the age of 11.
– The functional prerequisites and their structure.
– The various aspects of physical-mental education and the relations between
corporeal, neurological and mental development.
– Acquisition of abilities and development of coordinative and conditional
capacity in the development age.
– Body pattern and self-efficacy.
– Physical activity and socio-intellectual, affective and moral development.
– General principles of gradualism and progressiveness in the use of movement
and the methodological-didactic variables.
– Teaching strategies.
PRACTICAL PART
–
–
–
–
–
–
–
Development of social relations.
Sensorial education.
Postural education.
Respiratory education.
Body expression.
Perception and organisation of space-time and development of laterality.
From basic motor patterns to the first forms of gestural expressiveness applied
to sport.
– From macro-design to operational design: the teaching sequence, work modules
and learning modules for different ages.
READING LIST
F. CASOLO, Didattica delle attività motorie per l'età evolutiva: l'infanzia e la fanciullezza, Vita e
Pensiero, Milan, 2011.
F. CASOLO–S. MELICA, Il corpo che parla, Vita e Pensiero, Milan, 2005.
M. MONDONI–C. SALVETTI, Dire, fare e giocare, Libreria dello sport, Milan, 2006.
F. CASOLO–M. MONDONI, Teoria, tecnica e didattica dei giochi di movimento e dell'animazione
motoria, Libreria dello sport, Milan, 2003.
A.A.V.V., Imparare giocando - Vademecum di giochi per la scuola primaria, Libreria dello sport,
2011.
TEACHING METHOD
Theory lectures for all courses in the classroom.
Practical classes for separate courses in the gym.
Practical courses in the gym.
ASSESSMENT METHOD
Written exam followed by an oral and/or practical exam.
Part of the marks of the overall assessment will be acquired with the presentation of a
work module.
NOTES
Information on the course content, course packs and modules for exam preparation can
be consulted on the lecturer's webpage of the www.unicatt.it website: select student courses
and then click on Virtual Classroom/University Cattolica Lecturers in the section "Lectures
and Exams". To reach the lecturer's webpage, key in his surname and then press "Search".
Further information can be found on the lecturer's webpage at
http://docenti.unicatt.it/web/searchByName.do?language=ENG or on the Faculty notice
board.