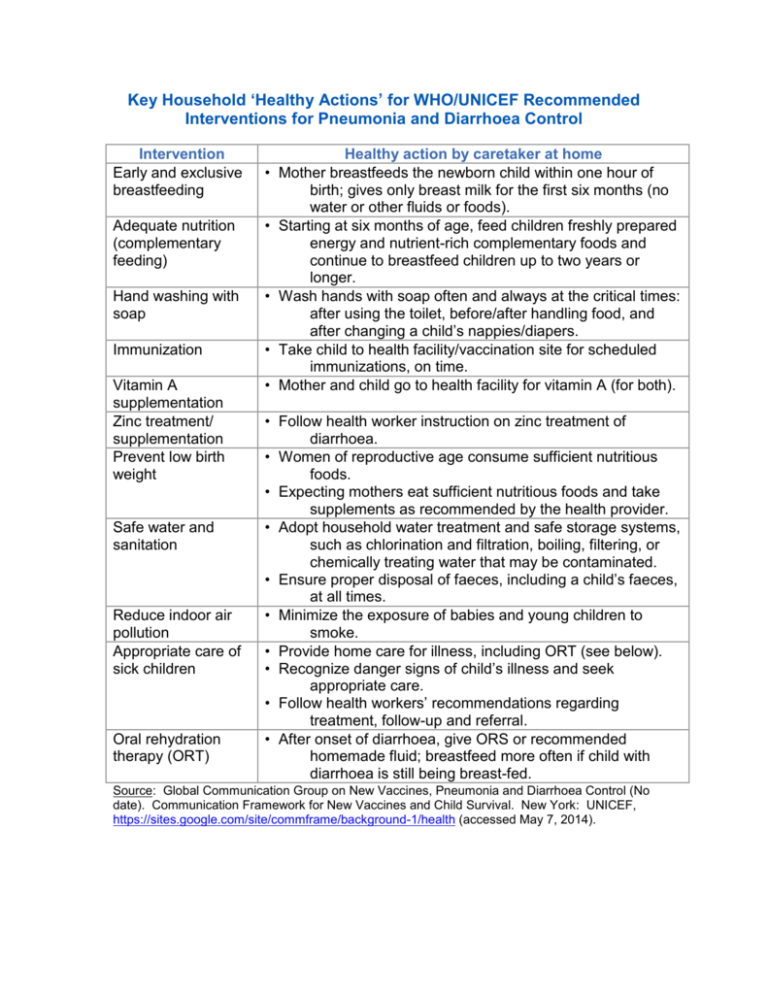 Key Household 'Healthy Actions' for WHO/UNICEF Recommended
Interventions for Pneumonia and Diarrhoea Control
Intervention
Early and exclusive
breastfeeding
•
Adequate nutrition
(complementary
feeding)
•
Hand washing with
soap
•
Immunization
•
Vitamin A
supplementation
Zinc treatment/
supplementation
Prevent low birth
weight
•
Safe water and
sanitation
Reduce indoor air
pollution
Appropriate care of
sick children
Oral rehydration
therapy (ORT)
Healthy action by caretaker at home
Mother breastfeeds the newborn child within one hour of
birth; gives only breast milk for the first six months (no
water or other fluids or foods).
Starting at six months of age, feed children freshly prepared
energy and nutrient-rich complementary foods and
continue to breastfeed children up to two years or
longer.
Wash hands with soap often and always at the critical times:
after using the toilet, before/after handling food, and
after changing a child's nappies/diapers.
Take child to health facility/vaccination site for scheduled
immunizations, on time.
Mother and child go to health facility for vitamin A (for both).
• Follow health worker instruction on zinc treatment of
diarrhoea.
• Women of reproductive age consume sufficient nutritious
foods.
• Expecting mothers eat sufficient nutritious foods and take
supplements as recommended by the health provider.
• Adopt household water treatment and safe storage systems,
such as chlorination and filtration, boiling, filtering, or
chemically treating water that may be contaminated.
• Ensure proper disposal of faeces, including a child's faeces,
at all times.
• Minimize the exposure of babies and young children to
smoke.
• Provide home care for illness, including ORT (see below).
• Recognize danger signs of child's illness and seek
appropriate care.
• Follow health workers' recommendations regarding
treatment, follow-up and referral.
• After onset of diarrhoea, give ORS or recommended
homemade fluid; breastfeed more often if child with
diarrhoea is still being breast-fed.
Source: Global Communication Group on New Vaccines, Pneumonia and Diarrhoea Control (No
date). Communication Framework for New Vaccines and Child Survival. New York: UNICEF,
https://sites.google.com/site/commframe/background-1/health (accessed May 7, 2014).