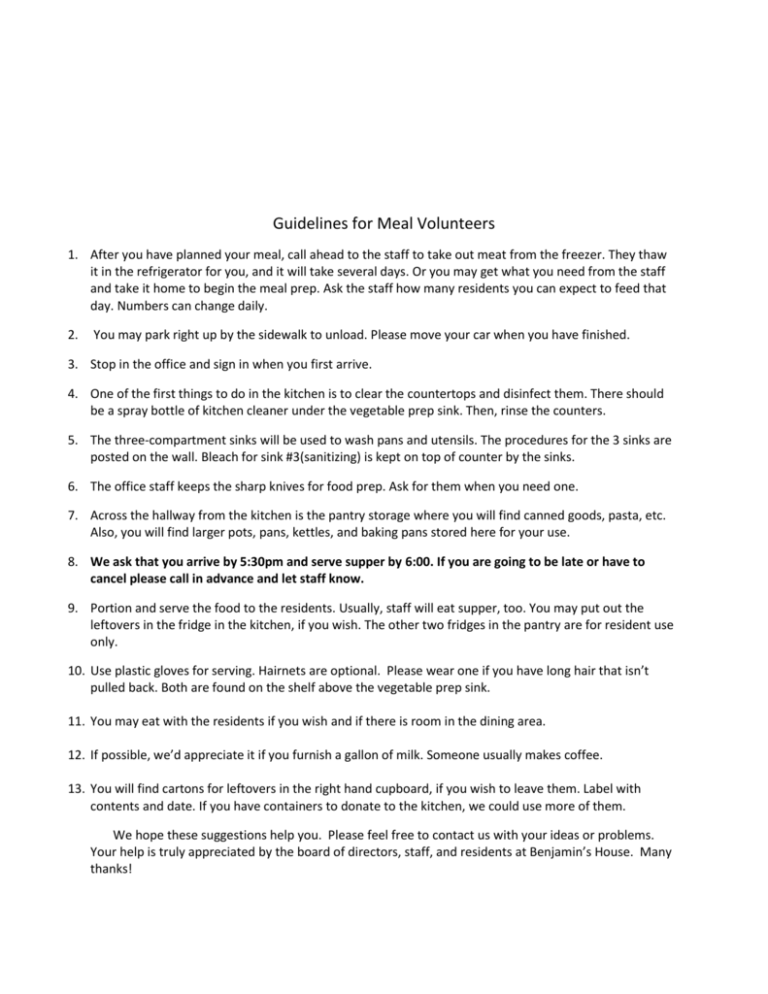 Guidelines for Meal Volunteers
1. After you have planned your meal, call ahead to the staff to take out meat from the freezer. They thaw
it in the refrigerator for you, and it will take several days. Or you may get what you need from the staff
and take it home to begin the meal prep. Ask the staff how many residents you can expect to feed that
day. Numbers can change daily.
2.
You may park right up by the sidewalk to unload. Please move your car when you have finished.
3. Stop in the office and sign in when you first arrive.
4. One of the first things to do in the kitchen is to clear the countertops and disinfect them. There should
be a spray bottle of kitchen cleaner under the vegetable prep sink. Then, rinse the counters.
5. The three-compartment sinks will be used to wash pans and utensils. The procedures for the 3 sinks are
posted on the wall. Bleach for sink #3(sanitizing) is kept on top of counter by the sinks.
6. The office staff keeps the sharp knives for food prep. Ask for them when you need one.
7. Across the hallway from the kitchen is the pantry storage where you will find canned goods, pasta, etc.
Also, you will find larger pots, pans, kettles, and baking pans stored here for your use.
8. We ask that you arrive by 5:30pm and serve supper by 6:00. If you are going to be late or have to
cancel please call in advance and let staff know.
9. Portion and serve the food to the residents. Usually, staff will eat supper, too. You may put out the
leftovers in the fridge in the kitchen, if you wish. The other two fridges in the pantry are for resident use
only.
10. Use plastic gloves for serving. Hairnets are optional. Please wear one if you have long hair that isn't
pulled back. Both are found on the shelf above the vegetable prep sink.
11. You may eat with the residents if you wish and if there is room in the dining area.
12. If possible, we'd appreciate it if you furnish a gallon of milk. Someone usually makes coffee.
13. You will find cartons for leftovers in the right hand cupboard, if you wish to leave them. Label with
contents and date. If you have containers to donate to the kitchen, we could use more of them.
We hope these suggestions help you. Please feel free to contact us with your ideas or problems.
Your help is truly appreciated by the board of directors, staff, and residents at Benjamin's House. Many
thanks!