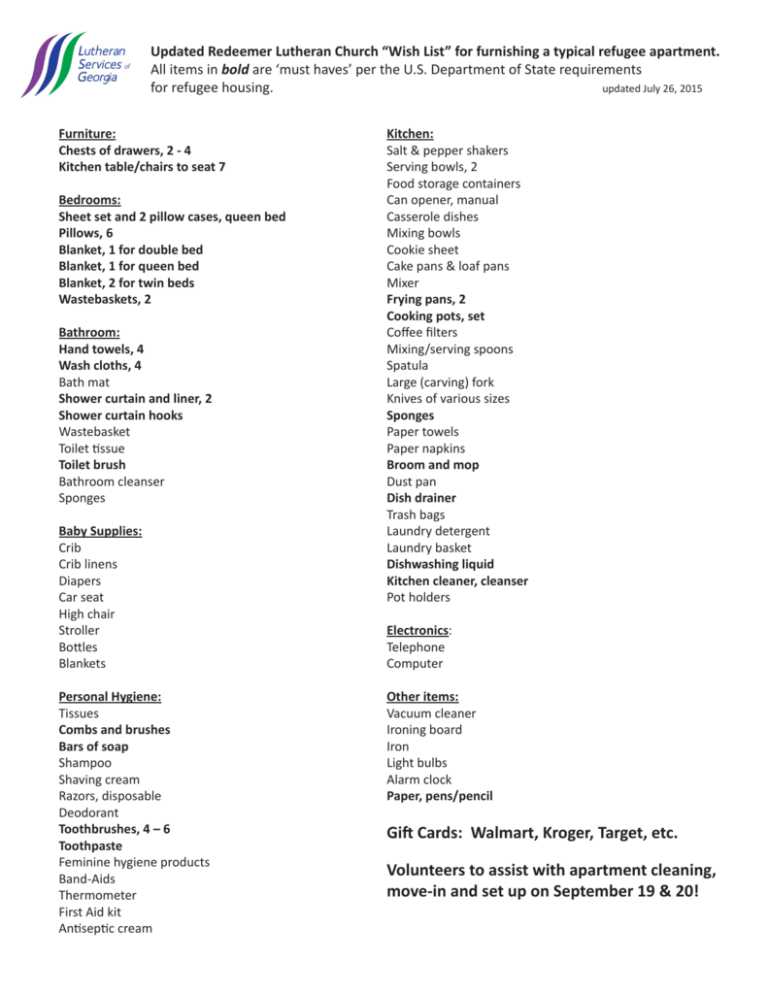 Updated Redeemer Lutheran Church "Wish List" for furnishing a typical refugee apartment.
All items in bold are 'must haves' per the U.S. Department of State requirements
for refugee housing. updated July 26, 2015
Furniture:
Chests of drawers, 2 - 4
Kitchen table/chairs to seat 7
Bedrooms:
Sheet set and 2 pillow cases, queen bed
Pillows, 6
Blanket, 1 for double bed
Blanket, 1 for queen bed
Blanket, 2 for twin beds
Wastebaskets, 2
Bathroom:
Hand towels, 4
Wash cloths, 4
Bath mat
Shower curtain and liner, 2
Shower curtain hooks
Wastebasket
Toilet tissue
Toilet brush
Bathroom cleanser
Sponges
Baby Supplies:
Crib
Crib linens
Diapers
Car seat
High chair
Stroller
Bottles
Blankets
Personal Hygiene:
Tissues
Combs and brushes
Bars of soap
Shampoo
Shaving cream
Razors, disposable
Deodorant
Toothbrushes, 4 – 6
Toothpaste
Feminine hygiene products
Band-Aids
Thermometer
First Aid kit
Antiseptic cream
Kitchen:
Salt & pepper shakers
Serving bowls, 2
Food storage containers
Can opener, manual
Casserole dishes
Mixing bowls
Cookie sheet
Cake pans & loaf pans
Mixer
Frying pans, 2
Cooking pots, set
Coffee filters
Mixing/serving spoons
Spatula
Large (carving) fork
Knives of various sizes
Sponges
Paper towels
Paper napkins
Broom and mop
Dust pan
Dish drainer
Trash bags
Laundry detergent
Laundry basket
Dishwashing liquid
Kitchen cleaner, cleanser
Pot holders
Electronics:
Telephone
Computer
Other items:
Vacuum cleaner
Ironing board
Iron
Light bulbs
Alarm clock
Paper, pens/pencil
Gift Cards: Walmart, Kroger, Target, etc.
Volunteers to assist with apartment cleaning,
move-in and set up on September 19 & 20!