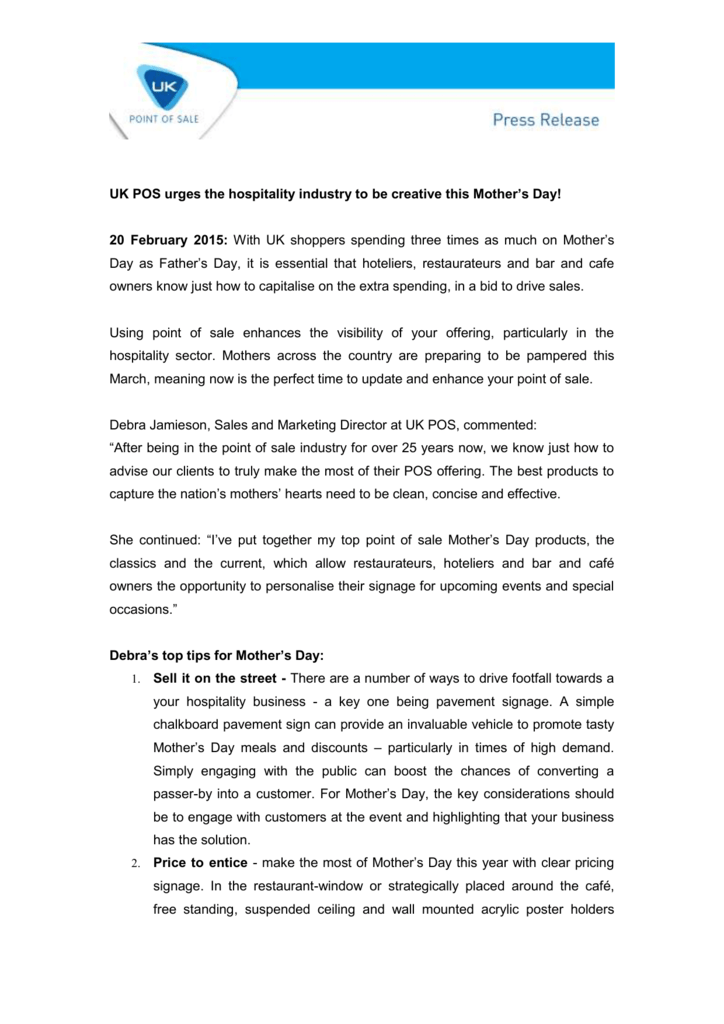 UK POS urges the hospitality industry to be creative this Mother's Day!
20 February 2015: With UK shoppers spending three times as much on Mother's
Day as Father's Day, it is essential that hoteliers, restaurateurs and bar and cafe
owners know just how to capitalise on the extra spending, in a bid to drive sales.
Using point of sale enhances the visibility of your offering, particularly in the
hospitality sector. Mothers across the country are preparing to be pampered this
March, meaning now is the perfect time to update and enhance your point of sale.
Debra Jamieson, Sales and Marketing Director at UK POS, commented:
"After being in the point of sale industry for over 25 years now, we know just how to
advise our clients to truly make the most of their POS offering. The best products to
capture the nation's mothers' hearts need to be clean, concise and effective.
She continued: "I've put together my top point of sale Mother's Day products, the
classics and the current, which allow restaurateurs, hoteliers and bar and café
owners the opportunity to personalise their signage for upcoming events and special
occasions."
Debra's top tips for Mother's Day:
1.
Sell it on the street - There are a number of ways to drive footfall towards a
your hospitality business - a key one being pavement signage. A simple
chalkboard pavement sign can provide an invaluable vehicle to promote tasty
Mother's Day meals and discounts – particularly in times of high demand.
Simply engaging with the public can boost the chances of converting a
passer-by into a customer. For Mother's Day, the key considerations should
be to engage with customers at the event and highlighting that your business
has the solution.
2.
Price to entice - make the most of Mother's Day this year with clear pricing
signage. In the restaurant-window or strategically placed around the café,
free standing, suspended ceiling and wall mounted acrylic poster holders
provide an effective, user-friendly method of notifying your customers about
your products and deals. Leaflet dispensers are also a fantastic product to
highlight key menus and offers that you have prepared for Mother's Day, and
can proudly be displayed on front of house reception areas. Finally, don't
forget to spice up your shelves with shelf highlighters, pointing your
customers to your products for the special day.
3. Make the most of your space - be wary, if your outdoor area is nothing
more than a couple of frosty stools, you run the risk of having the adverse
effect and turning customers away. Make the most of your space with barrier
systems or A-boards, which provide a versatile way to communicate brand
messaging, or even just your daily offers. These devices can also act as a
great visual aid, engaging your audience and opening a whole new channel
of personalised communication.
For further information visit: www.ukpos.com or follow UK POS on Twitter @UKPOSGroup.
ENDS
For more information on this story, please contact Lizzie Marlow at Manifest Communications
on 0113 2429174 or email: [email protected]
Notes to editors:
Established in 1989 and with its head office in Stockport, UK Point of Sale Group Limited (UK
POS) is a leading manufacturer of innovative point of sale display systems. Already a
preferred partner to some of the biggest names in supermarket, department store and highstreet retailing, it offers over 3,000 quality items - ranging from acrylic and PVC holders to
pavement signs. The majority of these items are made in the UK at the company's own
manufacturing facility and all are available for next day, nationwide delivery. The company
also offers bespoke solutions and continues to invest into the latest plant and machinery to
keep its capabilities abreast of the very latest PoS advances.