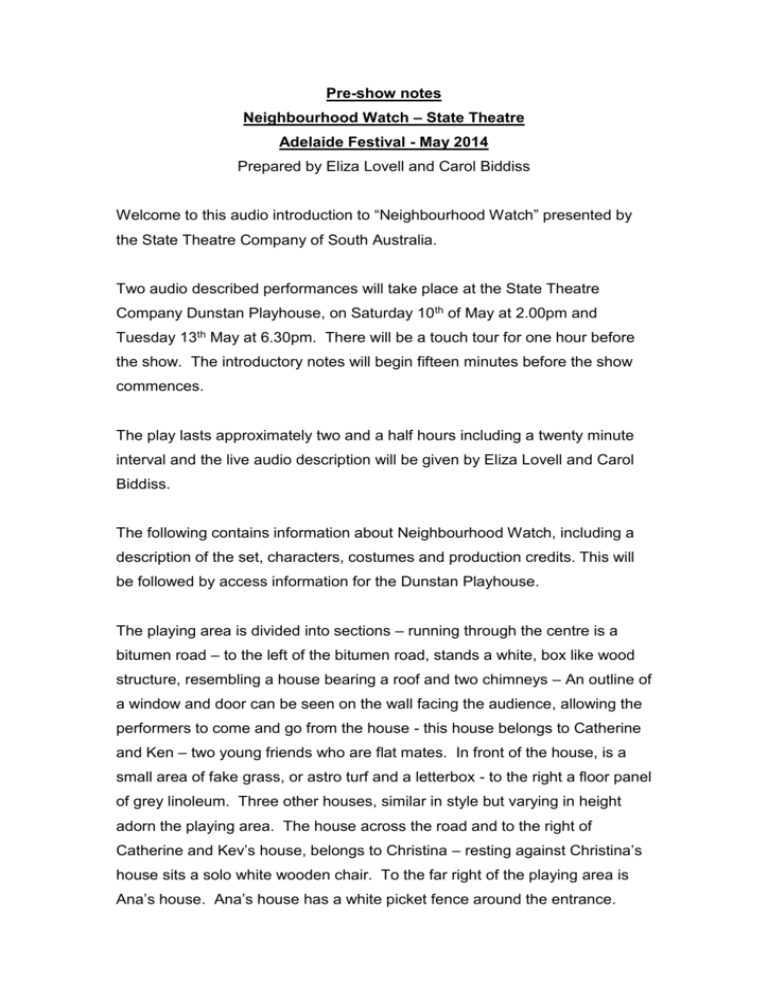 Pre-show notes
Neighbourhood Watch – State Theatre
Adelaide Festival - May 2014
Prepared by Eliza Lovell and Carol Biddiss
Welcome to this audio introduction to "Neighbourhood Watch" presented by
the State Theatre Company of South Australia.
Two audio described performances will take place at the State Theatre
Company Dunstan Playhouse, on Saturday 10th of May at 2.00pm and
Tuesday 13th May at 6.30pm. There will be a touch tour for one hour before
the show. The introductory notes will begin fifteen minutes before the show
commences.
The play lasts approximately two and a half hours including a twenty minute
interval and the live audio description will be given by Eliza Lovell and Carol
Biddiss.
The following contains information about Neighbourhood Watch, including a
description of the set, characters, costumes and production credits. This will
be followed by access information for the Dunstan Playhouse.
The playing area is divided into sections – running through the centre is a
bitumen road – to the left of the bitumen road, stands a white, box like wood
structure, resembling a house bearing a roof and two chimneys – An outline of
a window and door can be seen on the wall facing the audience, allowing the
performers to come and go from the house - this house belongs to Catherine
and Ken – two young friends who are flat mates. In front of the house, is a
small area of fake grass, or astro turf and a letterbox - to the right a floor panel
of grey linoleum. Three other houses, similar in style but varying in height
adorn the playing area. The house across the road and to the right of
Catherine and Kev's house, belongs to Christina – resting against Christina's
house sits a solo white wooden chair. To the far right of the playing area is
Ana's house. Ana's house has a white picket fence around the entrance.
This, is Mary Street - a small inner city community/ suburb in Sydney, New
South Wales.
Catherine and Ana's house open out, as if you are opening a card – a
stagehand performs this.
Inside Catherine's house, the walls are white – an ironing board and a white
plastic washing basket is brought on and off.
The inside of Ana's house, is her lounge room - it is detailed, neat, quaint and
pretty – the skirting boards are white and a couple of vintage, white frames
and mirrors hang on the light blue walls. A white, wrought iron round table
stands up against the wall – sitting on this small table is a 1950's record
player, a neatly stacked pile of books and a glorious bunch of colored roses –
ones you might find growing in an avid gardeners yard. A birdcage rests
against the wall, as does a pile of books. An armchair with a matching round
cushion in a vintage floral fabric sits to the right of her lounge room.
At the back of the playing area is a white screen, throws a blue hue – it's a
sunny day on Mary Street.
The actors are responsible for set changes between scenes – many objects
are used to denote environment for example, a hospital screen, black sulo
wheelie rubbish bins, Kev's macintosh lap top computer – the use of chairs
placed in various configurations also resemble a particular location, such as
the local Neighbourhood watch meeting, doctors room, a street in Hungary, a
train or local cinema or bus stop.
Characters and Costumes
The cast includes 7 performers (four women and three men). All of the actors
except Miriam Margolyes play multiple roles in street scenes and flashbacks.
Characters include various Mary St visitors – a neighbourhood watch
volunteer, a grocery home delivery man, a postie, a police officer. For the
flashback scenes set in Hungary – Ana's family, a gypsy, soldiers, Ana's
family friend Artur, populate Ana's stories.
Miriam Margolyes plays a widow, Ana, a Hungarian woman of some eighty
years. She lives on a quiet suburban street with her German Shepherd dog,
Bella. She is distinctively short, rotund and walks with difficulty. Her manner
is lively and her face unsmiling. Her mid-length frizzy hair is grey. She wears
her jewellery consisting of a gold watch and diamond rings. She wears neat,
high buttoned dresses with bold floral prints on a dark background, half
stockings that stop at mid calf, large orthopaedic sandals in a cream colour
and occasionally a hand-knit bright pink cardigan. In the mall scene, she
dresses in a bright red coat with a blue dress underneath and black "serious"
shoes. She wears pockets in her dresses and when going out carries a large
black handbag from which she likes to brandish bank notes.
Eleanor Stankiewicz plays twenty-something Catherine and also plays a
younger version of Ana. By contrast to Ana, she is extremely tall and slender.
She has a beautiful face and long blonde hair plaited into a contemporary
stylish wreath around her head. She is an unemployed actor and she sits in a
dreamy state or moves about listlessly carrying a mobile phone. She wears a
onesie, or frayed shorts over tights and ugg boots when she is lounging
around at home. Later she appears in a fresh sunshine yellow skirt with a
dark blue top and crisp white collar while short white socks top her brown
ankle boots. This look is later transformed into a wartime white nurses outfit
by donning a white pinafore and white mask.
Carmel Johnson plays the character of Christina, another neighbour of Ana.
Christina is a middle-aged woman who appears hale and hearty at the start
dressed in day clothes but wearing a scarf tied up around her head. She is
always busy, either beating dust out of a floor mat or sweeping.
James Smith takes the role of Ken, the diabetic housemate of Catherine. He
is a film–maker and is currently in limbo waiting for funding. He has an even,
open face and short brown hair. He is a little shorter than Catherine and has
a wistful yet eager way of moving. He dresses casually in jeans and t-shirts
and usually carries his lap-top computer around with him, swinging it from one
hand.
Nic English plays Martin, Catherine's erstwhile lover. Martin has a long
handsome face, dark hair and eyes and he is slightly taller than Catherine.
Martin wears a dark suit and is neatly dressed.
Nic English also plays the handsome chemist and the Woolworths delivery
boy.
Milova is played by Eugenia Fragos - Milova is in her late seventies and walks
with immense difficulty, her back stooped, knees bent, feet angled out in her
startling gold sandals. She wears old-fashioned dull coloured clothing, a full
head-scarf tied under the chin, which she lifts as she speaks. Milova carries
several shopping bags.
Eugenia Fragos also plays the doctor. She is elegant and upright with her
grey hair hanging loosely onto her shoulders.
Ben Roberts appears in many non-speaking roles such as the Postman.
Creative Credits
Writer: Lally Katz
Director: Julian Meyrick
Assistant Director – Sarah Dunn
Set and Costume Designer: Louise Mc Carthy
Lighting Designer: Geoff Cobham
Composer/ Sound Designer: Quincy Grant
Access Information
Access Information
Public Transport:
The Playhouse Theatre is located in The Adelaide Festival Centre.
The Adelaide Festival Centre is a short walk from the Adelaide Railway
Station. You can also catch the Tram from Glenelg or Adelaide Entertainment
Centre and alight at a stop on North Terrace.
Parking:
There is parking available on Festival Drive - you can enter off King William
Road. The car park is equipped with a lift and ramps, which are accessible
from all car park spaces. To pre-book your disability space please call BASS
on 131 246. Bookings must be made no later than 12 noon the day before the
park is required or by Friday 12 noon for a weekend car park.
Drop Off Point:
You can be dropped off at the Dunstan Playhouse & Space Theatre Entrance
on Festival Drive - enter from King William Road.
Accessible seating: Seating will be reserved for patrons using audio
description equipment.
Accessible toilets: Available in the Dunstan Playhouse Foyer
Bar Location(s): Bars are located in the Space Foyer, Dunstan Playhouse
Foyer & Bistro.
Please enquire at the Drama Centre Information Desk, located in the
Playhouse foyer for lift access to The Bistro.
If you would like to know about Access2Arts you can contact Gaelle Mellis at
A2A on: gaelle@access2arts.org.au
This document has been prepared by Eliza Lovell and Carol Biddiss for
Access2Arts and is correct at the time of recording in May 2014.