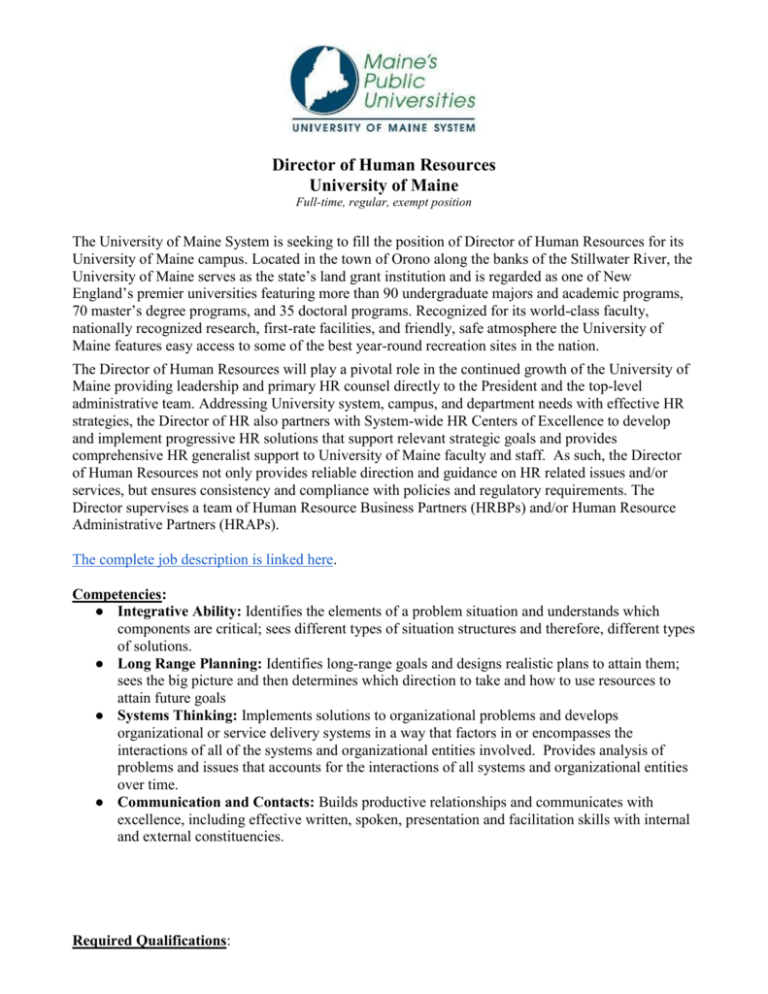 Director of Human Resources
University of Maine
Full-time, regular, exempt position
The University of Maine System is seeking to fill the position of Director of Human Resources for its
University of Maine campus. Located in the town of Orono along the banks of the Stillwater River, the
University of Maine serves as the state's land grant institution and is regarded as one of New
England's premier universities featuring more than 90 undergraduate majors and academic programs,
70 master's degree programs, and 35 doctoral programs. Recognized for its world-class faculty,
nationally recognized research, first-rate facilities, and friendly, safe atmosphere the University of
Maine features easy access to some of the best year-round recreation sites in the nation.
The Director of Human Resources will play a pivotal role in the continued growth of the University of
Maine providing leadership and primary HR counsel directly to the President and the top-level
administrative team. Addressing University system, campus, and department needs with effective HR
strategies, the Director of HR also partners with System-wide HR Centers of Excellence to develop
and implement progressive HR solutions that support relevant strategic goals and provides
comprehensive HR generalist support to University of Maine faculty and staff. As such, the Director
of Human Resources not only provides reliable direction and guidance on HR related issues and/or
services, but ensures consistency and compliance with policies and regulatory requirements. The
Director supervises a team of Human Resource Business Partners (HRBPs) and/or Human Resource
Administrative Partners (HRAPs).
The complete job description is linked here.
Competencies:
● Integrative Ability: Identifies the elements of a problem situation and understands which
components are critical; sees different types of situation structures and therefore, different types
of solutions.
● Long Range Planning: Identifies long-range goals and designs realistic plans to attain them;
sees the big picture and then determines which direction to take and how to use resources to
attain future goals
● Systems Thinking: Implements solutions to organizational problems and develops
organizational or service delivery systems in a way that factors in or encompasses the
interactions of all of the systems and organizational entities involved. Provides analysis of
problems and issues that accounts for the interactions of all systems and organizational entities
over time.
● Communication and Contacts: Builds productive relationships and communicates with
excellence, including effective written, spoken, presentation and facilitation skills with internal
and external constituencies.
Required Qualifications:
● Bachelor's degree or combination of education and relevant experience
● Ten plus years of strategic Human Resources experience with five years leading teams through
cultural change
● Demonstrated knowledge of strategic HR in context of one or preferably more of the following
areas: policy, process, organizational culture, laws/regulations, collective bargaining
agreements, and practical realities. Aptitude and skill to describe options for top management
clearly and concisely
Preferred Qualifications:
● Master's Degree
● SHRP-CP or SCP certification (and/or PHR or SPHR)
● HR experience in a higher education setting or similarly complex multi-unit organization
Competitive salary and benefits will be based on the qualification and experience of the successful
applicant. Benefits include medical, dental, retirement and tuition waiver programs. The retirement
program includes a 10% employer contribution.
The position is open until filled; however, applications received after the first screening date on
7/23/2015 will be considered at the discretion of the university. To apply, send a complete
application packet consisting of a cover letter addressing your experience as it relates to the
requirements of this position, specifically the competencies and qualifications, along with a resume
and contact information for three professional references to: Director of Human Resources - UM,
Office of Human Resources, 16 Central Street, Bangor, ME 04401 or e-mail to umsjobs@maine.edu
referencing job code 07-5B-16. Only complete applications will be considered.
The successful applicant is subject to background screening.
University Services is an EEO/AA employer. All qualified applicants will receive consideration for employment without
regard to race, color, religion, sex, national origin, sexual orientation, age, disability, protected veteran status, or any
other characteristic protected by law.