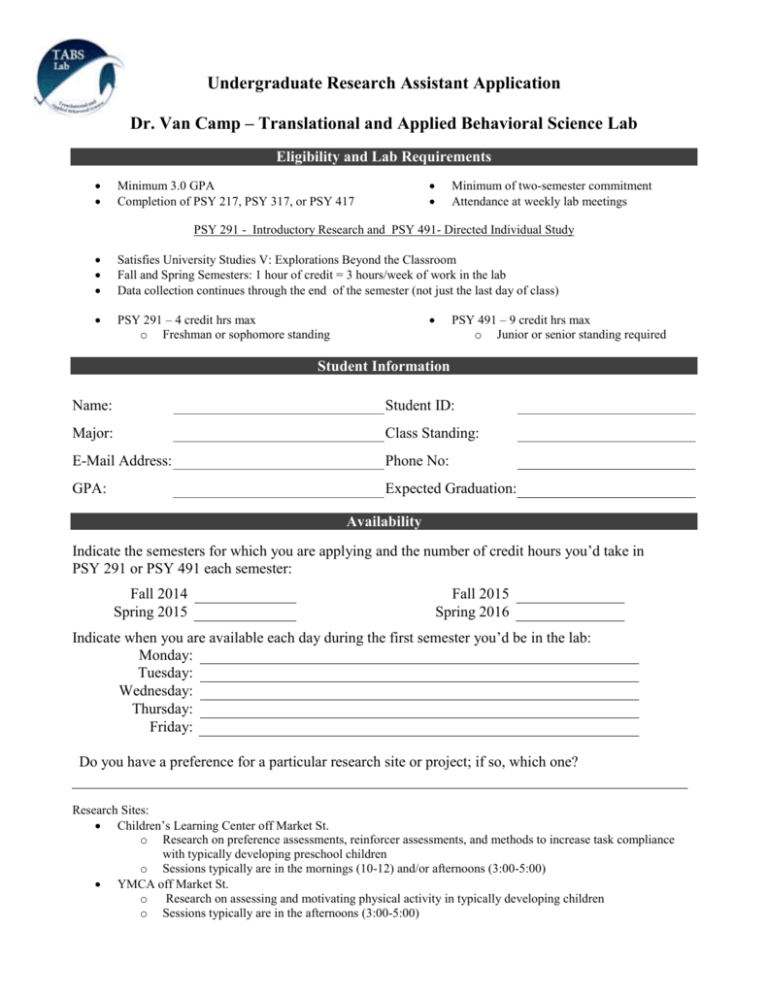 Undergraduate Research Assistant Application
Dr. Van Camp – Translational and Applied Behavioral Science Lab
Eligibility and Lab Requirements




Minimum 3.0 GPA
Completion of PSY 217, PSY 317, or PSY 417
Minimum of two-semester commitment
Attendance at weekly lab meetings
PSY 291 - Introductory Research and PSY 491- Directed Individual Study



Satisfies University Studies V: Explorations Beyond the Classroom
Fall and Spring Semesters: 1 hour of credit = 3 hours/week of work in the lab
Data collection continues through the end of the semester (not just the last day of class)

PSY 291 – 4 credit hrs max
o Freshman or sophomore standing

PSY 491 – 9 credit hrs max
o Junior or senior standing required
Student Information
Name:
Student ID:
Major:
Class Standing:
E-Mail Address:
Phone No:
GPA:
Expected Graduation:
Availability
Indicate the semesters for which you are applying and the number of credit hours you'd take in
PSY 291 or PSY 491 each semester:
Fall 2014
Spring 2015
Fall 2015
Spring 2016
Indicate when you are available each day during the first semester you'd be in the lab:
Monday:
Tuesday:
Wednesday:
Thursday:
Friday:
Do you have a preference for a particular research site or project; if so, which one?
Research Sites:
 Children's Learning Center off Market St.
o Research on preference assessments, reinforcer assessments, and methods to increase task compliance
with typically developing preschool children
o Sessions typically are in the mornings (10-12) and/or afternoons (3:00-5:00)
 YMCA off Market St.
o Research on assessing and motivating physical activity in typically developing children
o Sessions typically are in the afternoons (3:00-5:00)
Relevant Coursework in Behavior Analysis
Please list all relevant coursework in behavior analysis (Psychology or Education):
Course #
Course Title
Semester
Instructor
Grade
How familiar are you with Excel, specifically data analysis and graphing features?
Please describe any previous research experience you may have (list the lab and mentor as well):
How did you hear about our lab? What interests you most about being a part of this lab?
What are you future career plans?
Being part of a lab requires a great deal of commitment. Research assistants must be reliable, punctual,
and attentive. Please carefully consider your course load, work load, and any other factors that might
influence your ability to attend lab meetings and research sessions consistently. Once you have been
accepted into the lab and assigned to a research site and time slots, it is imperative that you attend
those sessions. If you feel you are up to this commitment, please submit your completed application to
vancampc@uncw.edu We will be getting back to you shortly via email.