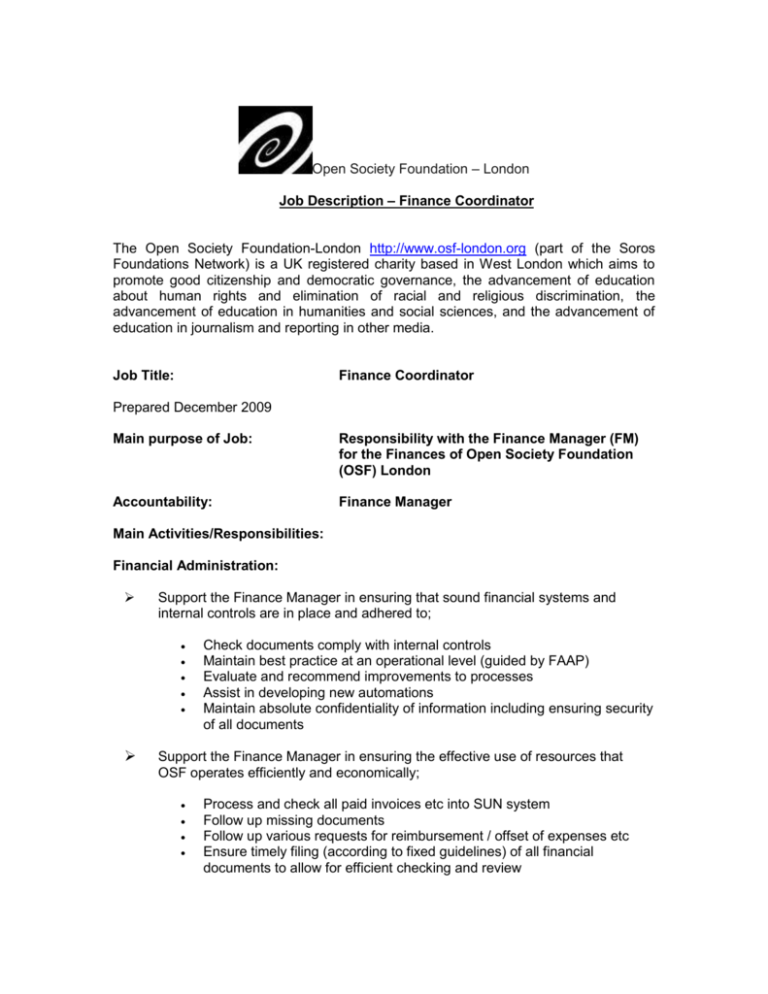 Open Society Foundation – London
Job Description – Finance Coordinator
The Open Society Foundation-London http://www.osf-london.org (part of the Soros
Foundations Network) is a UK registered charity based in West London which aims to
promote good citizenship and democratic governance, the advancement of education
about human rights and elimination of racial and religious discrimination, the
advancement of education in humanities and social sciences, and the advancement of
education in journalism and reporting in other media.
Job Title:
Finance Coordinator
Prepared December 2009
Main purpose of Job:
Responsibility with the Finance Manager (FM)
for the Finances of Open Society Foundation
(OSF) London
Accountability:
Finance Manager
Main Activities/Responsibilities:
Financial Administration:

Support the Finance Manager in ensuring that sound financial systems and
internal controls are in place and adhered to;






Check documents comply with internal controls
Maintain best practice at an operational level (guided by FAAP)
Evaluate and recommend improvements to processes
Assist in developing new automations
Maintain absolute confidentiality of information including ensuring security
of all documents
Support the Finance Manager in ensuring the effective use of resources that
OSF operates efficiently and economically;




Process and check all paid invoices etc into SUN system
Follow up missing documents
Follow up various requests for reimbursement / offset of expenses etc
Ensure timely filing (according to fixed guidelines) of all financial
documents to allow for efficient checking and review


Assist Auditor and to liaise with Bank and Credit Card provider with regard to
day-to-day operational issues;







Provide documents as required during annual external audit
File applications and cancellations of credit cards for new and departing
staff members
Liaise with Credit Card provider for ongoing day to day issues regarding
lost cards, restricted access, increases to credit levels
Obtain monthly data from Credit Card provider system for upload into
SUN system
Reconcile and enter data into SUN system according to appropriate
budget
Check spending on credits cards is within budget
Support staff on day-to-day basis in solving queries regarding invoices, transfers,
or payments;




Ensure timely filing and copying of all consultants contracts and other
legal agreements
Follow up Ad Hoc queries for timing of payments and copies of invoices
Send reminders to Staff for outstanding Credit card statements
Follow up on requests for financial information & statistics from pivot
tables
Prepare, seek the approval/signature of the appropriate OSF signatory, request
International Money transfers and prepare BACs payments using banking
software as instructed by the Finance Manager and Program Directors;


Invoice appropriate partner institutions in a timely manner
Provide detailed monthly reports
Budgeting, Accounting and Reporting:

Actively assist Programme Directors, Staff, Finance Manager and Managing
Director;









Support the Managing Director and the Finance Manager of OSF in the
preparation and submission of the Annual Budget;
Account for all external offices,
Check spending is within reason
Update fixed asset register and perform an annual physical inventory of
assets
Advise offices of administrative procedures
Provide information to programmes as requested
Provide Bookkeeping service to partner institutions.
Other assistance as required on an Ad Hoc basis
Assist in the preparation of financial management reports for the Managing
Director and Program Directors. Develop, review and forecast the Budget vs
Spend, in order to maximise the use of available resources. Assist with draft
budget projections as instructed by the Finance Manager and Program Directors;

Assist FM with review of cash flow projections, to ensure that funds are managed
effectively;

Support Financial Manager in putting in place effective internal procedures and
controls in order to ensure value for money, timely control and payment of
invoices and expenses against budgets;

Account for income and expenses in the computerised SUN accounting system,
and for the control and monthly reconciliation of accounting data, fixed assets,
payroll and program recharges;

Assist with the implementation of any new systems

Assist Finance Manager in submitting monthly and periodic reports in
accordance with set timetables, including regular end of the month review of
SUN

Assist in the preparation of the annual financial statements for submission to
Statutory Authorities, and Auditors;
Advice, Support and Liaison

Maintain / update the computerised OSF database of Consultants and
Consultancy contracts;

Assist with training of any additional Finance staff in SUN data entries,
recharges, operational systems as requested by the Finance Manager;

Ensure current knowledge of accounting and related developments likely to affect
the financial situation of OSF;

Assist Finance Manager with management and assessment of key suppliers eg
Travel, Banking and Credit Card provider

Provide assistance in financial data entries, budgeting and data analysis for any
other entities related to OSF or serviced by OSF, with the prior approval and
instruction from the Finance Manager.
Other Related Duties:

To undertake any other appropriate finance/management or office administration
related assignments as requested by Managing Director, or Finance Manager.
Skills and experience

Educated to degree level and working toward ACCA;









Relevant office experience, preferably in an energetic environment
requiring extensive interaction with a diverse range of people;
Strong organisational and multitasking skills;
Excellent communication and interpersonal skills;
Exceptional attention to detail;
Experience with SUN
Comfortable working independently and to deadlines;
Flexible and adaptable approach to work;
Proficient user of Excel / in particular pivot tables
Excellent computer skills required (MS Office, experience with
computerised financial systems, etc.);
CLOSING DATE: Friday 22nd of January 2010
START DATE: ASAP
COMPENSATION: Commensurate with experience. Excellent benefits package.
TO APPLY: E-mail your CV (no more then 3 pages in length) and a covering letter
(including in the covering letter where you heard about the vacancy) by the 8th of
January 2010 to recruitment-admin@osf-eu.org. Please ensure you include the job code
in the Subject Line: Finance Co-ordinator
PLEASE NOTE: No phone calls, please. Due to the large volume of candidates applying
for positions with the OSF unfortunately we will only be able to respond to your
application if you have been shortlisted for the role.