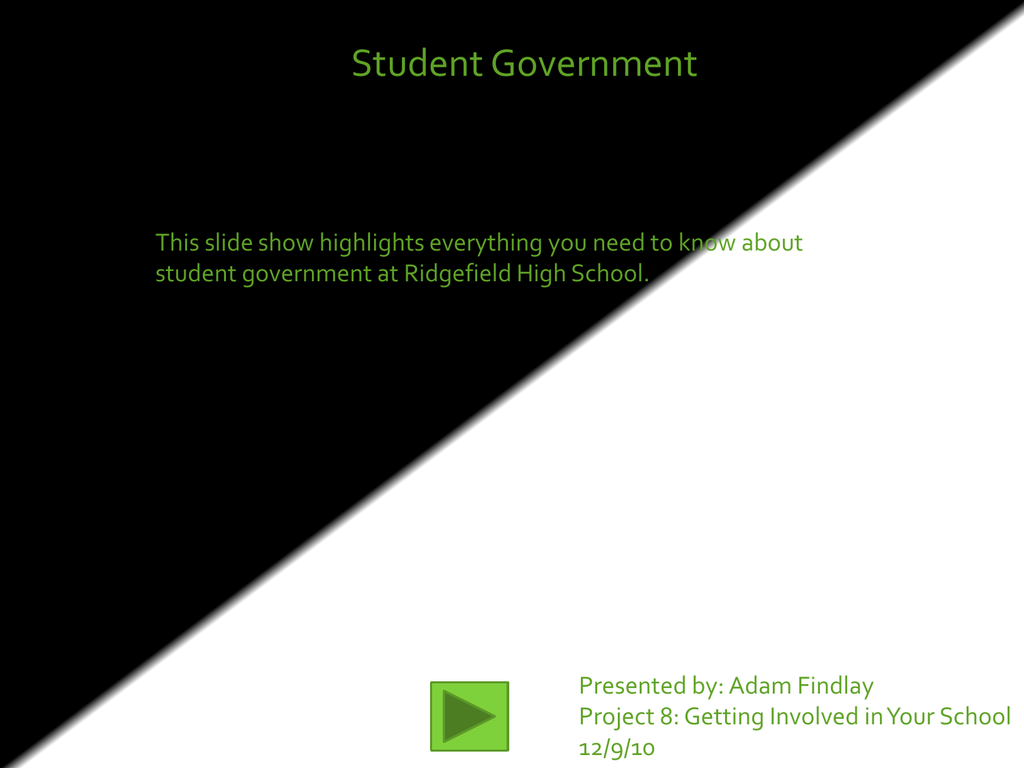 Student Government
This slide show highlights everything you need to know about
student government at Ridgefield High School.
Presented by: Adam Findlay
Project 8: Getting Involved in Your School
12/9/10
Why Join Student Government?
• Student government is a way to help out your school and get
privileges that no other school member can have.
• You learn how to make a large body of students in your grade
get more interactive with each other.
• This is done by planning events, holding contests or providing
spirit weeks.
• Student gov is also a place where you eventually build up
enough money to hold your Senior Prom.
What Student Government is All About
• The purpose of student government is to get the student bodies involved
in the school.
• Without student government to help there would be no spirit week or
homecoming.
• Each person enjoys participating because you get to speak your voice and
do what you want to do with your school.
• Also student government teaches good leadership skills that are
necessary for the rest of your life.
How to Join Student Government
• A student can enter his or her name on the ballot at the end of each year.
• Once they enter they will be voted in by the student body.
• There is no grade point average requirement.
Membership Requirements
•In order to not be kicked out of student gov you must attend all meetings unless you are
excused.
•If you do not have an excuse you will be given a demerit, you have a limit of 5 demerits per
semester.
•Each semester the amount of demerits reset unless you have already been kicked out for
that year.
•You will meet in either Blackbox or F202 on every Friday but it alternates periods.
The Student Government Scrapbook
We direct the prom and homecoming events.
All money for each class is stored by
the student government.
Voting is an important part of student
government, it allows the students to
choose who they want to represent them.
We hold fundraisers to help out
underprivileged people.
Parties are hosted by student gov
to raise money for each class.
Miscellaneous Information
Fundraisers: We tend to attend different events to make fundraisers for the different
class bodies. We sell different goods to trying to make as much money as possible that
will later go towards the school.
Volunteer work: We will volunteer at most events that are upcoming. One event is
helping out the salvation army in front of Stop & Shop which is finding food to give to
the homeless.
School Functions: All school functions are run by student government. This makes
each event better because we know what the kids want because we are kids. We can
accumulate ideas from each class about what they want for the pep rally's or other
school spirit events.