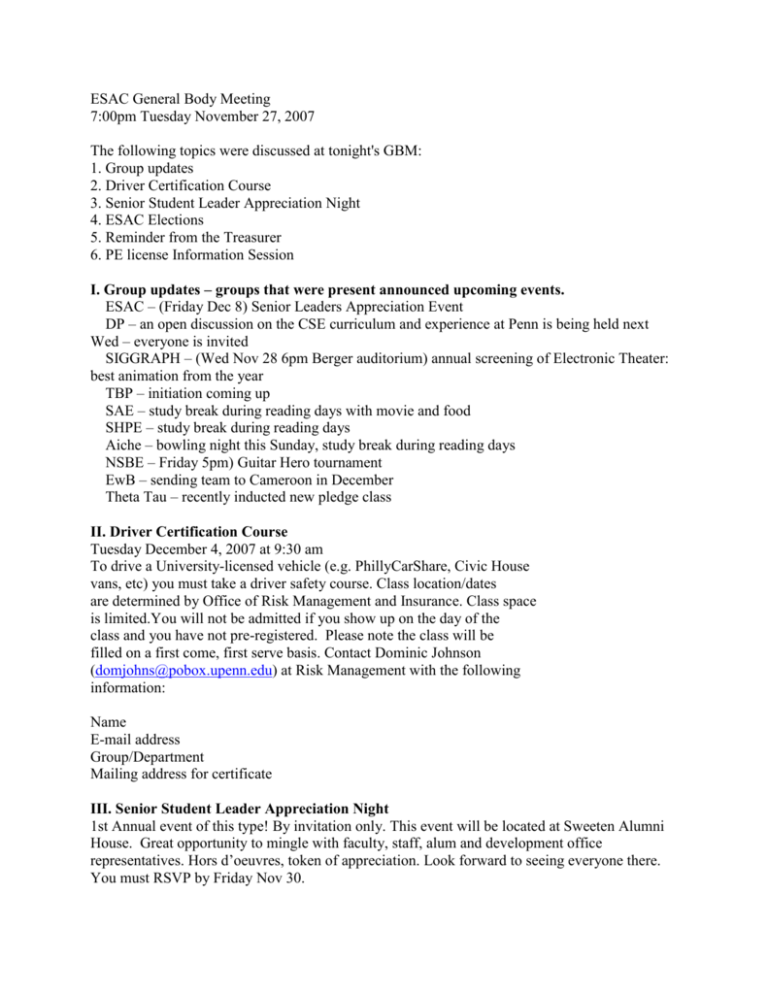 ESAC General Body Meeting
7:00pm Tuesday November 27, 2007
The following topics were discussed at tonight's GBM:
1. Group updates
2. Driver Certification Course
3. Senior Student Leader Appreciation Night
4. ESAC Elections
5. Reminder from the Treasurer
6. PE license Information Session
I. Group updates – groups that were present announced upcoming events.
ESAC – (Friday Dec 8) Senior Leaders Appreciation Event
DP – an open discussion on the CSE curriculum and experience at Penn is being held next
Wed – everyone is invited
SIGGRAPH – (Wed Nov 28 6pm Berger auditorium) annual screening of Electronic Theater:
best animation from the year
TBP – initiation coming up
SAE – study break during reading days with movie and food
SHPE – study break during reading days
Aiche – bowling night this Sunday, study break during reading days
NSBE – Friday 5pm) Guitar Hero tournament
EwB – sending team to Cameroon in December
Theta Tau – recently inducted new pledge class
II. Driver Certification Course
Tuesday December 4, 2007 at 9:30 am
To drive a University-licensed vehicle (e.g. PhillyCarShare, Civic House
vans, etc) you must take a driver safety course. Class location/dates
are determined by Office of Risk Management and Insurance. Class space
is limited.You will not be admitted if you show up on the day of the
class and you have not pre-registered. Please note the class will be
filled on a first come, first serve basis. Contact Dominic Johnson
(domjohns@pobox.upenn.edu) at Risk Management with the following
information:
Name
E-mail address
Group/Department
Mailing address for certificate
III. Senior Student Leader Appreciation Night
1st Annual event of this type! By invitation only. This event will be located at Sweeten Alumni
House. Great opportunity to mingle with faculty, staff, alum and development office
representatives. Hors d'oeuvres, token of appreciation. Look forward to seeing everyone there.
You must RSVP by Friday Nov 30.
IV. Elections
The process has changed.
Previously, all candidates had to run for a particular position (e.g. President, Webmaster,
Treasurer). This year – ALL positions [President, Vice President, Treasurer, Webmaster,
Corporate Relations Chair, Chair (x3)] are open. How is this going to work?
The application for a position on the board is a general application. ALL eight (8) positions of
the board are open. The eight board members will be selected by majority vote at the General
Body Meeting on Thursday December 6th. All members will begin as general Chairs. In the
transition time up to the end of February, the four seniors on the current board will remain with
the board to advise and act as guidance. After E-Week (Feb 18-22), the board will hold internal
elections in order to place the eight members of the new ESAC board into titled positions.
Voting process: Each club present will receive one (1) vote on up to eight (8) candidates. In other
words, each club can vote for up to eight different people, no repeats. Results will be announced
shortly after the meeting concludes and votes are tallied.
The application form is attached.
They are due to lesliec@seas.upenn.edu by Monday December 3 at 11:59pm.
The elections themselves will be held Thursday December 6 in Wu & Chen auditorium at
6:30pm.
ALL Penn Engineering undergraduates are eligible to run!
V. Reminder from the Treasurer
Reimbursements, receipts, monthly expenditure and evaluation forms submitted by end of the
week.
VI. PE license information session & presentation
4:30pm – 5:30pm Monday January 28, 2008
The Engineering Alumni Society will be hosting an information session on the PE (Professional
Engineer) license to introduce undergraduates to the exam, what it entails, and why you should
take the PE exam. It will be presented by Penn Engineering alum who can bring in a personal
perspective.