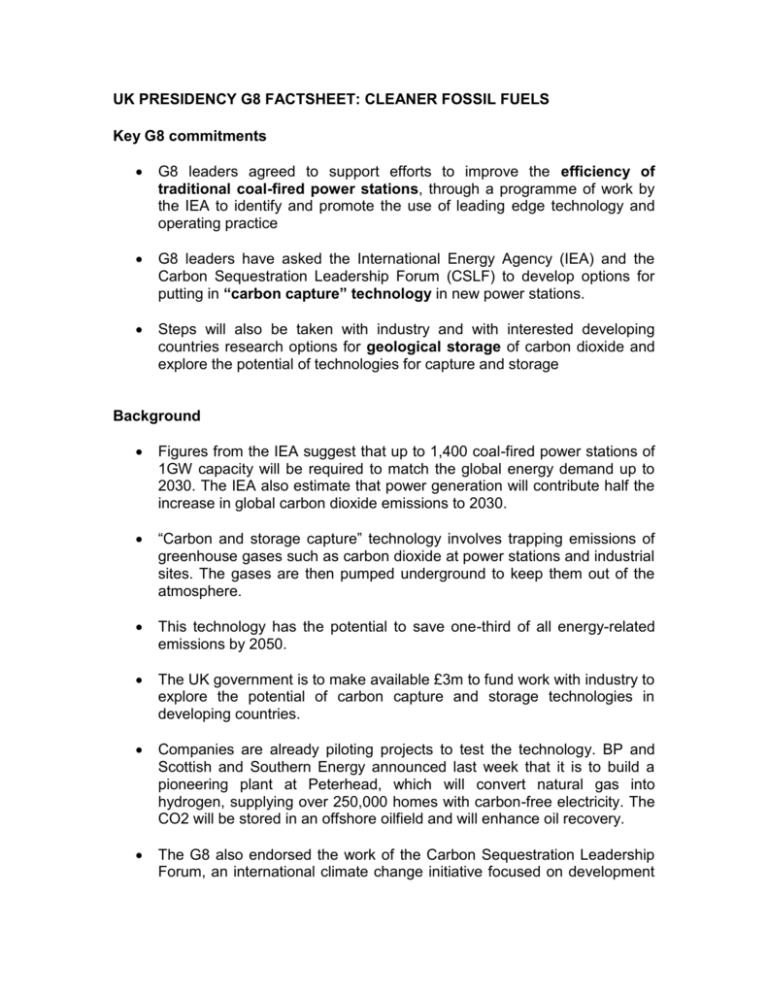 UK PRESIDENCY G8 FACTSHEET: CLEANER FOSSIL FUELS
Key G8 commitments

G8 leaders agreed to support efforts to improve the efficiency of
traditional coal-fired power stations, through a programme of work by
the IEA to identify and promote the use of leading edge technology and
operating practice

G8 leaders have asked the International Energy Agency (IEA) and the
Carbon Sequestration Leadership Forum (CSLF) to develop options for
putting in "carbon capture" technology in new power stations.

Steps will also be taken with industry and with interested developing
countries research options for geological storage of carbon dioxide and
explore the potential of technologies for capture and storage
Background

Figures from the IEA suggest that up to 1,400 coal-fired power stations of
1GW capacity will be required to match the global energy demand up to
2030. The IEA also estimate that power generation will contribute half the
increase in global carbon dioxide emissions to 2030.

"Carbon and storage capture" technology involves trapping emissions of
greenhouse gases such as carbon dioxide at power stations and industrial
sites. The gases are then pumped underground to keep them out of the
atmosphere.

This technology has the potential to save one-third of all energy-related
emissions by 2050.

The UK government is to make available £3m to fund work with industry to
explore the potential of carbon capture and storage technologies in
developing countries.

Companies are already piloting projects to test the technology. BP and
Scottish and Southern Energy announced last week that it is to build a
pioneering plant at Peterhead, which will convert natural gas into
hydrogen, supplying over 250,000 homes with carbon-free electricity. The
CO2 will be stored in an offshore oilfield and will enhance oil recovery.

The G8 also endorsed the work of the Carbon Sequestration Leadership
Forum, an international climate change initiative focused on development
of improved cost-effective technologies for the separation and capture of
carbon dioxide for its transport and long-term safe storage.