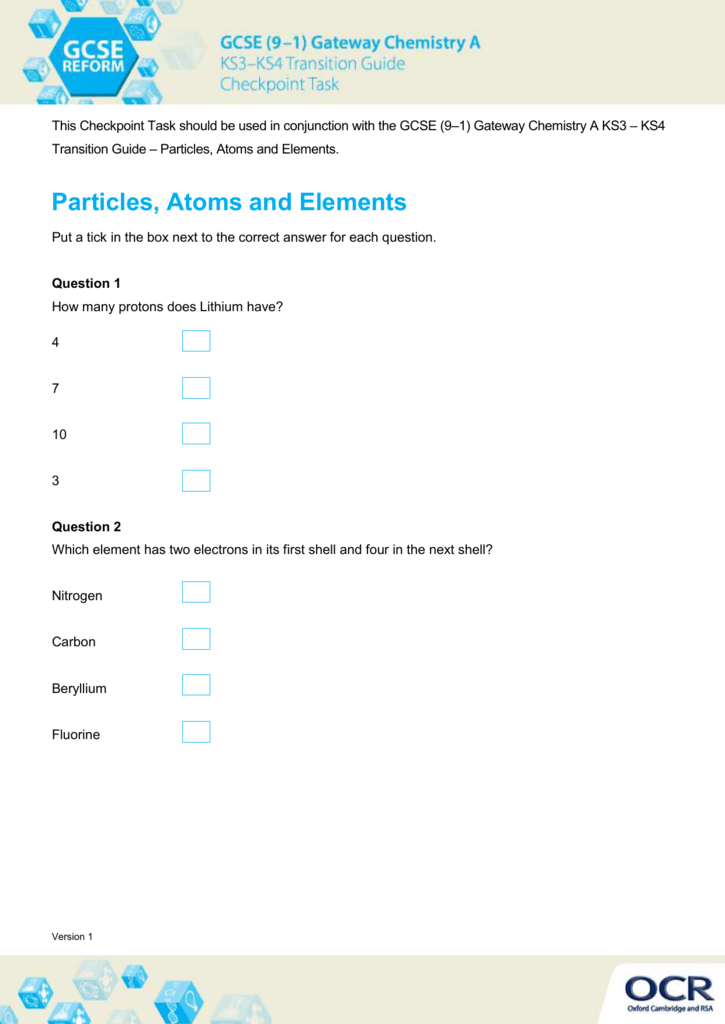 This Checkpoint Task should be used in conjunction with the GCSE (9–1) Gateway Chemistry A KS3 – KS4
Transition Guide – Particles, Atoms and Elements.
Particles, Atoms and Elements
Put a tick in the box next to the correct answer for each question.
Question 1
How many protons does Lithium have?
4
7
10
3
Question 2
Which element has two electrons in its first shell and four in the next shell?
Nitrogen
Carbon
Beryllium
Fluorine
Version 1
Question 3
Which is group 1 on the periodic table?
Alkali metals
Halogens
Nobel Gases
Transition metals
Question 4
How many neutrons does Fluorine have?
28
19
10
9
Question 5
Which is not found in the middle of an atom?
Protons
Nucleus
Neutrons
Electrons
Version 1
Question 6
Which is not a Noble Gas?
Argon
Neon
Bromine
Helium
Question 7
Which is in the same group as Magnesium?
Calcium
Iron
Carbon
Potassium
Question 8
Which has a positive charge?
Neutron
Electron
Protons
Nucleus
Version 1
Question 9
Roughly how many elements are on the periodic table?
100
200
300
900
Question 10
How many electrons can the first shell hold?
2
4
8
10
Question 11
Which element has a total of 32 protons and neutrons?
Aluminium
Sulphur
Sodium
Germanium
Version 1
Question 12
Which element is a Noble gas found in balloons?
Neon
Oxygen
Argon
Helium
Question 13
Which of the following is not a compound?
Carbon Dioxide
Sodium Chloride
Nitrogen
Water
Question 14
Which is not a transition metal?
Zn
Hg
Sn
Rh
Version 1
Question 15
Which atom is the smallest non-metal?
Lithium
Helium
Boron
Hydrogen
Version 1
Quiz follow on
1. Label the diagram with the following words:
Proton
Neutron
Nucleus
Electron
2. Complete the sentences:
a. The element in the picture is
b. The element is in group
c. Is this the same group as Be or Al or C?
Version 1
on the periodic table.
d. What is the atomic mass of this element?
e. Complete the diagram by adding more electrons in the correct place.
f.
Version 1
Explain whether you think the element is a metal or a non-metal.