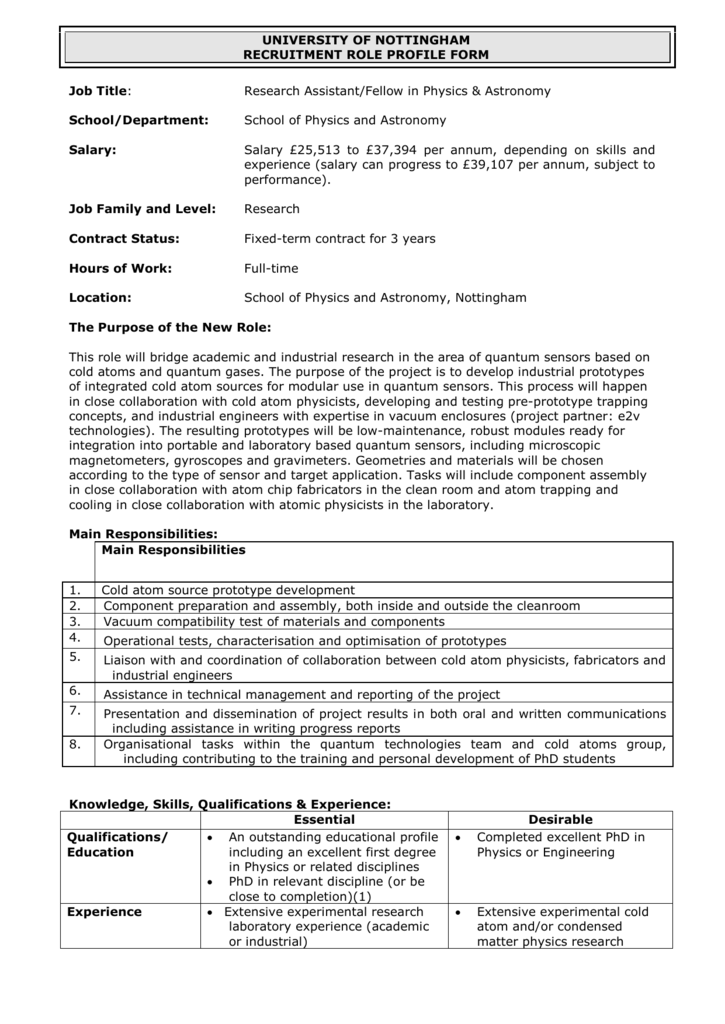 UNIVERSITY OF NOTTINGHAM
RECRUITMENT ROLE PROFILE FORM
Job Title:
Research Assistant/Fellow in Physics & Astronomy
School/Department:
School of Physics and Astronomy
Salary:
Salary £25,513 to £37,394 per annum, depending on skills and
experience (salary can progress to £39,107 per annum, subject to
performance).
Job Family and Level:
Research
Contract Status:
Fixed-term contract for 3 years
Hours of Work:
Full-time
Location:
School of Physics and Astronomy, Nottingham
The Purpose of the New Role:
This role will bridge academic and industrial research in the area of quantum sensors based on
cold atoms and quantum gases. The purpose of the project is to develop industrial prototypes
of integrated cold atom sources for modular use in quantum sensors. This process will happen
in close collaboration with cold atom physicists, developing and testing pre-prototype trapping
concepts, and industrial engineers with expertise in vacuum enclosures (project partner: e2v
technologies). The resulting prototypes will be low-maintenance, robust modules ready for
integration into portable and laboratory based quantum sensors, including microscopic
magnetometers, gyroscopes and gravimeters. Geometries and materials will be chosen
according to the type of sensor and target application. Tasks will include component assembly
in close collaboration with atom chip fabricators in the clean room and atom trapping and
cooling in close collaboration with atomic physicists in the laboratory.
Main Responsibilities:
Main Responsibilities
1.
2.
3.
4.
Cold atom source prototype development
Component preparation and assembly, both inside and outside the cleanroom
Vacuum compatibility test of materials and components
5.
Liaison with and coordination of collaboration between cold atom physicists, fabricators and
industrial engineers
6.
Assistance in technical management and reporting of the project
7.
Presentation and dissemination of project results in both oral and written communications
including assistance in writing progress reports
Organisational tasks within the quantum technologies team and cold atoms group,
including contributing to the training and personal development of PhD students
8.
Operational tests, characterisation and optimisation of prototypes
Knowledge, Skills, Qualifications & Experience:
Essential
Qualifications/
 An outstanding educational profile
Education
including an excellent first degree
in Physics or related disciplines
 PhD in relevant discipline (or be
close to completion)(1)
Experience
 Extensive experimental research
laboratory experience (academic
or industrial)


Desirable
Completed excellent PhD in
Physics or Engineering
Extensive experimental cold
atom and/or condensed
matter physics research
 Research level knowledge of
experimental atomic physics
and/or related areas



General skills and
Abilities




Technical Skills
and Knowledge

Excellent oral and written
communication skills in English at
all levels (1,3)
Strong project management skills
(3)
Ability to work independently,
focus to achieve results and work
to tight deadlines (3)
Excellent IT skills (1)
Excellent analytical and problem
solving skills (1,3)


Able to work within industry
standards and specifications (1,3)





Training


Other


experience
Research experience with
integrated atom chips
Industrial research and
development
Cleanroom and
microfabrication experience
Vacuum technology
Mechanical design and
construction
Ability to work with clean
room and
micro/nanofabrication tools
Electronics design and
assembly
Ability to teach
undergraduates and graduates
in laboratory skills and
underlying science
Knowledge of relevant health
& safety and environmental
issues (1,3)
Working knowledge of
relevant software, e.g. Matlab,
Solid Works and/or equivalent
Demonstrable commitment to
continuing professional
development
Willingness to undertake
appropriate further training and to
adopt new procedures as and
when required (1,3)
Willingness to travel (3)
Commitment to observing Equality
& Diversity policies at all times
(1,3)
Commitment to maintain
confidentiality at all times
Stages in Assessment (shown in brackets):
1 = Application form and CV,
2 = Work-based test / presentation and questions,
3 = Interview.
Informal
enquiries
may
be
addressed
to
Professor
Peter
Krüger
email:
[email protected] Please note that applications sent directly to this email
address will not be accepted.