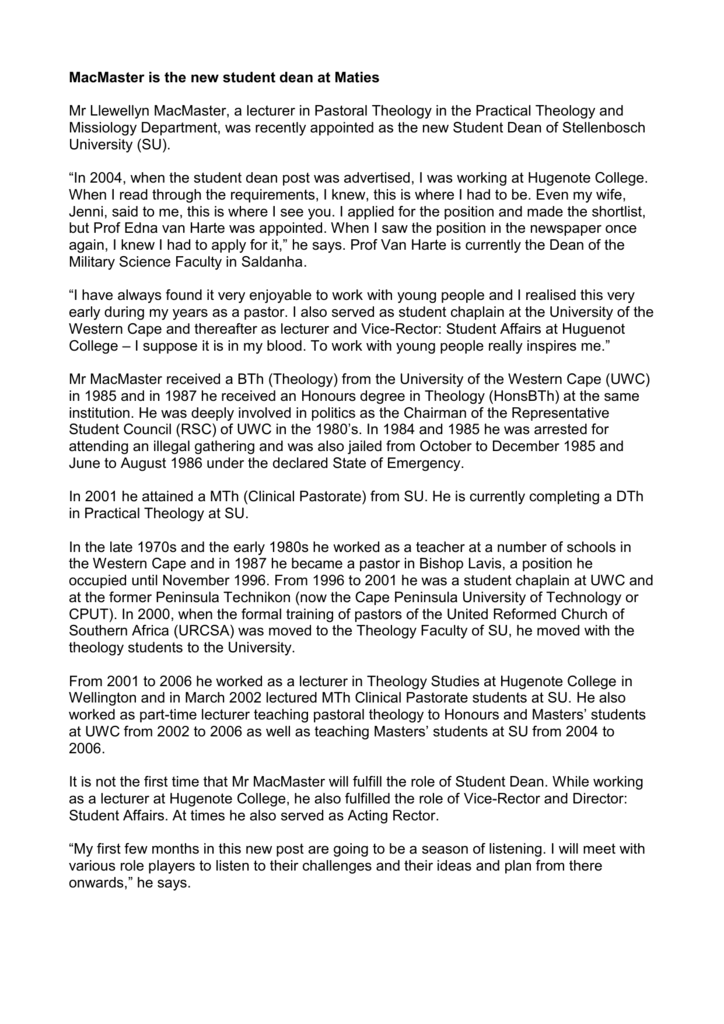 MacMaster is the new student dean at Maties
Mr Llewellyn MacMaster, a lecturer in Pastoral Theology in the Practical Theology and
Missiology Department, was recently appointed as the new Student Dean of Stellenbosch
University (SU).
"In 2004, when the student dean post was advertised, I was working at Hugenote College.
When I read through the requirements, I knew, this is where I had to be. Even my wife,
Jenni, said to me, this is where I see you. I applied for the position and made the shortlist,
but Prof Edna van Harte was appointed. When I saw the position in the newspaper once
again, I knew I had to apply for it," he says. Prof Van Harte is currently the Dean of the
Military Science Faculty in Saldanha.
"I have always found it very enjoyable to work with young people and I realised this very
early during my years as a pastor. I also served as student chaplain at the University of the
Western Cape and thereafter as lecturer and Vice-Rector: Student Affairs at Huguenot
College – I suppose it is in my blood. To work with young people really inspires me."
Mr MacMaster received a BTh (Theology) from the University of the Western Cape (UWC)
in 1985 and in 1987 he received an Honours degree in Theology (HonsBTh) at the same
institution. He was deeply involved in politics as the Chairman of the Representative
Student Council (RSC) of UWC in the 1980's. In 1984 and 1985 he was arrested for
attending an illegal gathering and was also jailed from October to December 1985 and
June to August 1986 under the declared State of Emergency.
In 2001 he attained a MTh (Clinical Pastorate) from SU. He is currently completing a DTh
in Practical Theology at SU.
In the late 1970s and the early 1980s he worked as a teacher at a number of schools in
the Western Cape and in 1987 he became a pastor in Bishop Lavis, a position he
occupied until November 1996. From 1996 to 2001 he was a student chaplain at UWC and
at the former Peninsula Technikon (now the Cape Peninsula University of Technology or
CPUT). In 2000, when the formal training of pastors of the United Reformed Church of
Southern Africa (URCSA) was moved to the Theology Faculty of SU, he moved with the
theology students to the University.
From 2001 to 2006 he worked as a lecturer in Theology Studies at Hugenote College in
Wellington and in March 2002 lectured MTh Clinical Pastorate students at SU. He also
worked as part-time lecturer teaching pastoral theology to Honours and Masters' students
at UWC from 2002 to 2006 as well as teaching Masters' students at SU from 2004 to
2006.
It is not the first time that Mr MacMaster will fulfill the role of Student Dean. While working
as a lecturer at Hugenote College, he also fulfilled the role of Vice-Rector and Director:
Student Affairs. At times he also served as Acting Rector.
"My first few months in this new post are going to be a season of listening. I will meet with
various role players to listen to their challenges and their ideas and plan from there
onwards," he says.
He is currently Coordinator of the Postgraduate Diploma in Theology programme and is
overseeing the research proposals of four DTh students who hope to register for their
degree in 2008.
Mr MacMaster and his wife Jenni have three children – Ramon (18), Adrienne (13) and
Kyle (12). Ramon will register for a BA degree in International Studies at SU this year
while Adrienne will start Grade 8 at Rhenish Girls' High and Kyle will enter Grade 7 at
Labiance Primary School.